Several years ago, when ZIRP and NIRP was (again) raging, investors jumped at the chance to buy $1.2 billion in bonds whose proceeds wound up with a cluster of airlines linked to Etihad Airlines. As Bloomberg details, the deal was unusual in several ways: Goldman had teamed up with two relatively obscure brokerages and controversial German financier Lars Windhorst was helping structure the deal behind the scenes.
Ultimately, the deal wound up going bust and a group of creditors has now hired a private eye firm to dig out the details into how the deal came together, including the roles played by Windhorst, Goldman and others.
The deal and its ensuing investigation are bad PR for Goldman Sachs and highlight the company's "willingness to raise large pools of capital in unorthodox or risky deals." It also pairs the company with Windhorst, who has been under scrutiny in recent weeks especially over his role in the blow up of the ill-named H20 fund.
Roger King, an analyst at research firm CreditSights said:
"There were a lot of strange characteristics. It was a bizarrely complicated deal. A hairy deal no matter who brought it."
One of the main questions about the deal was why did Goldman Sachs step in after another notoriously law-breaking bank, HSBC, dropped out. The financing likely wouldn't have taken place without the help of a global bank.
Now, creditors including investment managers BlueBay Asset Management and Gramercy Funds Management have enlisted private investigators to help them push for maximum recoveries from the busted bonds. While it is not unheard of for bondholders to hire intelligence companies for due diligence purposes, it's relatively rare that they will employ them in these types of scenarios.
Etihad had an issue in 2015. It had bought stakes in several smaller airlines but some of them, like Air Berlin, kept bleeding cash. Windhorst, who was once the airlline's largest shareholder, was looking to help fix these issues. He proposed that a special purpose vehicle close to Etihad could sell bonds and then turn around to slice up the proceeds to many of the smaller carriers. Those companies would then pay back the special purpose vehicle.
Anoa, a small brokerage that was contracted to work out the details by Windhorst, was an affiliated company of his investment arm. Anoa has since gone bust and its former CEO is now the CEO of Windhorst's private investment vehicle. Anoa helped design the transaction but it lacked fundraising firepower. HSBC was initially recruited to lead the deal, but the bank suddenly and inexplicably dropped out before the sale. It was reportedly the participation of Anoa that caused HSBC's skepticism. Others wondered whether or not the smaller brokerage would be able to commit to carrying out the complex transaction.
That's when Goldman Sachs stepped in.
The deal needed to be cleared many times over at Goldman because of its complexity and because of the involvement of a sovereign entity, Abu Dhabi. Windhorst's involvement was also an issue.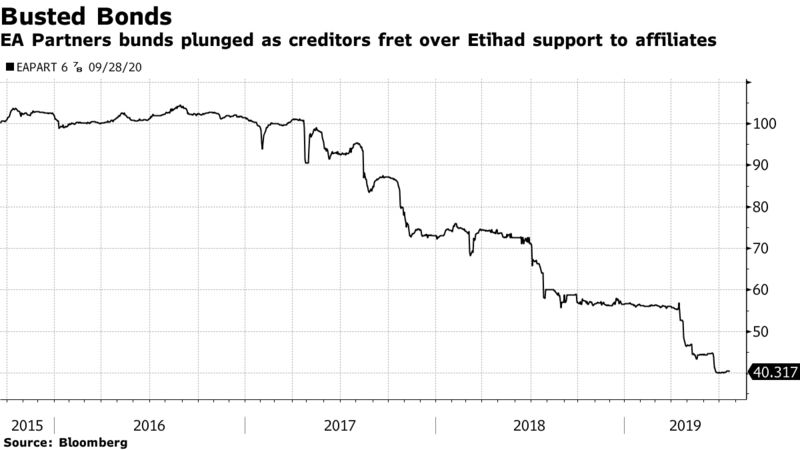 The SPV issued its first set of junk rated bonds in the amount of $700 million in September 2015. In April 2016, Senior Etihad executives and a Goldman Sachs banker were given an industry award for the structuring of the plan. Two months after that, the financing team raised another $500 million, bringing the total to $1.2 billion. 93.5% of the proceeds went to the airline group.
However, right after that last deal, things began to go south. Smaller airlines in the partnership like Air Berlin, Alitalia and Jet Airways fell victim to their financial woes and the bonds created. At the same time, Etihad decided it was no longer going to support the affiliate airlines and instead embarked on a management overhaul.
The bond offering documents didn't explicitly guarantee support from Etihad, but there was always an "implicit understanding" that they would be there for support if needed. And now, the investor group in the bonds is left holding the bag with no choice left but to hire law firms and private investigators to try and maximize their recoveries.
Goldman's dealings with Windhorst were formerly the topic of a lawsuit by a former executive, Chris Rollins. Seth Redniss, a lawyer for Rollins said: "Whether in public or private, the evidence shows that top execs allowed these very large, risky deals to happen."
In other words, the buck – as in the case of 1MDB – stopped with none other than Lloyd Blankfein… who conveniently retired last year just as the heat was starting to build.
Zero Hedge's mission is to widen the scope of financial, economic and political information available to the professional investing public, to skeptically examine and, where necessary, attack the flaccid institution that financial journalism has become, to liberate oppressed knowledge, to provide analysis uninhibited by political constraint and to facilitate information's unending quest for freedom. Visit https://www.zerohedge.com
---
This post has been republished with permission from a publicly-available RSS feed found on Zero Hedge. The views expressed by the original author(s) do not necessarily reflect the opinions or views of The Libertarian Hub, its owners or administrators. Any images included in the original article belong to and are the sole responsibility of the original author/website. The Libertarian Hub makes no claims of ownership of any imported photos/images and shall not be held liable for any unintended copyright infringement. Submit a DCMA takedown request.