House Intelligence Committee Chairman Adam Schiff (D-CA) has pivoted from 'deepfake doom' influencing the 2020 election, to downplaying an upcoming watchdog report by the DOJ's Inspector General due sometime in September. 
Speaking at the Aspen Security Conference (where he had a pow-wow with Fusion GPS founder Glenn Simpson last July), Schiff claims that DOJ Inspector General Michael Horowitz was co-opted into a scheme to protect President Trump by instigating a "fast track" report last year at Trump's behest, according to the Washington Examiner's Daniel Chaitin. 
Schiff claimed the president wanted McCabe, who briefly took over as acting FBI director after Trump fired James Comey in May 2017, investigated and his pension taken away and suggested someone such as former Attorney General Rod Rosenstein obliged the president by making a referral.

"The inspector general found that McCabe was untruthful. He may very well have been untruthful," the California Democrat said, but noted that is not where main his concern lies.

…

The initiation of the inspector general's inquiry in McCabe happened, Schiff said, "because the president wanted it politically." He added, "Once you go down that road, it leads to disaster." –Washington Examiner
"I have no reason to question the inspector general's conclusion, but that investigation was put on a fast track. It was separated from a broader inspector general investigation, which is still ongoing," said Schiff. "Why was that done? It was done so he could be fired to not get a pension. It was done to please the president when the initiation investigation is tainted. So are the results of that investigation."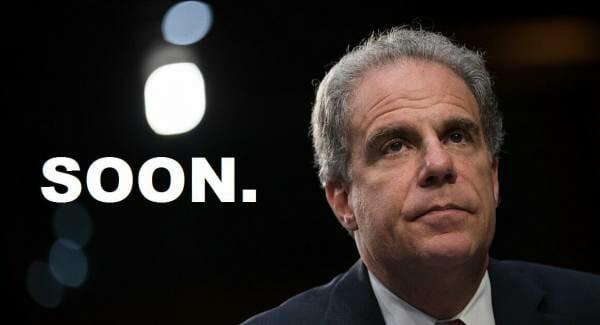 McCabe was fired on March 16, 2018 – less than two days before his planned retirement. Had he not been fired, he would have collected his full pension on his 50th birthday. 
Of course, a GoFundMe campaign set up in the wake of McCabe's firing raised $538,000 for his 'legal-defense fund,' so we imagine he'll be OK unless the DOJ decides to pursue charges against the former Deputy Director. 
In April 2018, it was revealed that the Justice Department inspector general referred its findings to the U.S. attorney's office in Washington for possible criminal charges, and his lawyer confirmed as recently as February that McCabe was still under investigation.

McCabe, whom Trump has accused of planning to carry out an "illegal and treasonous" plan to oust him as president, has argued that his firing was an attempt to discredit the FBI and special counsel Robert Mueller's investigation into Russian interference in the 2016 election. –Washington Examiner
It's far from over…
While the Mueller investigation is over, Horowitz's investigation into potential FISA abuse is significant – and Attorney General William Barr is now 'weapons free' to work with Horowitz to 'investigate the investigators.' According to the Examiner, "The inspector general can recommend prosecutions, and U.S. Attorney John Durham, whom Barr tasked to lead the review, has the ability to convene a grand jury and subpoena people outside of the government. Beyond that, Senate Judiciary Committee Chairman Lindsey Graham, a close Trump ally, has promised a "deep dive" into the origins of the Trump-Russia investigation after Horowitz completes his work." 
Two questions remain; will Schiff continue to push the taint angle, and will AG Barr and Horowitz's efforts lead to any notable prosecutions before the 2020 election? Or ever?
Zero Hedge's mission is to widen the scope of financial, economic and political information available to the professional investing public, to skeptically examine and, where necessary, attack the flaccid institution that financial journalism has become, to liberate oppressed knowledge, to provide analysis uninhibited by political constraint and to facilitate information's unending quest for freedom. Visit https://www.zerohedge.com
---
This post has been republished with permission from a publicly-available RSS feed found on Zero Hedge. The views expressed by the original author(s) do not necessarily reflect the opinions or views of The Libertarian Hub, its owners or administrators. Any images included in the original article belong to and are the sole responsibility of the original author/website. The Libertarian Hub makes no claims of ownership of any imported photos/images and shall not be held liable for any unintended copyright infringement. Submit a DCMA takedown request.