What some auto manufacturers and industry experts were passing off as a slight hiccup for the auto industry is rapidly turning into a full-scale recession if not all out depression, one complete with a litany of layoffs in the global auto industry as sales in major countries like the United States and China have been steadily deteriorating for the last 18 months.
We've already seen massive planned layoffs from US auto makers like Ford, and now Nissan is the latest to join the mass layoffs bandwagon, with Kyodo reporting that Nissan will cut over 10,000 jobs globally, or over 7% of its entire global workforce.
This is likely in response to the deteriorating automotive market in China: recall in early July we repored that Nissan's sales in China from January to June totaled 718,268 units, a 0.3% y/y decline.
In May, we reported that countries like China, the United Kingdom, Germany, Canada and the United States had all seen at least 38,000 job cuts over the last six months in the automotive sector. Daimler CEO Dieter Zetsche said in May that "sweeping cost reductions" are ahead to prepare for what he is calling "unprecedented" industry disruption
And now cue Nissan. 
A few weeks ago we algo reported that over 25% of all June job cuts came from the automotive sector, according to Managing Economist for Refinitiv Jeoff Hall. Hall commented on Twitter that the industry's 10,904 redundancies were the most in seven months and the second most in seven years. Hall also noted that excluding autos, there were only 31,073 job cuts in June, the fewest in 11 months, in low-normal range.
We reported about Ford's plans to cut another 7000 jobs, representing 10% of its workforce worldwide, about a month ago. And the recession, which was likely due to happen regardless of market conditions, comes at the worst possible time. It could be exacerbated by the ongoing trade war, which foreign carmakers have warned could put 700,000 American jobs at risk.
This chart shows the job reductions in the six months prior to June 1.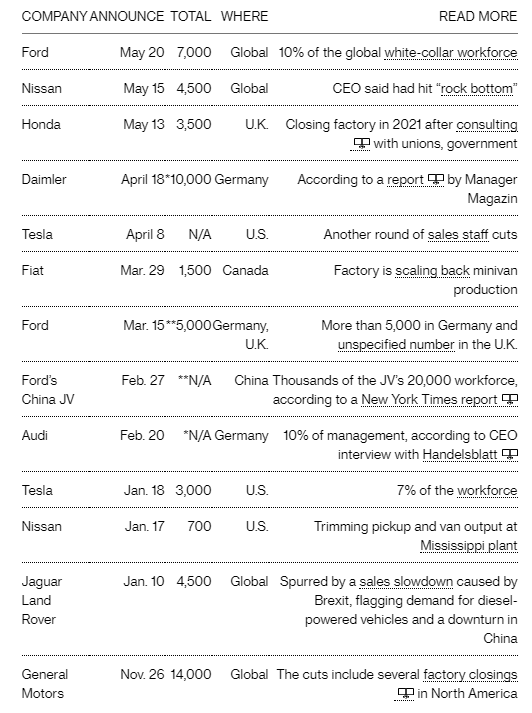 Furthermore, at the beginning of June we noted that Bank of America had said that "the auto cycle had peaked". 
While Bank of America attributed much of the downturn in the manufacturing sector to the ongoing trade war, it singled out the automotive industry as a specific area for concern. Calling the problem a "classic story of demand/supply mismatch", the bank pointed out that producers continue to ramp up output at a time when demand has softened.
Zero Hedge's mission is to widen the scope of financial, economic and political information available to the professional investing public, to skeptically examine and, where necessary, attack the flaccid institution that financial journalism has become, to liberate oppressed knowledge, to provide analysis uninhibited by political constraint and to facilitate information's unending quest for freedom. Visit https://www.zerohedge.com
---
This post has been republished with permission from a publicly-available RSS feed found on Zero Hedge. The views expressed by the original author(s) do not necessarily reflect the opinions or views of The Libertarian Hub, its owners or administrators. Any images included in the original article belong to and are the sole responsibility of the original author/website. The Libertarian Hub makes no claims of ownership of any imported photos/images and shall not be held liable for any unintended copyright infringement. Submit a DCMA takedown request.