Ugly European PMIs seemed to cement the confidence for at least one big whale that Draghi (or Lagarde) will signal tomorrow a willingness to deliver "shock and awe" with more rate cuts (buying yards and yards of Dec Euribor Futs)…
Total volumes in the Dec20 euribor contract were over 370,000 ahead of the close, a new record high.
And while German stocks outperformed (implicitly benefiting from the 'weaker' euro that may come from a huge rate cut)…
As European bank stocks slumped again along with the yield curve…
Greek 10Y bond yields plunged back below 2.00% (and remain below the 10Y UST) despite record levels of debt-to-gdp…
And before we leave Europe, as a reminder, Friday marks the 7th anniversary of Draghi's "Whatever It Takes" moment (which has left EU stocks up over 50%, but banks barely positive)…
So more of the same…
[youtube https://www.youtube.com/watch?v=m5RtlpXsl8k]
Chinese stocks extended yesterday's gains in the morning session but faded in the afternoon…
US markets were mixed with Dow red (Boeing and CAT) as Small Caps soared (squeeze) to their highest close since May and Nasdaq gained (despite the DoJ's probes)…
NOTE – S&P and Nasdaq Record high
Small Caps soared on the heels of another well-time short-squeeze…
The Dow was weighed down by Boeing and Caterpillar…
Nasdaq futs plunged overnight along with the mega-tech stocks after news of the DoJ probe… but the machines bid them all back to the moon, alice…
NOTE – FB earnings tonight
FANG Stocks opened gap-down and exploded higher all day…
Equity and Credit protection costs plunged this week (but HY is lagging)…
VIX plunged to an 11 handle today, bond vol has compressed…
Treasury yields were lower across the curve led by a 4bps drop in the long-end dragging the whole curve to unchanged on the week (despite an ugly 5Y auction)…
The yield curve re-inverted…
And Deutsche suggests there's a long way to go for rates yet…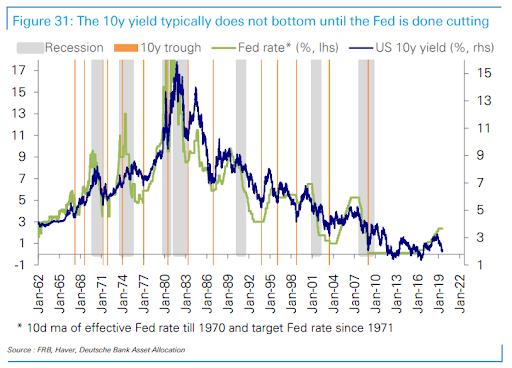 The Dollar ended the day unchanged after early weakness…
Cryptos pumped and dumped today but all remain red on the week…
Bitcoin was unable to get back to $10,000…
Oil spiked on the big inventory draw then collapsed very suddenly on the day, gold gained but silver outperformed…
Silver just keeps on surging, now at new 13-month highs…
Silver has outperformed gold for 8 straight days, crushing the gold/silver ratio from 26 year highs…
Oil prices jumped on US inventory draws and dumped on headlines that Kuwait and Saudi Arabia will coordinate to resume oil output from the neutral zone shared by the neighboring nations…
Finally, its different this time…
Zero Hedge's mission is to widen the scope of financial, economic and political information available to the professional investing public, to skeptically examine and, where necessary, attack the flaccid institution that financial journalism has become, to liberate oppressed knowledge, to provide analysis uninhibited by political constraint and to facilitate information's unending quest for freedom. Visit https://www.zerohedge.com
---
This post has been republished with permission from a publicly-available RSS feed found on Zero Hedge. The views expressed by the original author(s) do not necessarily reflect the opinions or views of The Libertarian Hub, its owners or administrators. Any images included in the original article belong to and are the sole responsibility of the original author/website. The Libertarian Hub makes no claims of ownership of any imported photos/images and shall not be held liable for any unintended copyright infringement. Submit a DCMA takedown request.