Last quarter, in a period of growing concerns about its business model and growing fears about flagging end-user demand for its products after the company reported dismal Q1 deliveries with just 12,100 combined model S and X deliveries the lowest total since 2015, Tesla CEO Elon Musk made investors wait, and wait, and then wait some more before releasing Q1 earnings at 5:13pm, roughly 1 hour after the customary release time (so that investors would have only 17 minutes to digest the report before rushing off to the conference call).
This time, with Tesla recently announcing that it delivered a record number of cars, or 95,200, in the second quarter, the odds for such a late report were virtually nil – especially with the stock rising 2% into earnings – but the big question was whether Tesla had aggressively front-loaded auto demand this quarter and whether it would reaffirm its prior guidance for delivering 360,000 to 400,000 cars in 2019, and alongside that, will Tesla maintain a ~20% gross margin. Perhaps even more important, what is the company's cash burn especially after it raised $2.7 billion in stock and debt in May even as it warned that it risked running out of cash without "hardcore" cost cuts.
And so, at 4:47 pm – well later than its usual time between 4:10 and 4:20pm, and a clear hint that not all is well – Tesla did report Q2 earnings, which were as follows:
Revenue $6.35 billion, also far worse than the estimate of $6.43 billion
Adjusted loss per share pf $1.12, far worse than the estimate 31c
Free cash flow $614 million, better than the estimate $235.5 million
Adjusted automotive gross margin of 19%, better than the estimate +17.1%
Capital expenditure only $250MM, far below the estimate $583.9 million
And visually, revenues…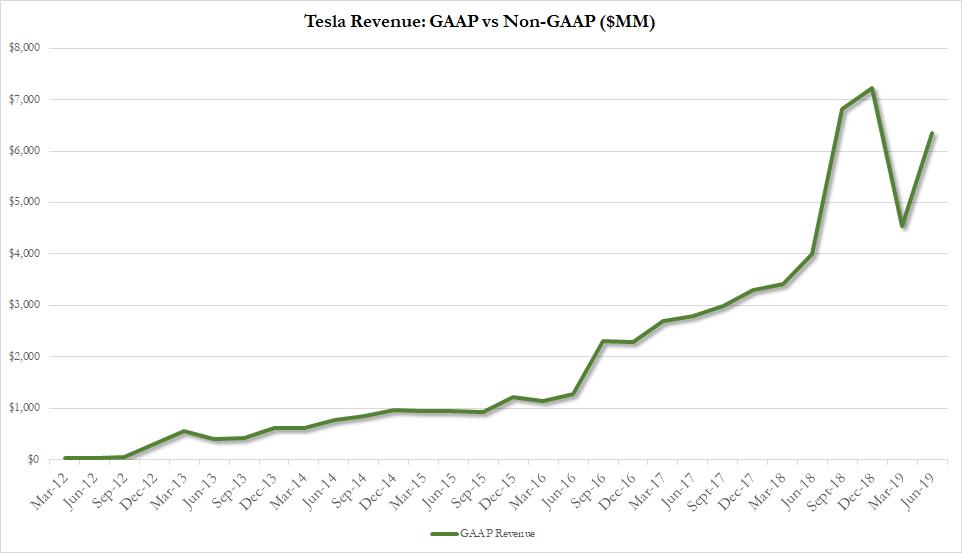 And EPS: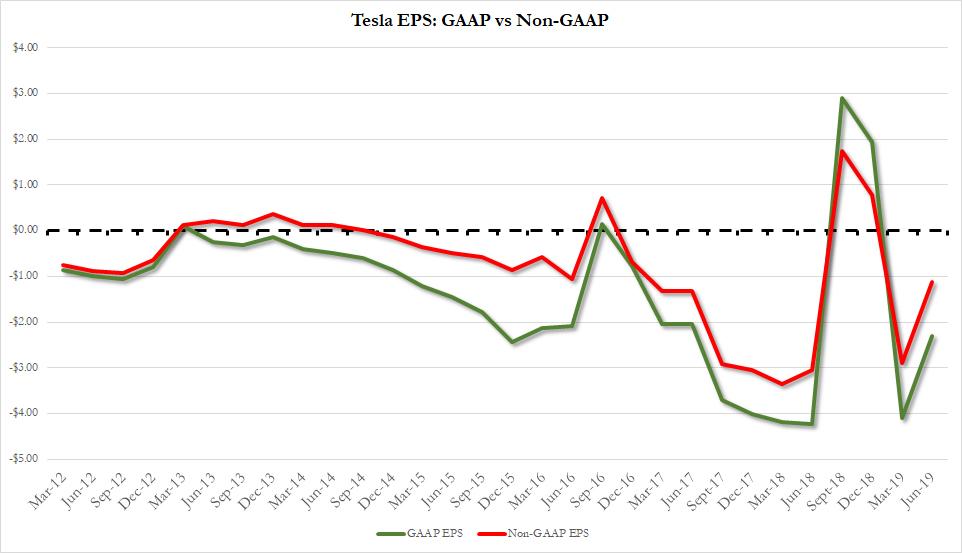 Speaking of the company's liquidity situation, TSLA's cash flow actually posted a dramatic rebound from the $920 million it burned in Q1, spiking to $614 million…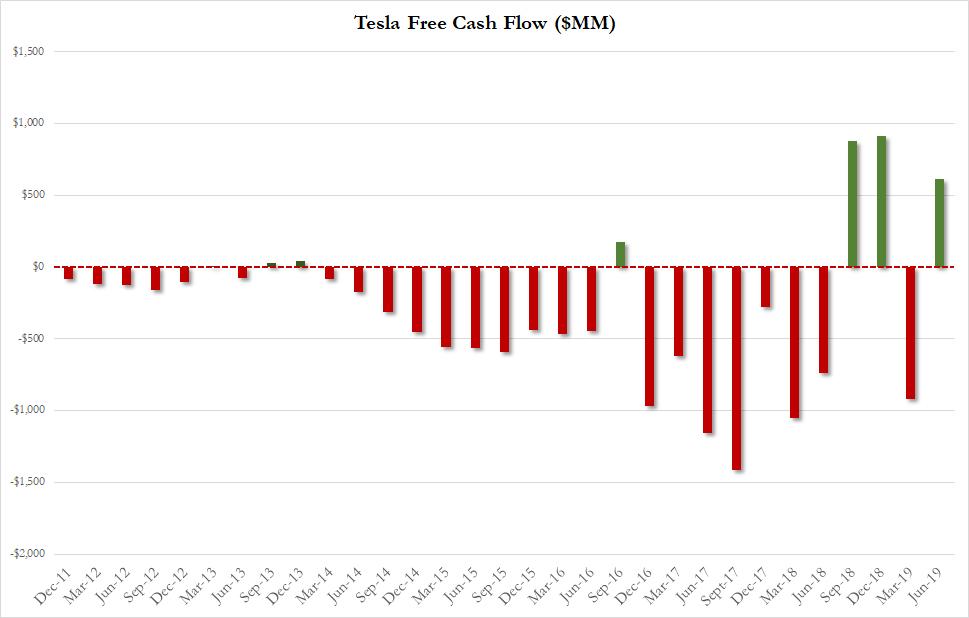 … but the reason for this is that CapEx came in far below estimates, with Tesla only spending $250 million on capital expenditures, more than 50% below the $583 million expected. As a reminder, last quarter Tesla also surprise by spending far less on CapEx, when it reported Q1 capital expenditure of only $279.9 million, with consensus expecting nearly double that that or $508.2 million, suggesting the company once again mothballed various expansion projects to mitigate the cash burn.
And speaking of future Capex, and the company's growth prospects, perhaps the main reason why the company's stock is tumbling is because of the following item in the outlook: "Our 2019 capex is expected to be about $1.5 to $2.0 billion, a reduction from prior guidance" with the market clearly seeing this as a hint that growth – and more specifically, spending on growth – is about to slow significantly.
The "good" news is that at least Tesla did not cut its production outlook yet, and said it is still on track to deliver between 360,000 and 400,000 vehicles this year.
Some more highlights from the company's outlook:
This quarter, we are simplifying our approach to guidance. We are most focused on expanding our manufacturing footprint in new regions, launching new products and continuing to improve the customer experience, while generating and using cash sustainably. Local production and improved utilization of existing factories is essential to be cost competitive in each region.

We remain on track to launch local production of the Model 3 in China by the end of the year and Model Y in Fremont by fall of 2020. We are also accelerating our European Gigafactory efforts and are hoping to finalize a location choice in the coming quarters.
Looking at the all important demand number, Tesla's customer deposits plunged again, dropping to $631 million from $768 million in Q1, the lowest number since Q1 2017, suggesting that the backlog of potential clients is rapidly shrinking.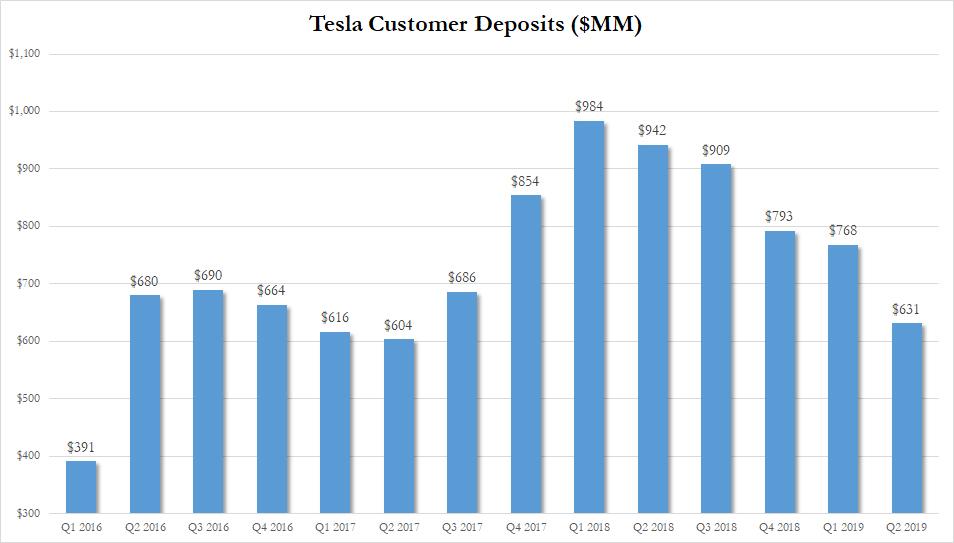 And so between the major miss on the top and bottom line, and the capex miss and cut, the market's patience with Tesla appears to have run out, and the stock is tumbling in the after hours.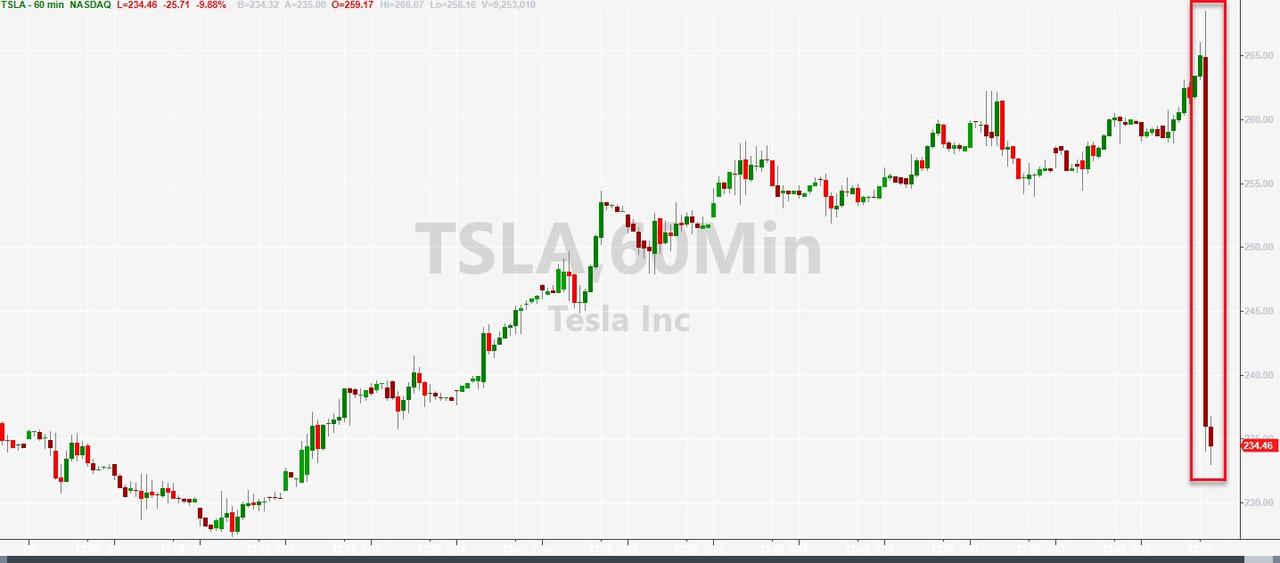 Developing.
Zero Hedge's mission is to widen the scope of financial, economic and political information available to the professional investing public, to skeptically examine and, where necessary, attack the flaccid institution that financial journalism has become, to liberate oppressed knowledge, to provide analysis uninhibited by political constraint and to facilitate information's unending quest for freedom. Visit https://www.zerohedge.com
---
This post has been republished with permission from a publicly-available RSS feed found on Zero Hedge. The views expressed by the original author(s) do not necessarily reflect the opinions or views of The Libertarian Hub, its owners or administrators. Any images included in the original article belong to and are the sole responsibility of the original author/website. The Libertarian Hub makes no claims of ownership of any imported photos/images and shall not be held liable for any unintended copyright infringement. Submit a DCMA takedown request.