Days after Sen. Rand Paul offered to buy "ungrateful" Rep. Ilhan Omar (D-MN) a ticket to Somalia to gain some perspective, the far-left Congresswoman appeared to advocate violence against the Kentucky Republican.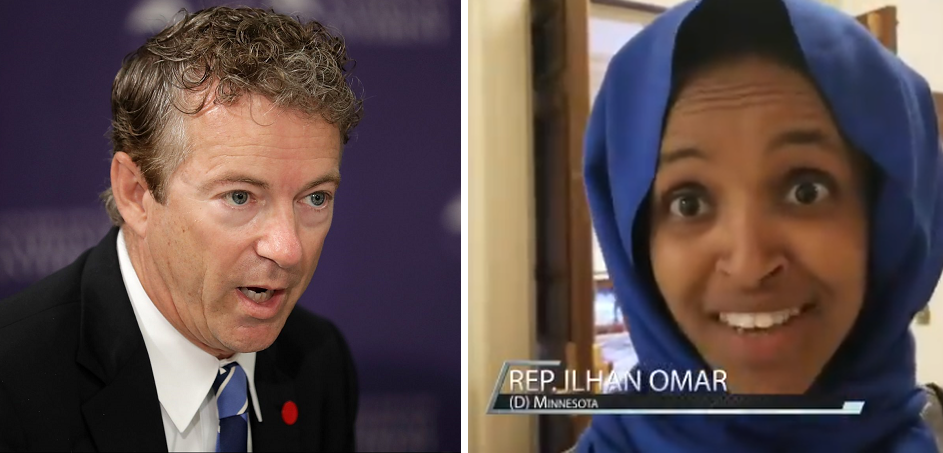 On Monday, Omar retweeted Tom Arnold – who sympathized with Paul's neighbor, who broke six of the Senator's ribs in a violent 2017 attack over a longstanding landscaping dispute. The neighbor, Rene Boucher of Bowling Green, KY, spent 30 days in jail and was ordered to pay Paul $580,000.
"Imagine being Rand Paul's next door neighbor and having to deal with @RandPaul lying cowardly circular whiney bullcrap about lawn clippings," tweeted Arnold, adding. "No wonder he ripped his toupee off." 
Rep. Omar – the subject of a recent ethics complaint alleging immigration, tax and student loan fraud – retweeted Arnold. 
Wow, it appears @IlhanMN is celebrating/calling for violence against @RandPaul.

I hope every Democrat and Republican in Congress, as well as members of the media have the courage to call this out.

Calls for political violence should never be tolerated, regardless of Party. pic.twitter.com/AQcz5gqLI6

— Andrew Surabian (@Surabees) July 29, 2019
In an interview with Breitbart published last Wednesday, Paul responded to a series July 14 tweets by President Trump slamming Omar and other "Progressive" Democrat Congresswomen for being anti-American. 
"I've met people who have come here from behind the Iron Curtain,"Paul said. "They got away from communism, they're some of the best Americans we have, because they really appreciate how great our country is, and then I hear Representative Omar say America is a terrible place," said Paul. "Well, she came here and we fed her, we clothed her, she got welfare, she got [schooling], she got healthcare, and then, lo and behold, she has the honor of actually winning a seat in Congress, and she says we're a terrible country? I think that's about as ungrateful as you can get." 
"And so — I'm willing to contribute to buy her a ticket to go visit Somalia," Paul continued, adding "and I think she can look and maybe learn a little bit about the disaster that is Somalia — that has no capitalism, has no God-given rights guaranteed in a constitution, and has about seven different tribes that have been fighting each other for the last 40 years."
"And then maybe after she's visited Somalia for a while, she might come back and appreciate America more."
Or, she might support a violent attack on a political enemy. 
https://platform.twitter.com/widgets.js
Zero Hedge's mission is to widen the scope of financial, economic and political information available to the professional investing public, to skeptically examine and, where necessary, attack the flaccid institution that financial journalism has become, to liberate oppressed knowledge, to provide analysis uninhibited by political constraint and to facilitate information's unending quest for freedom. Visit https://www.zerohedge.com
---
This post has been republished with permission from a publicly-available RSS feed found on Zero Hedge. The views expressed by the original author(s) do not necessarily reflect the opinions or views of The Libertarian Hub, its owners or administrators. Any images included in the original article belong to and are the sole responsibility of the original author/website. The Libertarian Hub makes no claims of ownership of any imported photos/images and shall not be held liable for any unintended copyright infringement. Submit a DCMA takedown request.