A dramatic legal battle between the ruler of Dubai, Sheikh Mohammed bin Rashid al-Maktoum, and his estranged wife, Jordanian princess Haya bint al-Hussein, over their children's custody began this week in a London court and has already witnessed a "non-molestation order" and a "forced marriage protection order" brought against the powerful Emirati sheikh by his wife. She's reportedly been hiding out in London and says she's "afraid for her life."
It was first reported weeks ago that the 45-year-old daughter of late King Hussein had fled the UAE with her two children, seeking to escape her billionaire (and allegedly abusive) husband, which drove speculation as to whether Dubai would invoke diplomatic powers to try and force her back to the UAE.  
She fears she could be abducted and rendered back to Dubai, similar to what happened in the case of Sheikha Latifa — daughter of the Dubai ruler who mounted her own "escape" attempt last year, only to be captured later by Emirati forces on a yacht attempting to flee.
The family is said to be worth over $4 billion and exercises huge influence in other countries where they maintain substantial assets and real estate, such as the UK.
The protection orders are being considered by the court in response to Sheikh Mohammed's seeking a legal order for the summary return of their children to Dubai. The 70-year old sheikh was absent from the proceedings but is represented by his legal team.
The "non-molestation order" protects from harassment or threats, while the "forced marriage protection order" is defined as follows:
Forced marriage protection orders can be used to help someone who is being coerced into marriage or is already in a forced marriage.

They can be applied for by the person to be protected by the order, or for someone else by a relevant third party or another person with the court's permission to do so.
"Force can include physical force, as well as being pressurized emotionally, being threatened or being a victim of psychological abuse," according British law. 
Previous reports detailed how Princess Haya had plotted her escape from Dubai and her husband's oversight "for months":
The wife of Dubai's ruler Sheik Mohammed bin Rashid al-Maktoum spent months planning her escape to London after she discovered her husband had lied about imprisoning and torturing his eldest daughter. Princess Haya Bint al Hussein, 45, is said to have fled Dubai after she found out how the country's ruler had treated his daughter Princess Latifa.
Ahead of the English High Court proceedings, which has from the start drawn immense UK media scrutiny – especially given the Dubai royal couples' closeness to England's Queen and royal family – the two parties said in a joint statement: "These proceedings are concerned with the welfare of the two children of their marriage and do not concern divorce or finances."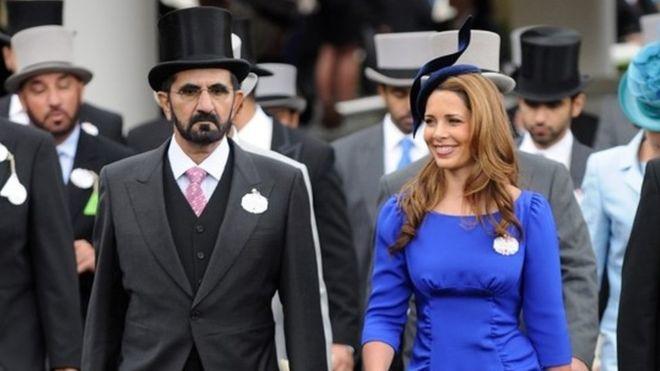 The UAE is further said to be concerned that sensitive and potentially embarrassing details could come out of the case, with presiding Judge Andrew McFarlane already having rejected an attempt by Sheikh Mohammed's lawyers to restrict certain details of the cause from the media. 
"There is a public interest in the public understanding, in very broad terms, proceedings that are before the court," he said.
The Dubai government has called it "a private matter" in statements to Reuters this week; however, we don't expect it'll be able to keep a lid the likely damning details to come. 
Zero Hedge's mission is to widen the scope of financial, economic and political information available to the professional investing public, to skeptically examine and, where necessary, attack the flaccid institution that financial journalism has become, to liberate oppressed knowledge, to provide analysis uninhibited by political constraint and to facilitate information's unending quest for freedom. Visit https://www.zerohedge.com
---
This post has been republished with permission from a publicly-available RSS feed found on Zero Hedge. The views expressed by the original author(s) do not necessarily reflect the opinions or views of The Libertarian Hub, its owners or administrators. Any images included in the original article belong to and are the sole responsibility of the original author/website. The Libertarian Hub makes no claims of ownership of any imported photos/images and shall not be held liable for any unintended copyright infringement. Submit a DCMA takedown request.