Global Markets Tumble On Trade War Fears, Italian Bonds Plunge As Crisis Returns
Global stocks and US equity futures were set to end the week in a sea of red as trade war tensions resurfaced after the US was said to hold off on Huawei licenses in retaliation for China's halting of US crop imports…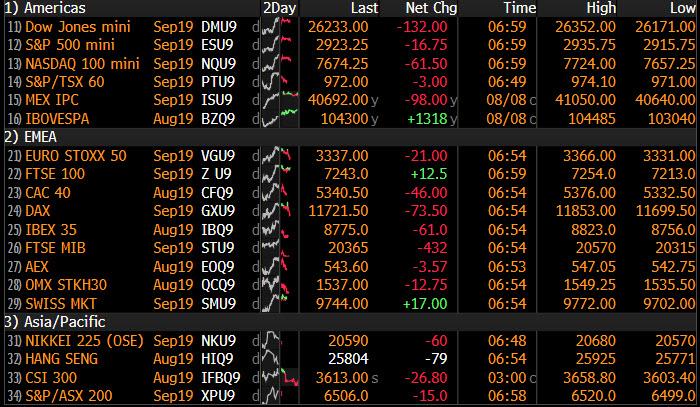 … while fears of a government crisis in Italy sent the country's bond plunging, after Deputy PM Salvini called for a snap election, fanning political uncertainty and prompting a haven bid in bunds. Italy's BTPs tumbled led by the belly, with the 5-year yield rising 30bps to 1.14% and the 10-year yield up 25bps to 1.78%, widening the BTP-bund spread by 29bps to 238bps, amid a violent selloff as 10-year futures volumes surge to 250% of the 10-day average.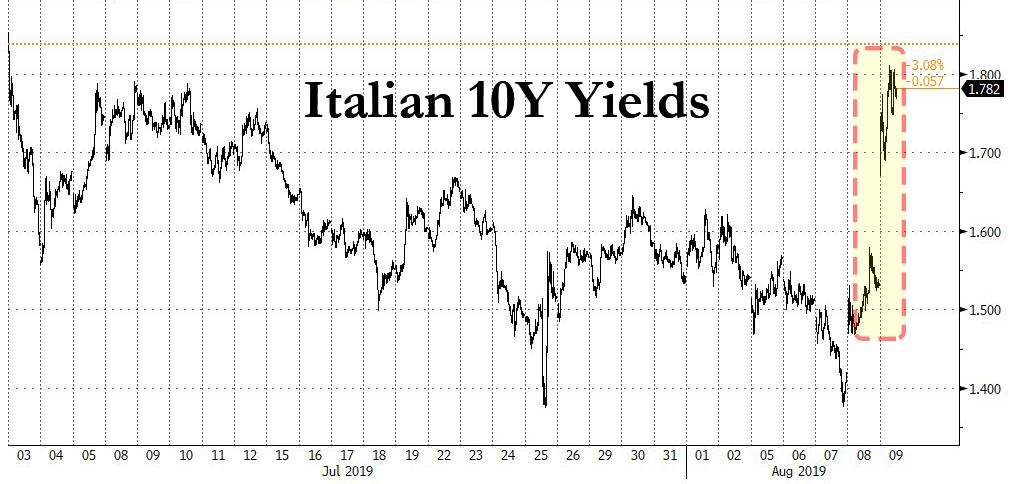 The fresh risk-off episode left gold on course for its best week in three years, Japan's yen near an eight-month high and bonds surging. Meanwhile, US stock futures were down as much as 0.5%, while MSCI's broadest index of world shareswas headed for its second straight week of declines, after one of its worst days in years on Monday.
With one day left until the weekend after a historically turbulent week, dominated by a symbolic drop in China's currency was not finished yet: a Bloomberg report that Washington was delaying a decision about allowing some trade between U.S. companies and Huawei again spooked Asia. Markets in the region slumped with the MSCI Asia ex-Japan index ending down 2.3% for the week after data showed China's first decline in producer prices in three years, compounding the Huawei disappointment, with South Korea advancing amid oversold signs for Kospi stocks and Hong Kong sliding. Japan's Topix, meanwhile, rose 0.4%, boosted by technology shares, as Japan's economy grew more than expected in the second quarter. The Shanghai Composite Index retreated 0.7%, capping a second week of losses, with Kweichow Moutai and China Merchants Bank among the biggest drags, after Beijing reported the first negative PPI print in 3 years even as food inflation soared, pushing CPI to the highest in 16 months, and leaving the PBOC in a bind, unable to cut rates to stimulate the economy.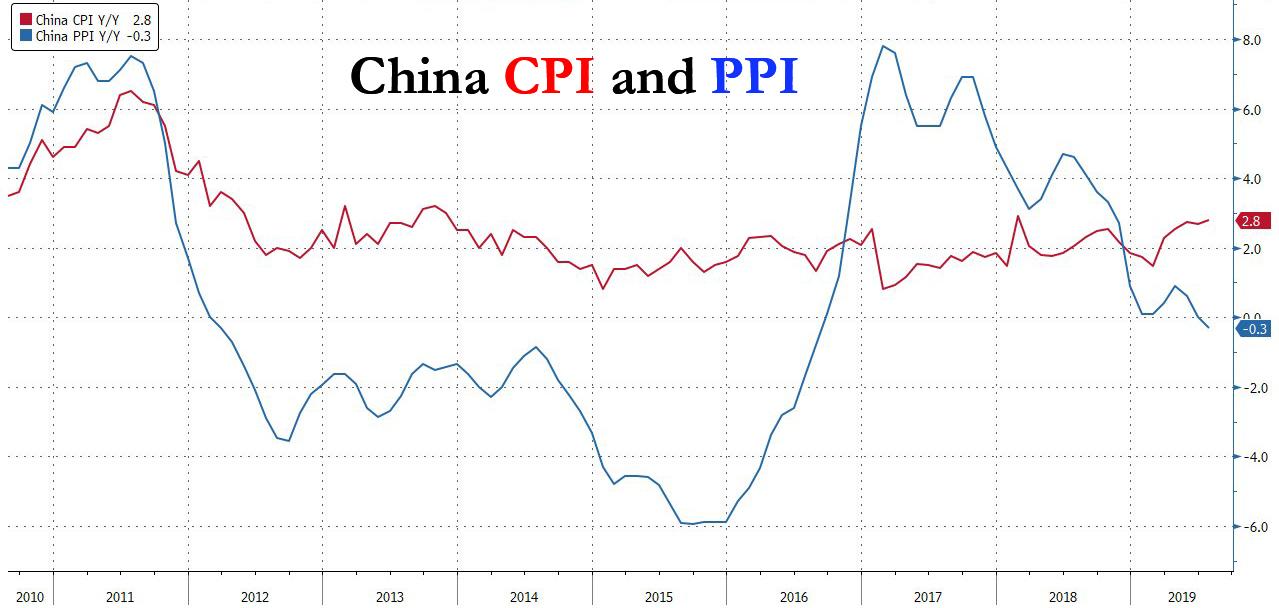 As Bloomberg reported after the close on Thursday, Washington held off on a decision about licenses for U.S. companies to restart business with Huawei, while Beijing halted purchases of U.S. farming goods. India's Sensex rose 0.8%, buoyed by HDFC Bank and Housing Development Finance, amid optimism the government may drop an increased surcharge on foreign investors registered as trusts.
The European session was uglier, and was led lower by a 2.4% slump in Italian stocks after Matteo Salvini, the leader of one of the country's ruling parties, the League, pulled his support for the governing coalition on Thursday. The Stoxx Europe 600 index's decline was led by automaker shares.
While Italian snap elections have been likely for months, markets were jarred when Salvini, who's publicly insisted the government would last its full five years before, pushed for a new poll as deja vu moments of bidless Italian bonds filled traders with dread. The result was a plunge in Italian government debt, which pushed yields on 10-year Italian bonds up 26 basis points to 1.8%, the biggest daily increase in over a year.
"Those who waste time hurt the country," the League said in a statement as it presented a no-confidence motion to the Senate in Rome.
Meanwhile, London's FTSE and the pound were under strain, too, with Gilt yields sliding and cable tumbling to 1.2080, the lowest since the start of 2017, after the UK reported its economy unexpectedly shrank in the second quarter, the first contraction in seven years.That followed reports on Thursday that the new UK Prime Minister, Boris Johnson, was planning for an election after an Oct. 31 Brexit. Those reports had shoved sterling to a two-year low against the euro.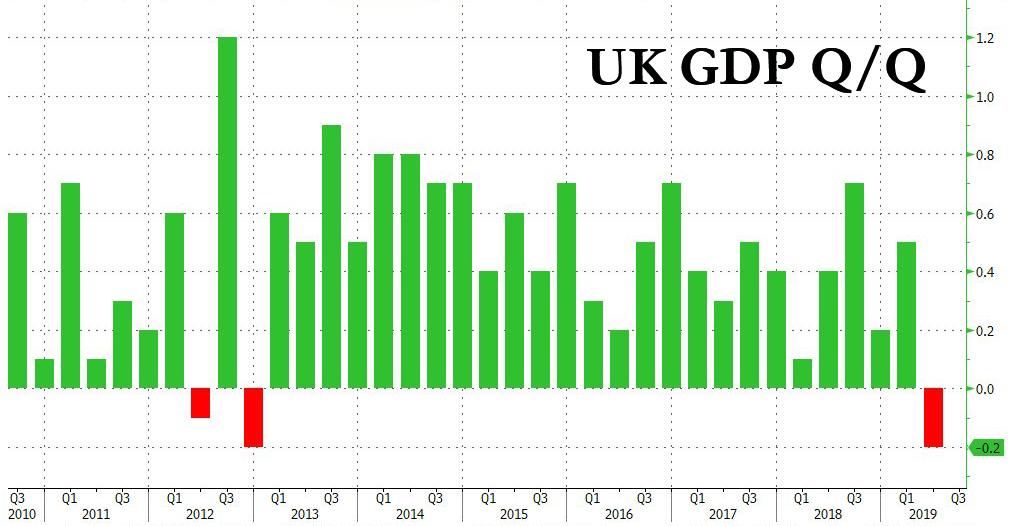 "It has been a very volatile week," said Elwin de Groot, Rabobank's head of macro strategy. "Until recently, the markets' view was that this trade war will be resolved, but clearly now the thinking is that maybe this is not the case and it could be accelerating from here," and Italy and Brexit worries are now adding to that, he said.
As a result, treasuries ticked higher alongside gold, which extended above $1,500 per ounce. While most of Europe's debt inched higher, Italy's bonds plunged with benchmark 10-year yields heading for the biggest increase since 2018 (see more above).
In FX, a turbulent week for the yuan ended on a calmer note, reflecting the central bank's efforts to sooth nerves after the currency dropped below 7 per dollar. Volume in the onshore rate has fallen every day since Monday, with the PBOC on Friday setting its daily reference rate for the onshore yuan at a level that was in line with expectations. A gauge of expected volatility in the offshore yuan fell for a fourth day. Recent fixings reinforced the message that the PBOC seeks stability, said Ken Cheung, senior FX analyst at Mizuho Bank. "Recent onshore yuan fixings with counter cyclical factor in place to slow down depreciation flagged PBOC's policy to guide a gradual depreciation rather than one-off sharp yuan depreciation," he said. Still, the currency continued to weaken against a basket of trading partners' currencies, hitting a new low after dropping to its lowest level since at least 2015 on Thursday.
Emerging-market equities and currencies headed for third week of declines as escalating trade tensions and concerns of a global slowdown shattered a recent calm, even as central banks pushed through rate cuts to limit the damage. The MSCI stocks gauge for developing nations extended its August slump to 5.1% after Thursday's rebound proved short-lived. The currency index erased its 2019 gains, with the South African rand leading this week's retreat. Peru joined peers from India to Brazil in cutting interest rates amid a deteriorating growth outlook as the intensifying conflict between China and the U.S. takes its toll on trade and investment flows. China'
China's pledge to keep the yuan steady gave markets a brief respite Thursday, but the bearish outlook returned to sour sentiment on Friday. "We are in a slight risk-off mode today," said Guillaume Tresca, senior emerging-market strategist at Credit Agricole in Paris. "The decline of growth prospects, the yuan's weakening and the trade war concerns are behind the emerging-market currencies' depreciation."
Elsewhere in FX, the dollar was weighed down by renewed complaints by Trump about the U.S. currency's strength; the greenback weakened against all of its G-10 peers except the pound, while the Bloomberg Dollar Spot Index was set for its first weekly decline in four. Meanwhile, sterling was set for its fourth weekly decline against the dollar after poor growth data added to Brexit-related political uncertainty. The yen gained for a third day and Treasuries advanced as investors sought shelter in haven assets with no signs of a let-up in the U.S.-China trade war.
"The news about Huawei triggered the rise in the yen," said Junichi Ishikawa, senior foreign exchange strategist at IG Securities. "This is a reminder that the U.S.-China trade dispute remains a risk, and this risk is not receding."
Other safe havens also gained. Gold rose back above $1,500 on Friday, its highest in more than six years, en route to its best week since April 2016. Oil prices held most of the previous day's gains as well, on expectations of more production cuts by OPEC. Brent crude hovered at $57.32 per barrel. U.S. West Texas Intermediate crude fell 0.1% to $52.50. Worries about the global economy meant Brent was down over 6% for the week and WTI more than 5%.
"The trade spat is driving the market crazy," said Jigar Trivedi, commodities analyst at Mumbai-based Anand Rathi Shares & Stock Brokers. "$1,500 (for gold) is now the new normal unless trade relations take a turn in a right direction."
On today's calendar expected data include PPIs. Cambrex, Hydro One, TransAlta and Tribune Media are among companies reporting earnings.
Market Snapshot
S&P 500 futures down 0.5% to 2,926.50
STOXX Europe 600 down 0.5% to 372.82
MXAP up 0.3% to 152.33
MXAPJ unchanged at 491.50
Nikkei up 0.4% to 20,684.82
Topix up 0.4% to 1,503.84
Hang Seng Index down 0.7% to 25,939.30
Shanghai Composite down 0.7% to 2,774.75
Sensex up 1% to 37,700.04
Australia S&P/ASX 200 up 0.3% to 6,584.43
Kospi up 0.9% to 1,937.75
German 10Y yield fell 2.6 bps to -0.586%
Euro up 0.1% to $1.1191
Italian 10Y yield rose 11.3 bps to 1.182%
Spanish 10Y yield unchanged at 0.224%
Brent futures up 0.7% to $57.79/bbl
Gold spot up 0.1% to $1,502.89
U.S. Dollar Index down 0.1% to 97.54
Top Overnight News from Bloomberg
U.S. was said to decide to hold off on a decision about licenses for American firms to restart business with Huawei Technologies
The U.K. economy shrank in the second quarter, delivering a blow to newly installed Prime Minister Boris Johnson. GDP fell 0.2% following a solid 0.5% advance in the previous three months while economists had expected output to be unchanged
German exports registered their steepest annual decline in three years, highlighting the plight of a manufacturing sector suffering from global trade conflicts.
Bayer AG is proposing to pay as much as $8 billion to settle more than 18,000 U.S. lawsuits alleging its Roundup herbicide causes cancer, according to people familiar with the negotiations.
Italy's PM Giuseppe Conte signaled he won't leave office without a fight as his deputy, Matteo Salvini, took steps toward bringing the government down and forcing snap elections. The nation's bonds plunged.
UBS Group AG's investment bank co-heads are working on their first shake- up of the business – plans which could entail plans could entail hundreds of job cuts
U.K.'s Johnson says 'Bags of Time' to renegotiate Brexit with EU
Oil Recovers From Seven-Month Low as Saudis Signal Export Curbs
U.S. Warns of Shipping Interference in Strait of Hormuz
RBA Governor Philip Lowe said he's prepared to reduce Australia's record-low interest rates further, though he signaled that the economy could in fact be through the worst of its slowdown
Too much too soon on rates better than too little too late, Reserve Bank of New Zealand Governor Adrian Orr said to business audience
Asian equity markets traded mostly higher as the region got a mild tailwind from the strong performance on Wall St where stocks extended their rebound, helped by the recent better than expected Chinese trade data and continued PBoC restraint on the CNY. As such, ASX 200 (+0.3%) and Nikkei 225 (+0.5%) were higher with notable strength seen in tech stocks after similar gains in the sector stateside and with investors in Tokyo cheering better than expected GDP data, although weakness in real estate and profit taking in gold miners has limited the upside for Australia. Elsewhere, Hang Seng (-0.7%) and Shanghai Comp. (-0.7%) were choppy with initial support seen after the PBoC once again set a firmer than expected reference rate but with gains later pared after participants digested mixed inflation data in which CPI topped estimates but PPI contracted, while reports the US held off on the decision regarding Huawei licences after China stopped agricultural purchases, added to the cautiousness. Finally, 10yr JGBs were higher as they track upside in T-notes and as prices broke through prior at 154.50/55, with the BoJ also present in the market under its bond buying program in which it upped purchases in 1-3yr JGBs but lowered purchases of 3-5yr and 10-25yr maturities.
Top Asian News
Huawei Suppliers Fall After U.S. Is Said to Hold Off on Licenses
Philippines' Diokno Sees Further Rate, Reserve Ratio Cuts
Thailand Says Policy Panel Won't Interfere With Central Bank
China Mobile Jumps the Most in Two Years on Dividend Pledge
Major European indices have diverted from their Asia-Pac counterparts largely positive performance and opened and remain in negative territory [Euro Stoxx 50 -1.0%]. The FTSE MIB (-2.2%) is the notable underperformer this morning as the Italian political turmoil has escalated following comments from League's Salvini that there is no longer a majority of support for the government and elections are necessary (a summary of the situation is available on the headline feed). The MIB's underperformance is most significantly driven by banking names with the likes of UniCredit (-6.0%), UBI Banca (-6.0%) and Banco BPM (-8.3%) experiencing significant losses; as such, the FTSE MIB Banking Index is lagging (-4.4%) with the largest weighted bank in the Stoxx 600 Bank index (-1.5%), Intesa Sanpaolo (-4.5%), with a 3.8% weighting likely the most significant laggard out of Italy in terms of index points. Elsewhere, the DAX (-0.6%) did get a short-lived boost from a Bayer (+3.2%) update, where reported indicate the Co. are to propose up to a USD 8bln roundup settlement; which generated a significant spike in Co. shares from around EUR 63.50 to EUR 70.00 at best. DAX aside, this morning's notable movers to the upside largely reside in the FTSE 100 (-0.2%), with WPP (+7.3%) topping the index higher post earnings where the Co. proposed an interim dividend of GBP 0.0266 and H1 net revenue came in above the prior. Sticking with the UK, but outside of the 100 are Hikma Pharmaceuticals (+6.8%) as the Co's H1 revenue also came in above prior and additionally the Co. increased some FY guidance components.
Top European News
Italy Early Election Might Be Set for Oct. 23: Repubblica
Ukraine Eyes New IMF Deal Worth Up To $10B: Deputy C.Bank Chief
Faith in Woodford Plummets as Fund Trades at Record Discount
In FX, GBP/EUR – The Pound has come under renewed pressure on the back of an unexpected, but not exactly shocking negative UK GDP print for Q2, while monthly IP and output data also missed expectations. However, Cable has dipped below the 1.2080 multi-year base and Eur/Gbp has just crossed yesterday's 2 year high at 0.9265. given the single currency's separate struggles in wake of more Italian political instability. Indeed, Eur/Usd remains capped around 1.1200 after the collapse of Rome's 2-party coalition, and ahead of a confidence vote before fresh elections potentially in October or November, while circa 1 bn option expiries at the big figure and from 1.1175-60 may also keep the headline pair in check into Friday's NY cut.
JPY/CHF/NZD/AUD/CAD – All mildly firmer against the Greenback, albeit well within this week's ranges and for the Yen that means largely anchored on 106.00 as Fib resistance just above (106.06) continues to be respected on a closing basis, while decent expiry interest between 105.90-106.00 could stall pull-backs towards 105.50. Meanwhile, the Franc has rebounded through 0.9750 and 1.0900 vs the Euro on the aforementioned renewed political uncertainty in Italy and the Antipodean Dollars are still clawing back post-RBNZ declines vs their US counterpart even though RBA comments and the SOMP overnight have underscored clear downside economic risks that will likely require further monetary, or perhaps even unconventional easing. Hence, Aud/Usd looks vulnerable above 0.6800 and Nzd/Usd just shy of 0.6500 as the Aussie/Kiwi cross pivots 1.0500. Turning to the Loonie, looming Canadian jobs and to a lesser extent perhaps housing data should provide some independent impetus as crude prices essentially tread water approaching the end of a volatile week and the DXY stays close to 97.5000. Usd/Cad currently trading towards the base of 1.3245-15 parameters.
NOK/SEK – The Scandi Crowns are flat-lining against the Euro after some relatively big swings so far this week, with Eur/Nok and Eur/Sek meandering between 9.9955-9665 and 10.7475-7070 respectively and neither really reacting to data as Norwegian inflation metrics and Swedish household consumption updates were both somewhat mixed.
EM – Broad losses vs the Buck as the overall risk tone sours again and specific bearish factors persist, while the Lira has also been subject to fresh reports about more Government interference at the CBRT (at least 9 senior personnel 'given' new roles, according to the FT). Elsewhere, the Yuan continues to weaken after another seemingly off-radar incrementally higher PBoC Usd/Cny mid-point fix (at 7.0136).
In commodities, WTI and Brent futures are firmer in early EU trade, albeit the benchmarks have far to go to retrace this week's losses. The ramp up of US-China trade tensions saw the global benchmark slump to a current weekly low of 55.90/bbl (vs. 61.40/bbl weekly open), whilst WTI found a weekly base at 50.55/bbl (vs. 55.29/bbl weekly open). The former currently eyes 53/bbl (200 WMA 53.05/bbl) to the upside whilst the latter climbs closer towards 58/bbl (200 WMA at 57.76/bbl) . The oil demand outlook has been deteriorating with IEA the latest agency to cut its global demand growth forecast, by 100k BPD to 1.1mln BPD and 2020 by 50k BPD to 1.3mln BPD. The release is relatively in-fitting with EIA's STEO earlier in the week, where it cut 2019 world oil demand growth forecast by 70k BPD to 1.0mln BPD, but raised its 2020 forecast by 30k BPD to 1.43mln BPD. Prices may also see support from the Saudi's intention for intervention to stem the decline in the market, although official measures have not been announced. Elsewhere, a stellar week for gold as the yellow metal was bolstered as investors flocked to the safe-haven amid the aforementioned ramp up in protectionism. Spot gold has a current weekly (and 6-year) high of 1510/oz (vs. 1440/oz at the weekly open). BAML Flow Show notes that precious metals have reaped inflows of USD 2.3bln, its fourth largest weekly inflows to date. Meanwhile, copper prices are flat around the USD 2.6/lb level amid the cautious risk tone ahead of US' market entrance. Sticking with base metals, iron ore prices continue to decline with the metal down 18% thus far this month amid a bleaker short-term demand outlook with steel mills potentially reducing operations on low profitability, whilst exports from Brazil and Australia continue to rise. The Reserve Bank of Australia, at its SoMP, also noted that iron ore prices are "expected to decline further" as supply gradually comes back online and China demand moderates. Finally, nickel prices continue to be supported by the speculation that Indonesia could reel in an export ban on nickel ore in a regulatory move. Indonesia initially planned to ban exporting nickel ore by 2022 in an attempt to build up its manufacturing base by using its raw resources. The country said that no decision has been made on the mineral ore export ban timing but bringing the deadline forward from 2022 will disrupt USD 4bln in ore exports.
US Event Calendar
8:30am: PPI Final Demand MoM, est. 0.2%, prior 0.1%
8:30am: PPI Ex Food and Energy MoM, est. 0.11%, prior 0.3%
8:30am: PPI Ex Food, Energy, Trade MoM, est. 0.2%, prior 0.0%
8:30am: PPI Final Demand YoY, est. 1.7%, prior 1.7%
8:30am: PPI Ex Food and Energy YoY, est. 2.3%, prior 2.3%
8:30am: PPI Ex Food, Energy, Trade YoY, prior 2.1%
DB's Jim Reid, off to vacation, concludes the overnight wrap
Right. At the end of today I'm going to put down my quill and ink pot and have a 2-week break. You'll find me in the French Alps. One of my favourite bits of being in the Alps in summer is walking Bronte up and down the mountain across rolling Alpine meadows. At this time of the year it's swarming with grasshoppers, who are slightly annoying to the ankles of a human, however they give Bronte the right hump. They jump all over her and flap in and out of her ears and face. She must burn three times the calories of a normal walk just by fighting them off. To be fair she gulps at them and I suspect she catches and eats about 50 on the average hourly walk. I'm hoping to get back on my bike for the first time since the accident a week ago but my derrière is still sore from the fall and my confidence might be a bit low for those steep mountain descents. So we'll see. See you on the other side and you'll be left in the very capable hands of Craig and Quinn.
The moves in the last couple of days means markets are going into my two-week break in a bit of a happier state with last night's closing gains of +1.89% and +2.24% for the S&P 500 and NASDAQ, respectively, limiting the damage done since Trump's tweet to 'only' -2.07% and -3.07% from intra-day lows of -5.95% and -7.61% on Monday. Yesterday's rally was the best in two months, since Fed Chair Powell gave a dovish speech at the Chicago Fed conference on June 4. The recent rally hasn't been accompanied by big swings in Fed expectations though with the market still pricing around 64bps of additional cuts this year. It remains to be seen if monetary policy can act as a shock absorber for markets moving forward. The reality is that the outcome is probably more binary than that. Monetary policy is unlikely to help much in a full blown trade escalation.
The good news is that the main talking point in markets yesterday was away from trade and instead reserved for a Reuters story which broke in the afternoon suggesting that Germany was mulling a "fiscal U-turn" by issuing new debt to finance a climate protection programme according to a senior government official. A bit of scepticism surrounded the news not least because this isn't the first such story to emerge about a change of fiscal policy in Germany and also because there may be an element of political posturing behind the headlines. That being said, there is still a very significant and interesting side to the story if true. Our economists showed last week in their report ( here ) that Germany is the member state with room for manoeuvre within current fiscal rules and limits. DB's Chief Economist Mark Wall made the point that the story (if true) signalled a political reset of domestic rules – not because of fears of where the economic cycle is going – but structurally because of climate change, which in itself is an increasingly viable policy route to fiscal spending, providing cover to those naturally opposed to higher spending. So a potentially very interesting development to follow.
The immediate response in bond markets was a sudden move higher in yields (a near 5bps rise in 5 minutes), however, that quickly faded as the market debated the story and Germany's finance ministry played it down, saying there has not been a decision to give up the balanced budget. By the end of play, 10y Bunds finished just +2.1bps higher at -0.560% and close to where they were before the story hit. The big mover though were BTPs, which sold off +11.5bps and as much as +16.1bps at one point as news filtered through that PM Conte was meeting President Mattarella and thus raising fears over new elections. After European markets had closed, Deputy PM Salvini did confirm that his Northern League party wants new elections and will aim to dissolve the government. His party have nearly 40% support in recent opinion polls, nearly double that of his coalition partner. It's not immediately clear if Mattarella will agree to new elections, or if he will ask other parties to try to form a new government. In theory, the Five Star Movement could join with the centre-left PD in a new coalition. If elections are called, they likely won't be held for at least another 60 days after parliament is actually dissolved.
Back to fixed income and Treasuries ended up rallying -1.9bps (a further -1.7bps this morning) to 1.716%, paring a mid-session selloff of +5.4bps, with the reversal coming after a mixed 30-year auction. While demand wasn't great in absolute terms, with the issuance tailing 1.3bps, that was better than Wednesday's 10-year auction and much improved from last month's 30-year issuance, which tailed 2.6bps. The improvement helped spark a rally in the long-end treasuries, taking the yield curve (2s10s) -2.9bps tighter to around 10bps.
As for other markets, the STOXX 600 (+1.66%) was buoyed by the fiscal story while HY spreads in the US and Europe were also -7.4bps and -3.2bps tighter respectively. Oil bounced back +3.43% after its recent selloff, while Gold again flirted with the $1500 level without firmly breaking out. It's nudged back above this morning. EM assets performed well, with equities up +1.23% and Latin American currencies leading FX gains, especially the Brazilian real (+1.27%) and the Mexican peso (+0.92%).
Overnight, we have fresh trade headlines with Bloomberg reporting that the White House is holding off on a decision about licenses for US companies to restart business with Huawei after China said that it was halting purchases of US farming goods. Huawei suppliers Micron Technology (-1.34% ), Western Digital (-1.0% ), Qualcomm (-1.36% ), Xilinx (-0.82%) and NeoPhotonics (-6.31%) all fell in after-hours trading after news of the delay in license approvals.
The above news has poured a little cold water on the risk-on sentiment from yesterday as Asian equity markets are trading mixed with the Shanghai Comp (-0.37%) and Hang Seng (-0.18%) down while the Nikkei (+0.60%) and Kospi (+1.13%) are up. Meanwhile, all G10 currencies are trading higher this morning (c. +0.1% – +0.2% range) and the Chinese onshore yuan is trading at 7.0512 (-0.09%) after another slightly stronger fixing than expected. Elsewhere, futures on the S&P 500 are down -0.43%. We should also note that we've had the latest inflation data out of China where June CPI and PPI came in at +2.8% yoy (vs. +2.7% yoy expected) and -0.3% yoy (vs. -0.1% expected) respectively. The yoy decline in PPI is the first since September 2016. Meanwhile, the preliminary Q2 GDP data in Japan surprised on the upside at an annualized +1.8% qoq (vs +0.5% qoq expected and +2.8% qoq last quarter). Business spending (at +1.5% qoq vs. +0.8% qoq expected) and consumer spending (+0.6% qoq vs. +0.7% qoq expected) helped, with the latter getting lift from a 10-day public holiday and shoppers making purchases ahead of a planned sales-tax hike in October. This suggests that we should be a bit wary of reading too much into this surprise. Government spending also supported the expansion, contributing a surprisingly strong 0.7 pp to the annualized GDP growth figure.
In other news, the BoJ made changes to its bond purchase amounts in three different maturity zones at its regular operation today, which seems like an attempt to limit yield curve flattening. They cut the purchases of 3-5yr bonds (at JPY 360b vs. 380bn in previous auction) and increased buying of 1-3yr debt (at JPY 400bn vs. 380bn). Purchases of 10-25yr bonds was also reduced to JPY 160bn from JPY 180bn. Despite the reduction in purchases at the longer end, the yield on 10yr JGBs are down -1.5bps this morning to -0.217%. Elsewhere, Bloomberg reported that Turkey's central bank removed at least nine high-ranking officials, including chief economist Hakan Kara, yesterday. Other officials removed from duty include the bank's head of research, banking department chief, risk management chief and the institutional transformation manager.
On yesterday's data front, the only noteworthy releases were in the US, where jobless claims fell by 8k to 209k. That's right around their recent lows. Wholesale inventories were flat, compared to expectations for a 0.2% mom increase. That means that inventories, which had dragged around -0.9pp on the first estimate of US second quarter GDP growth, will likely provide an even bigger drag in the second estimate.
To the day ahead now, which this morning includes June trade data in Germany and June industrial production in France and the UK. We'll also get the preliminary Q2 and June GDP readings in the UK along with June manufacturing production and trade data. In the afternoon the big release in the US is the July PPI report.
---
This post has been republished with permission from a publicly-available RSS feed found on Zero Hedge. The views expressed by the original author(s) do not necessarily reflect the opinions or views of The Libertarian Hub, its owners or administrators. Any images included in the original article belong to and are the sole responsibility of the original author/website. The Libertarian Hub makes no claims of ownership of any imported photos/images and shall not be held liable for any unintended copyright infringement. Submit a DCMA takedown request.