McKinsey Under Federal Criminal Investigation Over Its Work Advising Bankrupt Companies
McKinsey Under Federal Criminal Investigation Over Its Work Advising Bankrupt Companies
McKinsey & Company is known for advising many of the world's biggest corporations on a wide range of issues. 
But it's the company's advisory services to bankrupt companies that has led it to be the target of a federal criminal investigation, according to the New York Times. 
Prosecutors in New York are trying to determine whether or not McKinsey used its influence over bankrupt companies to steer assets to itself, or its clients, during Chapter 11 proceedings. 
McKinsey's North American chairman, Gary Pinkus, said: "The firm received an inquiry from the United States Attorney's Office in Manhattan last year, and addressed it. Since then, we have received no additional requests from the U.S.A.O."
Over the last 2 weeks, investigators have interviewed people about McKinsey's actions in the bankruptcies of companies like Alpha Natural Resources and SunEdison. The judges overseeing these cases have already suggested that questions over McKinsey's conduct would best be resolved by the Justice Department.
In the Alpha Natural Resources bankruptcy, McKinsey did not disclose that it owned some of the company's debt, an arrangement that ultimately gave McKinsey a stake in the restructured company, called Contura. Bankruptcy advisers are prohibited from holding direct or indirect stakes in the insolvent company.

…

In the SunEdison bankruptcy, Mr. Alix accused McKinsey of manipulating invoices for prior work to improperly receive payment and avoid disclosing that it was a creditor — a status that could have disqualified McKinsey from working as the energy company's bankruptcy adviser. After Mr. Alix raised those issues, McKinsey called the allegations reckless and defamatory.
An investigation by the Office of the United States Trustee, a division of the Justice Department that polices the conduct of companies in the bankruptcy system, is also taking place. The office has told judges in other bankruptcy cases that it was examining the conduct of McKinsey and McKinsey admits it has answered questions from the regulator. 
Neither investigation may lead to legal action – but a criminal case could be damaging to McKinsey's reputation. 
Bruce A. Markell, a professor of bankruptcy law at the Pritzker School of Law at Northwestern University said: "Would it kill McKinsey? No, because McKinsey has far more lines of business than bankruptcy." Instead, Markell says that an investigation could hinder the firm's bankruptcy division, one that is currently working with clients like PG&E. 
"I think McKinsey's still standing at the end of this. It may not be as tall. It may be a bit bowed, but I think they're still on the playing field," he assessed. 
The criminal investigation adds to the mounting criticism that McKinsey has prioritized its own profits over clients, ethics and the law, the article notes:
McKinsey refunded millions of dollars in fees after South African authorities accused it of helping associates of the country's former president, Jacob Zuma, loot public coffers. The firm's name surfaced in a case federal prosecutors brought against a Ukrainian oligarch because it gave a presentation that cited the need to bribe officials in India. And court records recently revealed its role in helping opioid makers sell more drugs, although the firm was not a defendant in that case.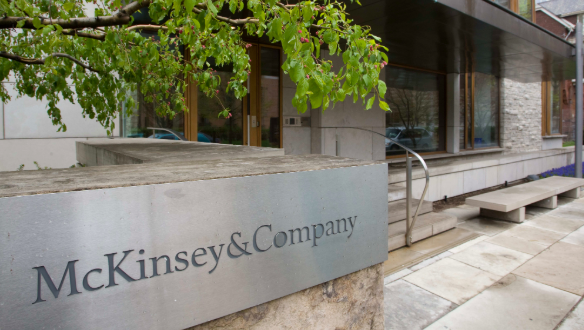 But it has been the company's bankruptcy division that has arguably invited the most criticism. These types of advisers have significant influence over the handling of bankrupt companies' assets and help determine which creditors get priority on defaulted debt. 
Jay Alix, the founder of a competing firm, has been the most vocal with his criticism. Alix has said that McKinsey does not properly disclose its connections to other parties involved in bankruptcy cases, which breaks rules about fair dealing. Judges have voiced concerns about the issues he has raises, but some have also dismissed his complaints for lacking standing. 
McKinsey – obviously – denies wrongdoing. Pinkus said: "Over the past few years, Jay Alix has waged a relentless campaign based on false allegations to drive McKinsey out of the bankruptcy advisory space in order to advantage his firm AlixPartners. Courts have dismissed Mr. Alix's claims in four separate bankruptcy cases, including those of Alpha Natural Resources and SunEdison, as well as a complaint Mr. Alix brought last year under the Racketeer Influenced and Corrupt Organizations Act."
Pinkus says the inquiry that McKinsey received from federal prosecutors in 2018 came shortly after Alix's complaint was filed. The complaint was later dismissed in August 2018 when Alix failed to show that he had been directly harmed. 
"We continue to respond, as we always have, to questions from the U.S. Trustee, which indicated in court this week that it 'has been engaged in discussions with both Mar-Bow and McKinsey RTS,'" a spokesman for McKinsey concluded.

Tyler Durden

Sun, 11/10/2019 – 16:00
---
This post has been republished with permission from a publicly-available RSS feed found on Zero Hedge. The views expressed by the original author(s) do not necessarily reflect the opinions or views of The Libertarian Hub, its owners or administrators. Any images included in the original article belong to and are the sole responsibility of the original author/website. The Libertarian Hub makes no claims of ownership of any imported photos/images and shall not be held liable for any unintended copyright infringement. Submit a DCMA takedown request.