The Jitters Are Back: Everything Is Turning Down Again… Except Stocks
After three weeks of impressive inflows reversing what in 2019 had been the worst outflows from equity mutual funds on record, equities once again saw outflows this week to the tune of $1.5 billion ($4.1 billion out of the US), while bond funds saw $7 billion in inflows as flight to safety returned.
What happened?
More than a month after Trump's October 11 announcement that a Phase 1 trade deal with China had been reached, and following the realization that this was obviously not the case nor was an imminent deal likely as the newsflow on a US-China trade deal became far less optimistic over the past month, there has been a clear move away from risk assets with bond yields, non-US equities and copper turning down and IG and HY spreads widening. In short, as Deutsche Bank puts it, jitters are again evident across asset classes and below the surface in the S&P 500.
And yet, as has been the case much for the past decade, US equities have been a notable exception to this increasingly bearish pattern, with the S&P 500 continuing to creep higher to reach a new high earlier in the week (largely because as SocGen explained previously, companies continue to engage in unprecedented stock buybacks in an increasingly illiquid market).
Yet even within US equities, below the surface there are signs that market turmoil may be making a comeback, with DB's Parag Thatte pointing out that Low Vol and Momentum stocks are moving higher and Value and Small caps are once again declining, alongside bond yields, as optimism for an economic rebound fades. Meanwhile, both foreign- and China-exposed US stocks have clearly underperformed in the past two weeks, and going against the uptrend since early September, are pointing to renewed uncertainty on trade as the likely culprit behind the broader weakness.
Below we show visually how still-bullish US stocks are diverging not only from the increasingly bearish narrative, but from virtually every asset narrative.
We start with a chart showing that global asset class returns over the last two weeks have shown a clear risk off pattern but with US equities a notable exception: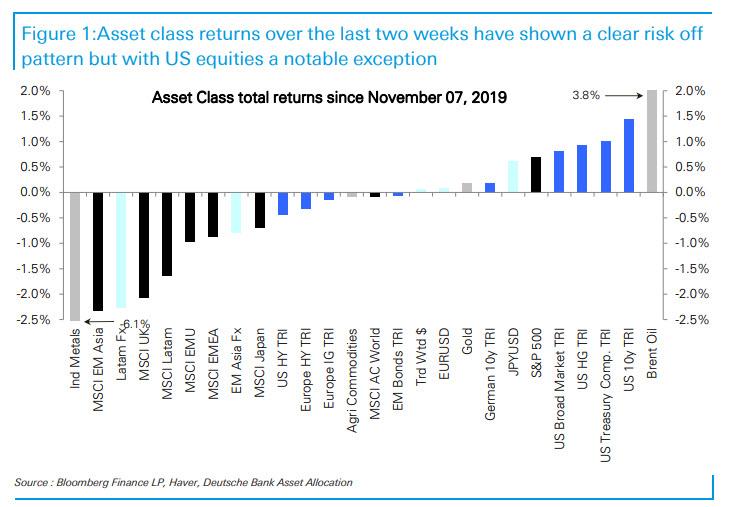 Once again, bonds and stocks are diverging. Virtually every time this has happened in the recent and not so recent past, bonds were eventually right (and stocks were not).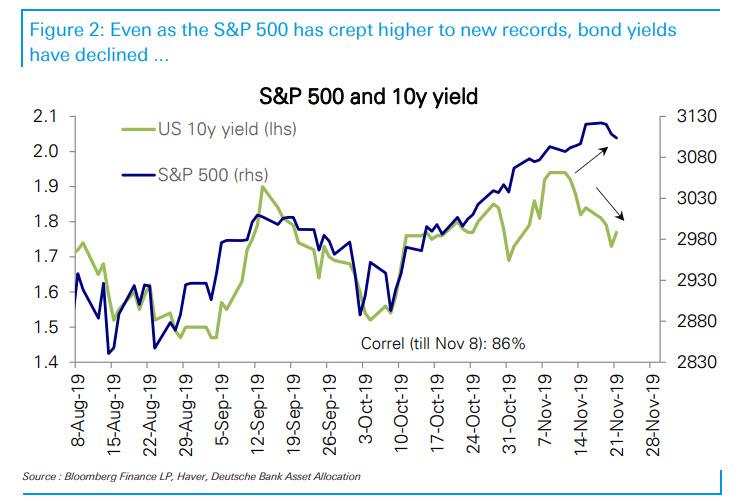 It's not just bonds that are diverging away from US stocks: all global stocks are doing the same.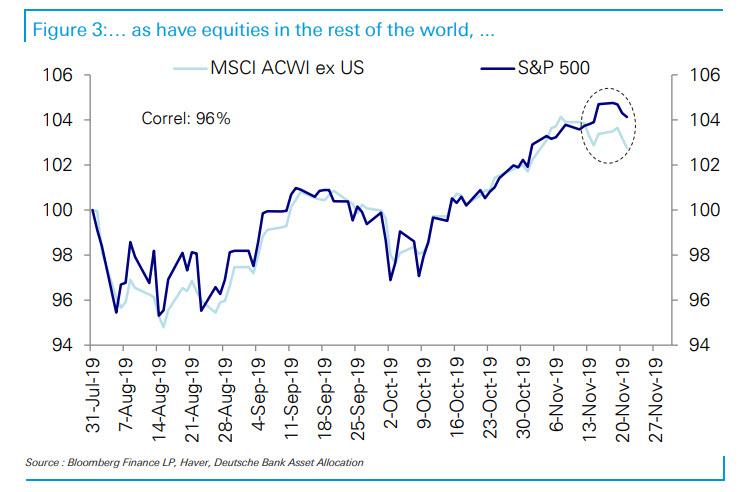 Junk bonds – especially CCCs – have been among the hardest hit with HY spreads divergence notably from stocks…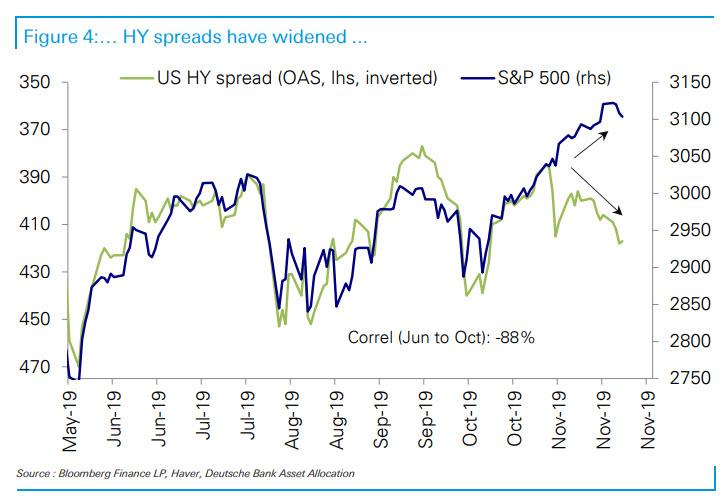 … although investment grade has also not been spared.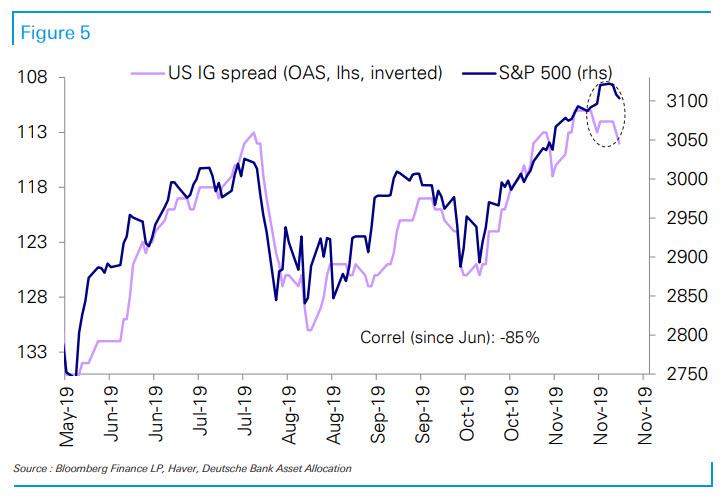 Meanwhile, in commodities copper is also diverging from US stocks: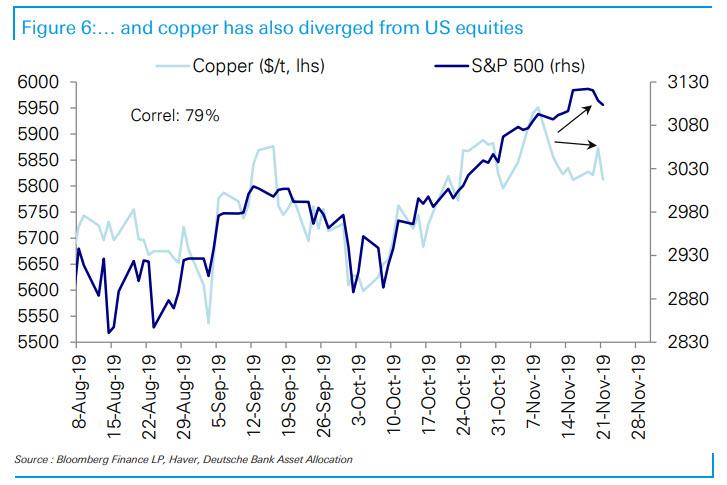 Looking below the surface of US stocks, those companies with foreign exposure have been underperforming in recent weeks.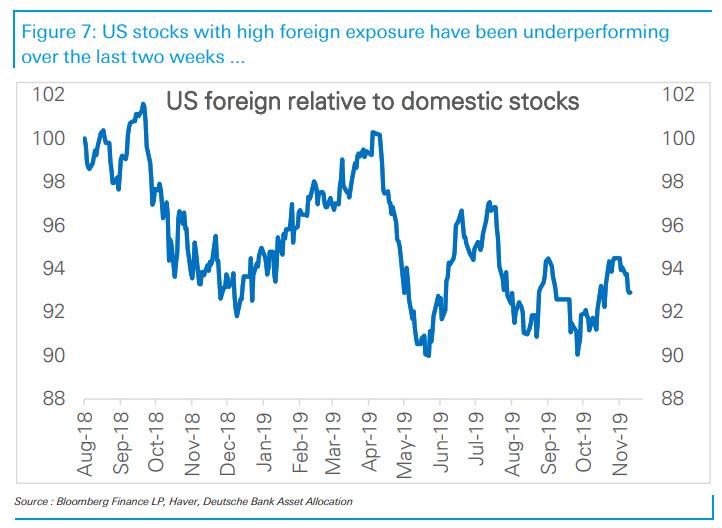 So have companies with exposure to China: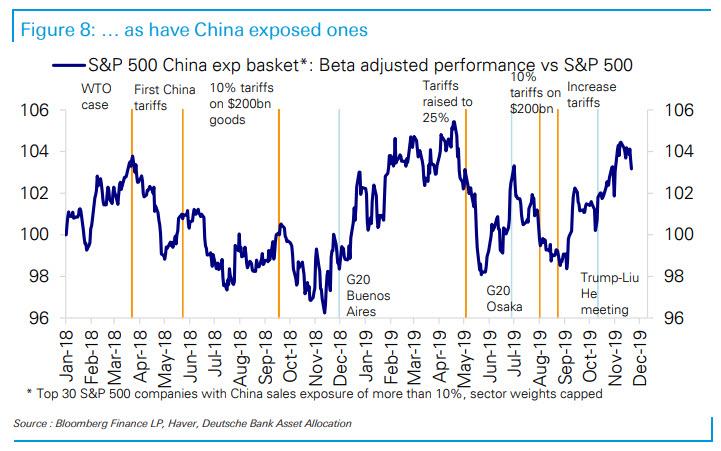 Meanwhile, just as Wall Street piled into value and high-beta stocks after JPM said it was a "once in a decade" opportunity to go long value and short momentum, it is precisely momentum stocks that have outperforming in the last two weeks…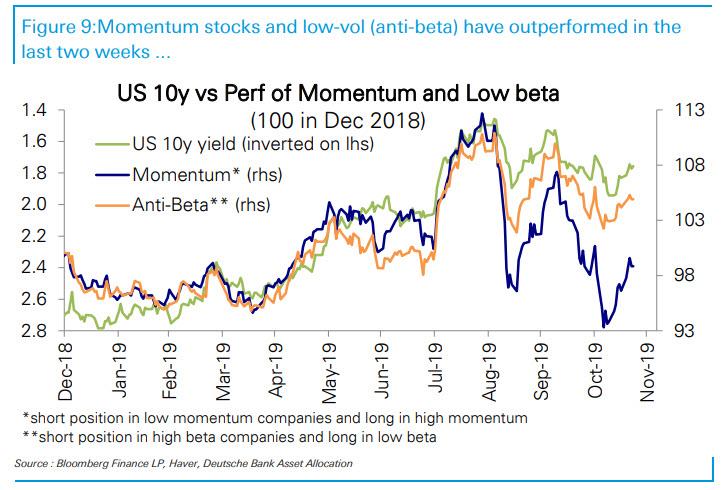 … while value and small caps have underperformed: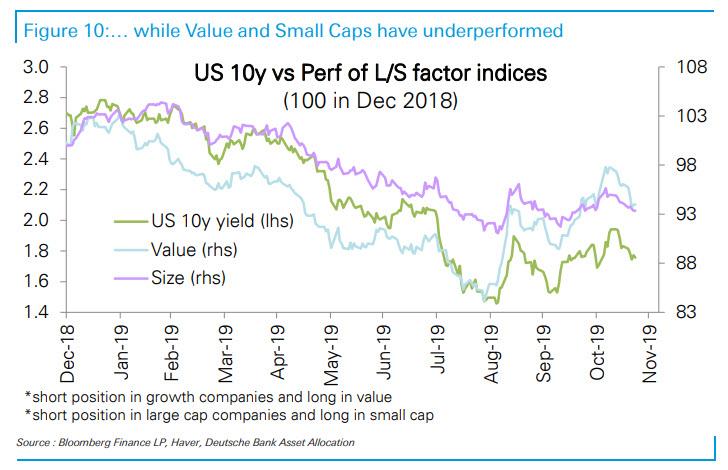 So what happened? As Bloomberg reported on Friday: 
At UBS, Francois Trahan warned that an uptick in U.S. manufacturing coupled with the Federal Reserve's interest rate cuts created an illusion that the slowdown is over. But interest rates argue the downtrend in leading economic indicators like the ISM New Orders Index isn't finished, he said.

"This is just another false start," he wrote in a note this week.
Which, incidentally, is what we said last Monday in "Here's The Simple Reason Why A Global Economic Recovery Is Not Coming."
In other words, expect all asset classes to continue their divergence from US equities, until eventually the S&P itself also snaps.

Tyler Durden

Sun, 11/24/2019 – 13:40
Zero Hedge's mission is to widen the scope of financial, economic and political information available to the professional investing public, to skeptically examine and, where necessary, attack the flaccid institution that financial journalism has become, to liberate oppressed knowledge, to provide analysis uninhibited by political constraint and to facilitate information's unending quest for freedom. Visit https://www.zerohedge.com
---
This post has been republished with permission from a publicly-available RSS feed found on Zero Hedge. The views expressed by the original author(s) do not necessarily reflect the opinions or views of The Libertarian Hub, its owners or administrators. Any images included in the original article belong to and are the sole responsibility of the original author/website. The Libertarian Hub makes no claims of ownership of any imported photos/images and shall not be held liable for any unintended copyright infringement. Submit a DCMA takedown request.