US Producer Prices Rise At Fastest Pace In 9 Months As Service Costs Soar
US Producer Prices Rise At Fastest Pace In 9 Months As Service Costs Soar
US Producer Prices spike 0.5% MoM in January, sending the Final Demand data up 2.1% YoY -the hottest inflationary print since April 2019.
Source: Bloomberg
Producer prices excluding food, energy, and trade services – a measure preferred by economists because it strips out the most volatile components – rose 0.4% from the prior month, the most since April, and 1.5% from a year earlier.
In January, 90% of the increase in final demand prices was due to a 0.7% jump in services costs.
Under the hood, there was some significant swings…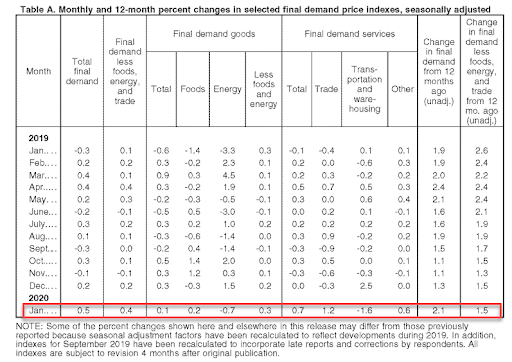 Final demand services: The index for final demand services climbed 0.7 percent in January, the largest increase since rising 0.7 percent in October 2018.
Forty percent of the January increase in the index for final demand services can be traced to margins for apparel, jewelry, footwear, and accessories retailing, which jumped 10.3 percent. The indexes for machinery and vehicle wholesaling; health, beauty, and optical goods retailing; inpatient care; guestroom rental; and portfolio management also moved higher. Conversely, prices for airline passenger services decreased 5.8 percent. The indexes for professional and commercial equipment wholesaling and for  wireless telecommunication services also declined
Final demand goods: Prices for final demand goods inched up 0.1 percent in January, the fourth consecutive rise.
Product detail: A 13.9-percent rise for prices of iron and steel scrap was a major factor in the January advance in the index for final demand goods. Prices for fresh and dry vegetables; jet fuel; search,  detection, navigation, and guidance systems and equipment; and grains also moved higher. Conversely, the gasoline index decreased 1.5 percent. Prices for chicken eggs, diesel fuel, and motor vehicles also declined. 
Not much Goldilocks here for Powell to rely on – it's all hot!

Tyler Durden

Wed, 02/19/2020 – 08:47
Follow The Libertarian Hub
This post has been republished with permission from a publicly-available RSS feed found on Zero Hedge. The views expressed by the original author(s) do not necessarily reflect the opinions or views of The Libertarian Hub, its owners or administrators. Any images included in the original article belong to and are the sole responsibility of the original author/website. The Libertarian Hub makes no claims of ownership of any imported photos/images and shall not be held liable for any unintended copyright infringement. Submit a DCMA takedown request.