Elites Are Buying These Emergency $5,000 Go-Bags To Survive Virus Crisis
Elites Are Buying These Emergency $5,000 Go-Bags To Survive Virus Crisis
The ultra-wealthy aren't running to Costco stores and or other big-box retailers to load up on supplies. They're hopping on private jets to disaster bunkers while the fast-spreading virus consumes the world. 
These folks are also ordering $5,000 emergency go-bags that come with virus-fighting related products that will increase their survival probabilities.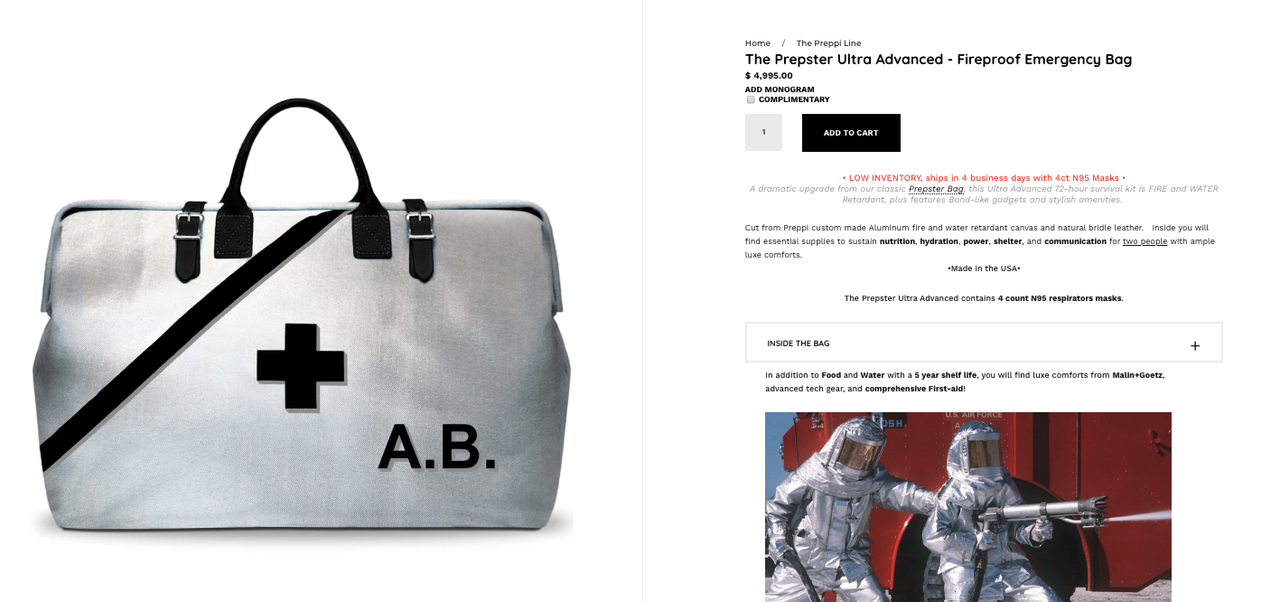 Bloomberg notes that purchasers of the emergency go-bag can expect to find a "virus-eliminating" personal air purifier, Garmin satellite messenger, night vision goggles, portable solar panel kit, Datrex food rationings, and N-95 masks.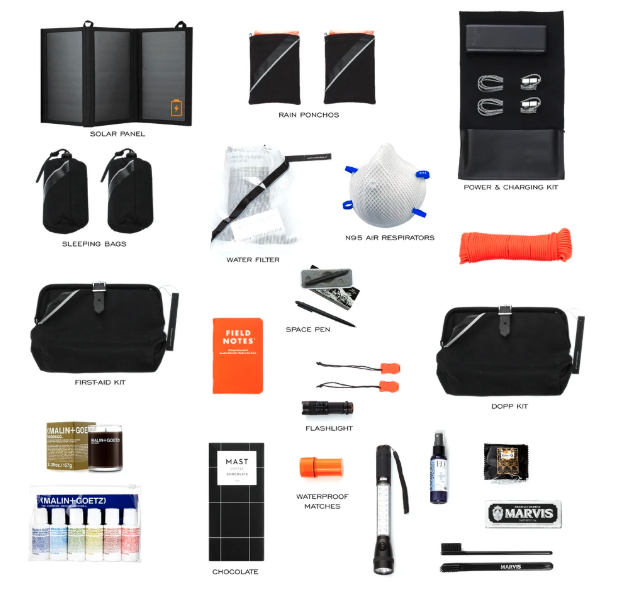 Ryan Kuhlman, the co-founder of Preppi, maker of high-end disaster kits, said as the virus spreads, the emergency go-bags are flying off the shelves: 
"Our warehouse shelves are almost wiped out," said Kuhlman. "Having the right tools and supplies can provide incredible relief to anxieties." 
He said sales jumped 5,000% in February, indicating that demand is coming in so suddenly that he's having difficulty replenishing inventory.
The top gadget in the emergency go-bag is a $400 Hammacher Schlemmer & Co. portable air purifier that zaps dangerous microbes out of the air.
Ann Marie Resnick, Hammacher Schlemmer & Co.'s vice president, said sales of personal-care products are up 500% since the virus crisis developed earlier this year. 
"It just went boom," she said. "Everyone needs an air purifier for the home. You'll need more than one." 
While the rich are buying emergency go-bags to survive the pandemic, they're also hopping on private jets to fully stocked disaster bunkers – here are a couple of setups of how they will live: 

Bunker swimming pool and garden using artificial lighting

Tyler Durden

Mon, 03/16/2020 – 04:15
Follow The Libertarian Hub
This post has been republished with permission from a publicly-available RSS feed found on Zero Hedge. The views expressed by the original author(s) do not necessarily reflect the opinions or views of The Libertarian Hub, its owners or administrators. Any images included in the original article belong to and are the sole responsibility of the original author/website. The Libertarian Hub makes no claims of ownership of any imported photos/images and shall not be held liable for any unintended copyright infringement. Submit a DCMA takedown request.