Beijing Closes 7 Residential Compounds As Florida, California Report More Promising COVID-19 Numbers: Live Updates
Beijing Closes 7 Residential Compounds As Florida, California Report More Promising COVID-19 Numbers: Live Updates

Tyler Durden

Mon, 06/15/2020 – 19:36
Summary:
7 residential compounds closed in another Beijing district
Disney Hong Kong to reopen Thursday
UK sees deaths tick slightly higher, though daily rate remains <50
WHO says more than 100 cases discovered in Beijing
Florida breaks streak of 2k+ new COVID cases a day as new cases slows
Chennai announced Monday that it's returning to lockdown amid a resurgence of infections
China blames outbreak on imported salmon
Chilean health minister resigns
Security checkpoints and other measures return to parts of Beijing
90k Chinese undergo mandatory testing
China uncovers biggest cluster since February
Official warns risk of resurgence is high
World nears 8 million case mark
Brazil surpasses UK death toll; now second only to US
23 US cases see new infections climb
UK allows many retailers to reopen for first time in 3 months
* * *
Update (1900ET): Hours after warning that the latest cluster of cases in Beijing could get worse as Beijing marshals a massive response including lockdowns and mandatory testing for tens of thousands of locals, it appears officials have locked down seven residential compounds in the Xicheng district.
So far, the English-language press has only published a headline.
BEIJING LOCKS DOWN 7 COMPOUNDS IN CENTRAL XICHENG DISTRICT
We suspect the lockdown is likely related to individuals who have been tested as part of the government's sprawling testing response.
Preliminary findings indicate virus of the new #COVID19 outbreak detected in #Beijing was imported. The strain originated in Europe, but that doesn't mean the virus came from a European country and it is not sure salmon is the source of the spread: expert https://t.co/iASWE78Kkv pic.twitter.com/3HYFNPpMF6

— Global Times (@globaltimesnews) June 15, 2020
Meanwhile, Beijing continues to peddle the narrative that imported fish from Europe are the source of the latest outbreak, a fishy excuse – pardon the pun – to be sure. Is Beijing simply planning to blame every inevitable recurrence of SARS-CoV-2 on its ties western 'partners'?
In other news, California has released its latest daily stats. After surpassing 5k deaths over the weekend, the state saw the number of new infections slow, reporting 2,499 new cases and 28 new deaths, bringing the total to 155,381 cases and 5,117 total deaths.
* * *
Update (1410ET): Disney just announced that Disneyland Hong Kong will become the second park to reopen, with the big reopening set for Thursday (June 18), barring some kind of massive jump in new cases between now and then (not exactly out of the question given what's going on in Beijing right now).
NEW: Hong Kong Disneyland will reopen on June 18 after five months of lockdown.

World's second Disney park to reopen. – NE

— 𝕻𝖍𝖎𝖑𝖎𝖕 𝕺𝖇𝖎𝖓 (@PhilipObin) June 15, 2020
Like in Shanghai, Disney will accommodate guests and staff to ensure that social distancing can be maintained by only allowing the park to fill to max 50% capacity.
To help manage park capacity, Hong Kong Disneyland will require all guests to make reservations days ahead of time via the Hong Kong Disneyland website. Will we see a similar level of enthusiasm to Shanghai's reopening? We imagine we'll know soon enough.
* * *
Update (1145ET): WHO Director-General Dr. Tedros said Monday during a press briefing that more than 100 cases have now been confirmed in Beijing, and that the latest rash of cases is being "investigated."
Media briefing on #COVID19 with @DrTedros https://t.co/X2QkG3dFGe

— World Health Organization (WHO) (@WHO) June 15, 2020
As Chinese officials reported the new cases over the weekend, they also claimed that analysts studying the viral strains tied the new cases to a strain common in Europe, prompting mainland scientists to warn that the new outbreak in Beijing could be "even more deadly" than the outbreak in Wuhan.
Here's more on that from a Global Times piece published Monday morning in the US. Scientists also cited seasonality as another factor that could drive up infections this time around.
The coronavirus found in Beijing's Xinfadi wholesale market is probably more infectious than those detected in Wuhan's Huanan seafood market, where the first wave of epidemic in the country was detected, given a significant number of cases confirmed in only four days in the capital city, a virologist said on Monday.

Yang Zhanqiu, deputy director of the pathogen biology department at Wuhan University, told the Global Times on Monday that the 79 cases were confirmed in four days, showing the coronavirus found in Beijing is extremely contagious, likely more contagious than that found in Wuhan.

A researcher from the Beijing Center for Diseases Prevention and Control (Beijing CDC) told China Central Television (CCTV) in a telephone interview that the genome sequencing of the strain of the coronavirus which caused the new COVID-19 outbreak in Beijing at the Xinfadi wholesale food market shows it originated from Europe.

Yang said that if the type of coronavirus spreading in Beijing matches the type of virus sampled in the Xinfadi market and from Europe, then it is safe to say that the virus found in Beijing was "brought into" China by food or people from Europe. He is inclined to define the local outbreak in Beijing Xinfadi market as an imported outbreak.

Yang said the genome sequencing is like testing human DNA. The genotype of the virus does not mutate in the short term. The mutation usually occurs after two or three years, to even 10 or 20 years. And different virus test results show different genotypes, with the detection of the difference easy to tell.

As of Monday, authorities have screened nearly 200,000 people who had been to Xinfadi wholesale market, where the latest cluster occurred.

Yang noted that Wuhan's Health Commission began releasing reports at the end of December, adding that the number of reported cases had reached 62 by January 17, which is close to the number of newly confirmed cases in Beijing. Although the test sample was large enough and the technical ability was strong, the fact that 79 patients werediagnosed in four days in Beijing is still exceeding the expectations.

The outbreak in Wuhan was at a low temperature in winter, which was conducive to the spread of the virus. It is summer in Beijing, which is not conducive to the spread of the virus, he added.
So China is blaming the outbreak on imported Salmon from Europe (though they also import Salmon from other continents, including South America)? That sounds awfully convenient. Not only would evidence of a "European" strain help support Beijing's false narrative that the outbreak originated in the US (or at least somewhere outside China), but it would also help the CCP blame fresh outbreaks on foreigners bringing the disease back to China.
In Italy, meanwhile, officials reported just 26 cases, compared with 44 yesterday.
* * *
Update (1140ET): The UK has finally seen its abnormally high COVID-19 mortality rate recede, as officials reported just 38 deaths on Monday, up slightly from the 36 reported the day before, but still well below 50, seen as an important psychological barrier.
As of 9am 15 June, there have been 6,866,481 tests, with 93,163 tests on 14 June.

296,857 people have tested positive.

As of 5pm on 14 June, of those tested positive for coronavirus, across all settings, 41,736 have sadly died.

More info:
▶️ https://t.co/xXnL3FU15k pic.twitter.com/blM1e3HgZj

— Department of Health and Social Care (@DHSCgovuk) June 15, 2020
The news comes as Boris Johnson announces plans to restart Brexit negotiations, reviving hopes for a UK-EU trade deal.
* * *
Update (1115ET): Florida public health officials just announced that a two-day streak of reporting more than 2,000 cases was broken on Monday when officials reported that the state added just 1,758 new positive cases of the virus.
However, the state did break above 75k on Monday, as the new cases brought Florida's total to 75,388. Monday's numbers (covid data are typically released with a 24-hour delay) haven't yet been added to this chart by the NYT.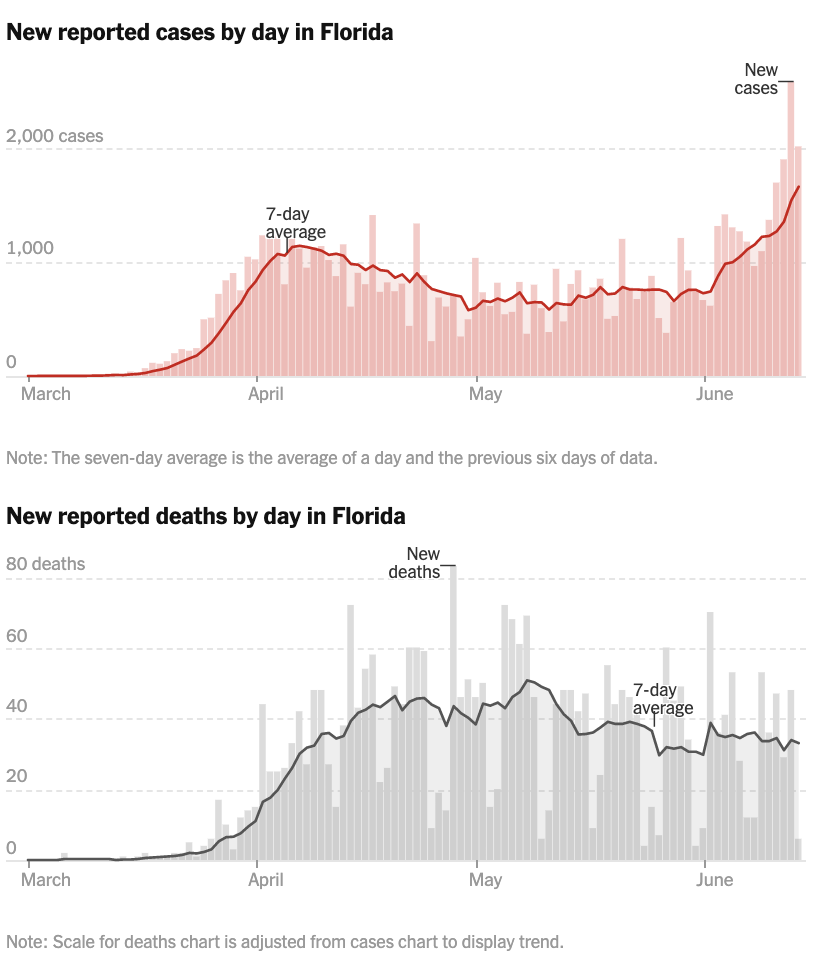 The headline helped send stocks to highs of Monday's session (though they remained deep in the red on the session). Miami Beach reopened over the weekend, eliciting another wave of criticism for Gov Ron DeSantis from his (mostly Democratic, mostly progressive) critics.
* * *
Update (0815ET): Chennai, one of India's largest cities with some 15 million residents, plans to reimpose lockdown measures on Friday as India sees a roaring spike in new cases, AFP reports.
A lockdown will be reimposed Friday on some 15 million people in the Indian city of Chennai and several neighboring districts, state officials said, as coronavirus cases surge in the region.

For more coronavirus news, visit our dedicated page.

"Full Lockdown from 19th for Chennai, Thiruvallur, Chengalpet & Kanchipuram districts," the Tamil Nadu state government tweeted Monday.

It will be in place until the end of June.
Indian officials have gradually lifted their restrictive lockdown measures over the past few weeks following a fourth extension announced earlier this month as the number of new cases reported – chiefly in major urban areas like Mumbai and Delhi – daily continues to climb.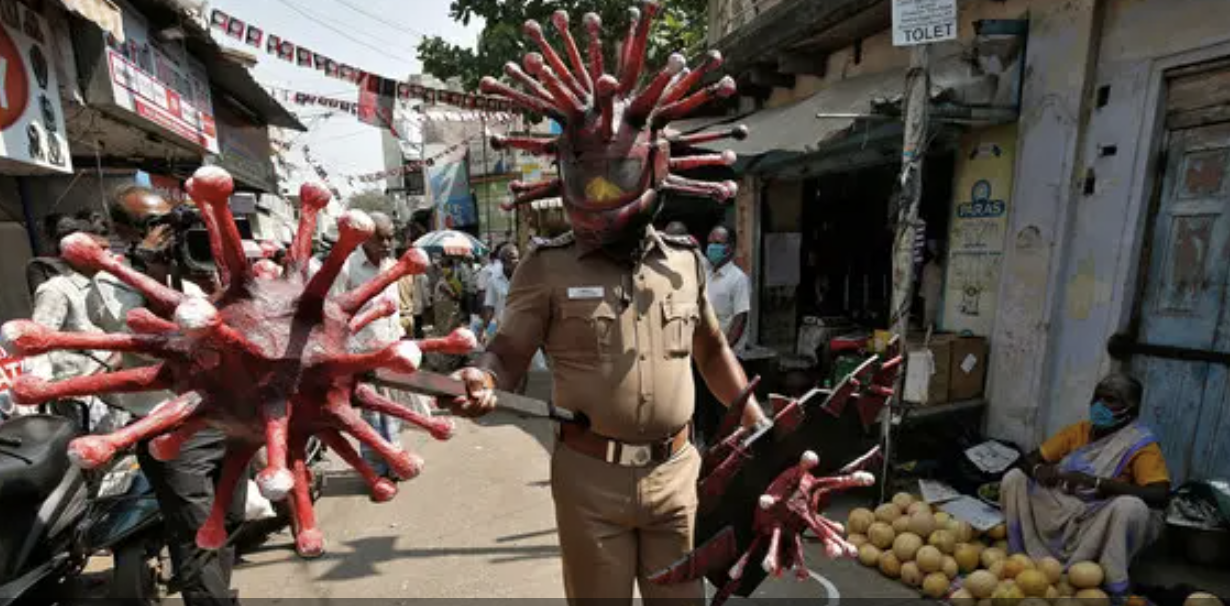 Back in the US, analysts at Jefferies have highlighted a silver lining in the US COVID-19 data: As hospitalizations spike in some states, deaths haven't rebounded like confirmed cases have.
Meanwhile, as the situation in Latin America worsens, Chile's health minister resigned amid a spike in new cases and deaths (some say as many as 5k have died in the country due to the virus) as the situation across Latin America continues to worsen, per the Guardian.
* * *
Update (0730ET): Investors are waiting for the latest hospitalization data out of Texas, North Carolina and Arizona, among other states, CNBC's Meg Tirrell joined "Squawk Box" Monday morning for a brief update.
Here's how different the new case rates are between different regions of the US.

Earlier on Monday, health officials in China reported 49 new coronavirus cases nationwide, including 36 more in Beijing, as fears of a second wave intensify across Asia, while scientists and doctors in the US, like former FDA director Dr. Scott Gottlieb, warn that the first wave never really ended.
Circling back to China, much of Beijing (the district around the market, plus another 10 in the southwestern part of the city) remains on lockdown Monday evening. Mainland China reported 49 new coronavirus cases on June 14 vs. 57 additional cases on June 13. Meanwhile, 36 new local cases were reported on Monday bringing the total confirmed cases to 79 over the last few days, with eight out of 16 districts in Beijing reporting cases on Monday alone, according to Global Times.
Furthermore, the Chinese CDC warned the genome sequencing shows the Xinfadi food market outbreak stemmed from a "European" source. In addition to the lockdowns, Beijing is also delaying the reopening of entertainment venues and other businesses.
Finally, Reuters reported Monday morning that the 79 cases reported in China over the last 4 days represent the biggest cluster uncovered since February.
"The containment efforts have rapidly entered into a war-time mode," senior city government official Xu Ying told a news conference over the weekend. He added that nearly 100,000 epidemic-control workers had entered the "battlefield". At the sprawling Xinfadi market, one of the biggest – if not the biggest – in Asia, thousands of tons of vegetables, fruits and meat change hands each day. A complex of warehouses and trading halls spanning an area the size of nearly 160 soccer pitches, Xinfadi is more than 20x larger than the seafood market in the city of Wuhan where the outbreak was first identified.
The new cases have led to officials in many parts of Beijing to reimpose stringent restrictions like round-the-clock security checkpoints, closing schools and sports venues and reinstating temperature checks at malls, supermarkets and offices.
Residents have been advised to avoid large crowds.
Some districts even sent officials to residential compounds in what they described as a "knock, knock" operation to identify people who had visited Xinfadi or been in contact with people who had.
While none of Beijing's 16 districts have returned to complete lockdown conditions, the 11 neighbourhoods around Xinfadi, as well as 10 others near another market in the city, have been sealed as 90,000 residents undergo mandatory testing.
* * *
US equity futures initially broke below 3,000 last night after dozens of new coronavirus cases were reported in Beijing and Guangdong Province over the weekend. During a press briefing organized by China's National Health Commission, Vice Premier Sun Chunlan spooked traders by claiming the risks for a resurgence of the coronavirus in Beijing were "high" due to the outbreak at the Xinfadi seafood market, billed as the largest wholesale market for seafood and meat in Asia. On Saturday, China reported 57 new infections, its largest resurgence in 2 months, before confirming dozens of additional cases on Sunday (remember, cases are always reported with a 24 hour delay).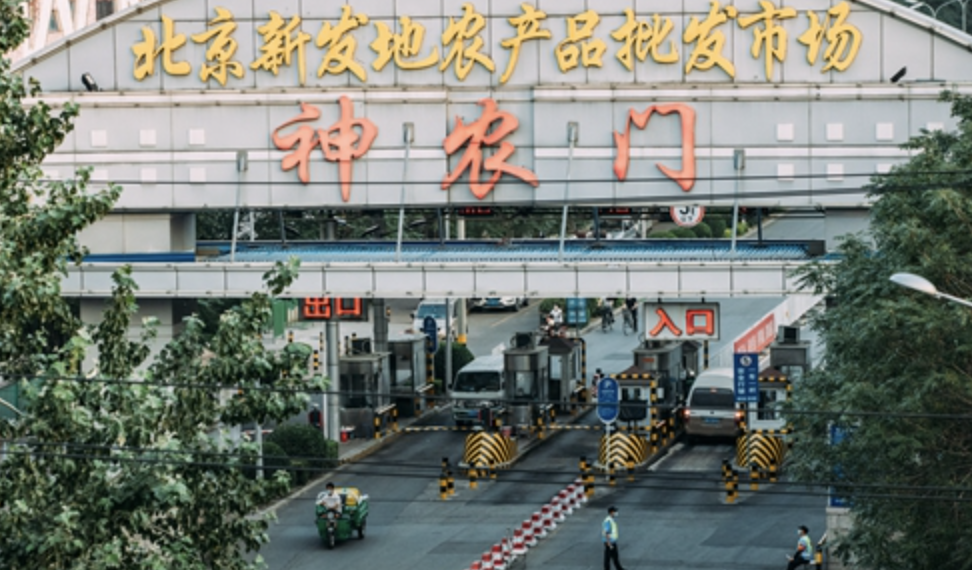 40,000 Beijing residents are reportedly on lockdown, with at least half of the districts in Beijing reporting new cases. Officials in Beijing blamed flights from India and Bangladesh for carrying more infected individuals (some of them foreigners) to Guangdong, with 14 of the patients confirmed in the province flying from Bangladesh and three from India. Beijing's warning about a "high" risk of resurgence follows a warning from Saturday when officials warned that the part of Beijing surrounding Xinfadi (situated in the southwestern part of the capital city) had assumed a "wartime posture", as nearly a dozen neighborhoods were placed back on lockdown.
In total, some 80 new cases were reported in Beijing alone over the weekend.
As we await the latest batch of infection data out of China, the Global Times reported Monday that the closure of Xinfadi "will impact seafood sales worldwide", and as a result, sales of salmon had already been suspended across China after a sample of the virus was detected on a chopping board owned by a fishmonger selling imported salmon.
The linkage to the imported salmon and the national ban on salmon sales are, of course, bits of political theater to convince the Chinese people that new cases of the virus are tied to foreign sources. Here's an excerpt from a Global Times editorial published Monday in China.
We must also admit that we still know little about COVID-19. Our knowledge is still limited about where the virus comes from, how it spreads and how COVID-19 patients should be treated.

This determines that when there are still many countries affected by the epidemic, it is impossible for China to completely eradicate the virus. The epidemic may break out from unexpected directions, and we must be able to withstand such situations and respond effectively. What happened in Beijing is very likely not the end of China's domestic COVID-19 spread.
Moving on from China, we begin the week on the cusp of the latest grim milestone for the international outbreak: With the world still reporting roughly 100k new COVID-19 cases a day, with at least 40k of these coming from Latin America alone, the global tally passed 7.9 million mark Monday. And while roughly half of those, some 3.8 million, have already recovered, another 433,394 have succumbed to the deadly virus.
Yesterday, authorities in Tokyo confirmed they had uncovered the biggest cluster of cases in more than a month. Adding to the alarm, local TV news station FNN reported early Monday that another ~50 cases had been confirmed in Tokyo, the biggest jump since May 5, although the number is roughly equivalent to the number of cases confirmed over the weekend. Of these new cases, approximately 20 were linked to a popular nightlife district in the city.
Those who have been monitoring the rankings for countries with the highest number of COVID-19-linked fatalities might notice a change: As of Monday, Brazil has officially surpassed the UK total for COVID deaths, moving into second place behind only the US.
After its latest update on deaths and new confirmed cases last night, Brazil has counted 43.3k deaths since the outbreak began, and many on the ground have warned that this figure greatly underestimates the true number of deaths. Mexico has also been accused of undercounting fatalities in hotspots like Mexico City.
In the US, roughly half of the states are seeing new cases rise, many alongside hospitalizations. Texas has seen hospitalizations hit record highs, while Florida, NC, SC, Arizona, Nevada and many other states are seeing an increase in new cases reported daily.
Even Georgia, which was heralded for its ability to reopen aggressively without sparking a massive resurgence in new cases, has reported a discomfiting spike over the past few days, according to the NYT.

Meanwhile, as we noted last night, in New York, Gov Cuomo is threatening to shut down Manhattan and parts of the Hamptons if he keeps receiving complaints about COVID-19-related violations. In Tennessee, authorities in Nashville have cited a number of businesses for breaking social distancing rules, including one bar where patrons were packed in shoulder to shoulder.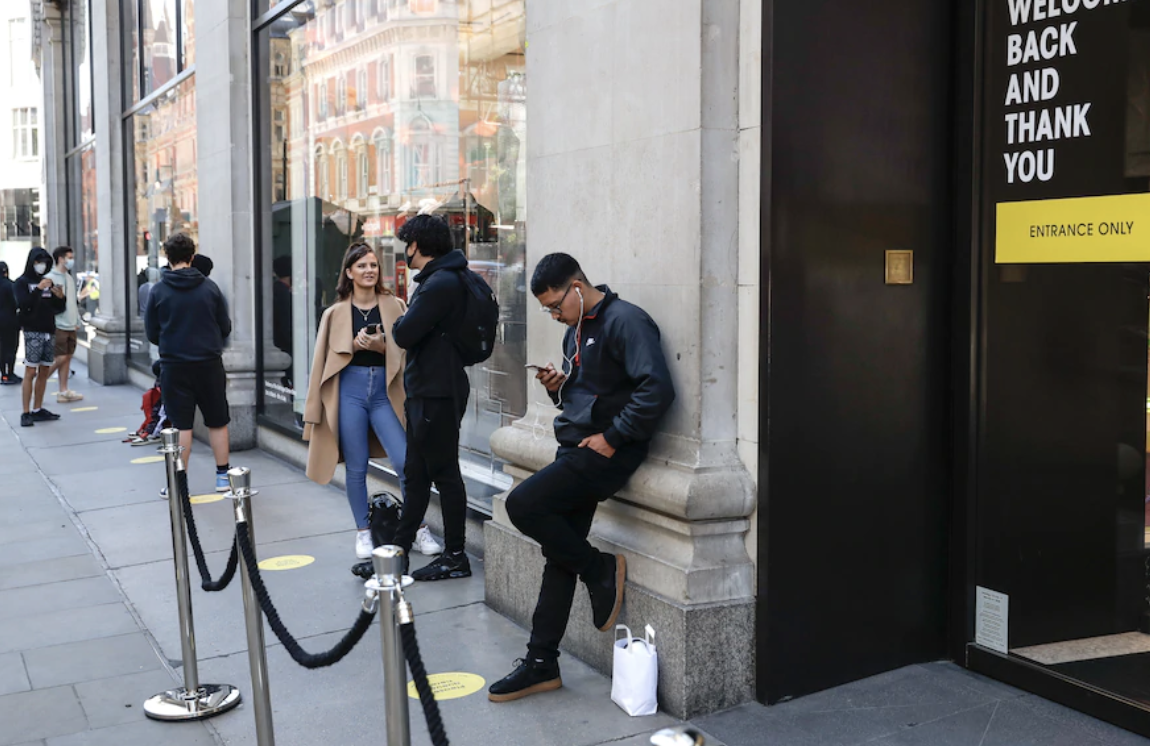 Hundreds queuing outside #Birmingham #Primark this morning – they've opened the doors ahead of the official 8am start because of demand @bbcwm @bbcmtd pic.twitter.com/wVkn1DFE6U

— Kathryn Stanczyszyn (@stanchers) June 15, 2020
At least one British tabloid seized on the long lines and crowds to warn about the possibility for another flareup.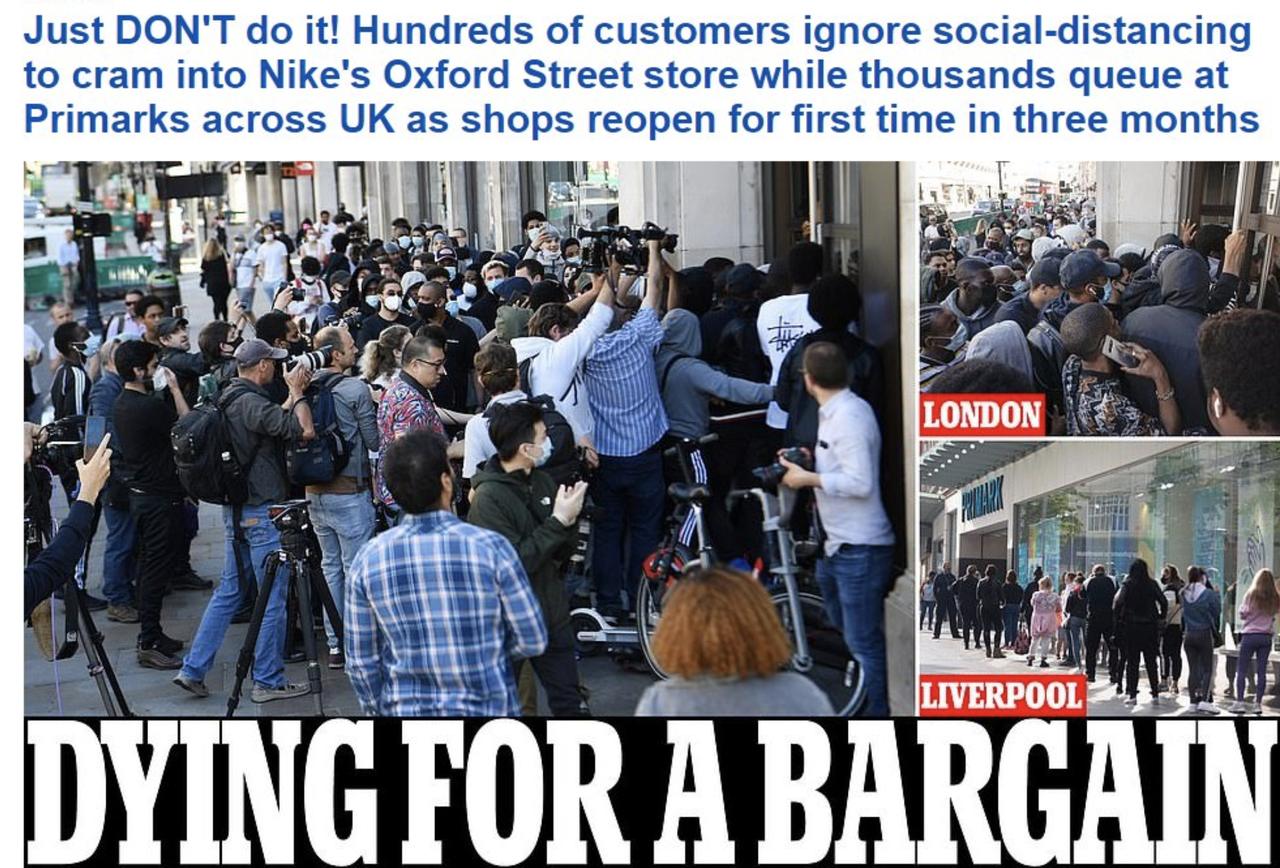 And in the UK, thousands of retailers reopened Monday after almost three months of lockdown restrictions put in place amid the coronavirus pandemic.
---
This post has been republished with permission from a publicly-available RSS feed found on Zero Hedge. The views expressed by the original author(s) do not necessarily reflect the opinions or views of The Libertarian Hub, its owners or administrators. Any images included in the original article belong to and are the sole responsibility of the original author/website. The Libertarian Hub makes no claims of ownership of any imported photos/images and shall not be held liable for any unintended copyright infringement. Submit a DCMA takedown request.