Florida Kicks Off 4th Of July With Another COVID-19 Record As Global Total Tops 11 Million: Live Updates
Florida Kicks Off 4th Of July With Another COVID-19 Record As Global Total Tops 11 Million: Live Updates

Tyler Durden

Sat, 07/04/2020 – 10:57
Summary:
Florida reports another record jump
US reports another record daily jump with 53k+ cases
Deaths continue to decline
Midwest now seeing cases trend higher
Northeast now only region in US where cases are still declining
Catalonia places 200k on travel restrictions
Tokyo asks residents not to leave the city
Russia cases continue to trend lower
India reports another daily jump
Brazil case total tops 1.5 million
* * *
Update (1040ET): As expected, Florida reported yet another record jump in new COVID-19 cases as testing also hit new record highs amid a pre-Holiday Weekend rush.
FLORIDA CORONAVIRUS CASES RISE BY A RECORD 11,458 ON SATURDAY, SECOND TIME CASES INCREASED BY MORE THAN 10,000 IN THREE DAYS
FLORIDA COVID-19 CASES REACH 190,052 VS 178,594 DAY EARLIER
That's its first record jump since Thursday.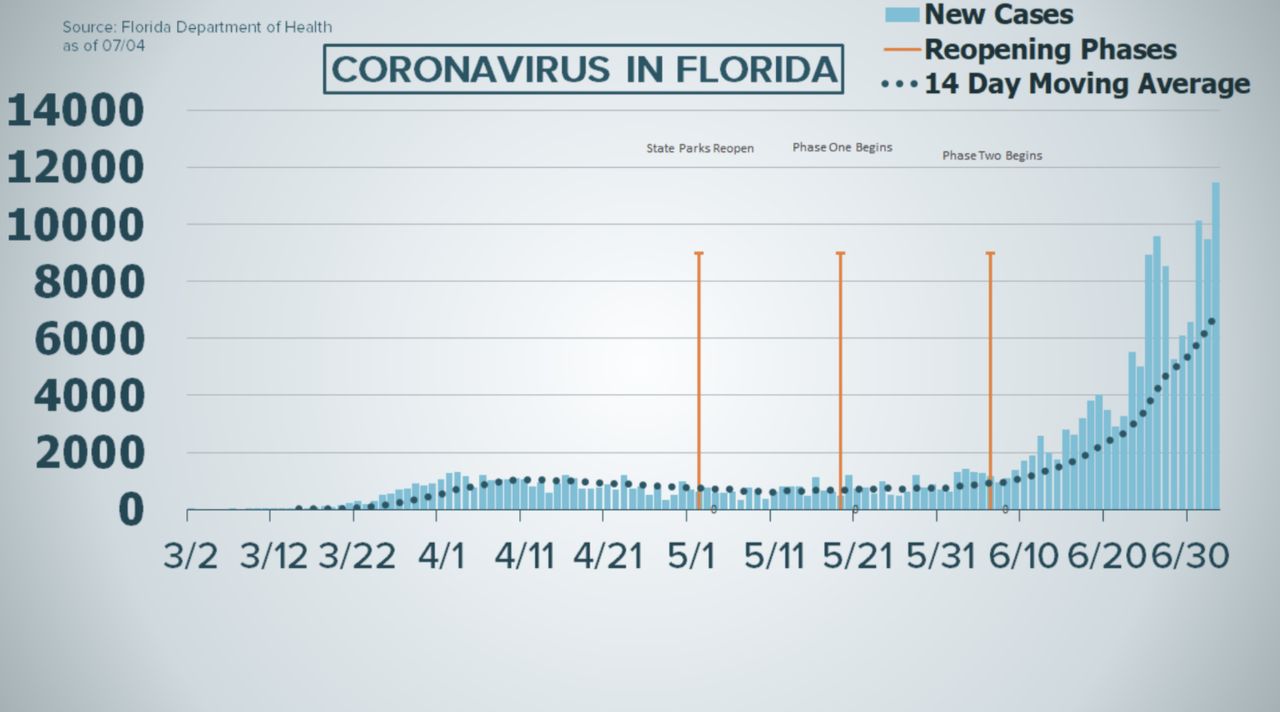 Here are the daily totals from the last ten days:
June 21: 2,926
June 22: 3,286
June 23: 5,508
June 24: 5,004
June 25: 8,942
June 26: 9,585
June 27: 8,530
June 28: 5,266
June 29: 6,093
June 30: 6,563
July 1: 10,109
July 2: 9,488
July 3: 11,458
According to the daily report from the Department of Health, 85,086 test results were received from labs on July 3, the largest daily total yet.
Another 18 Florida residents died on Friday, according to the state.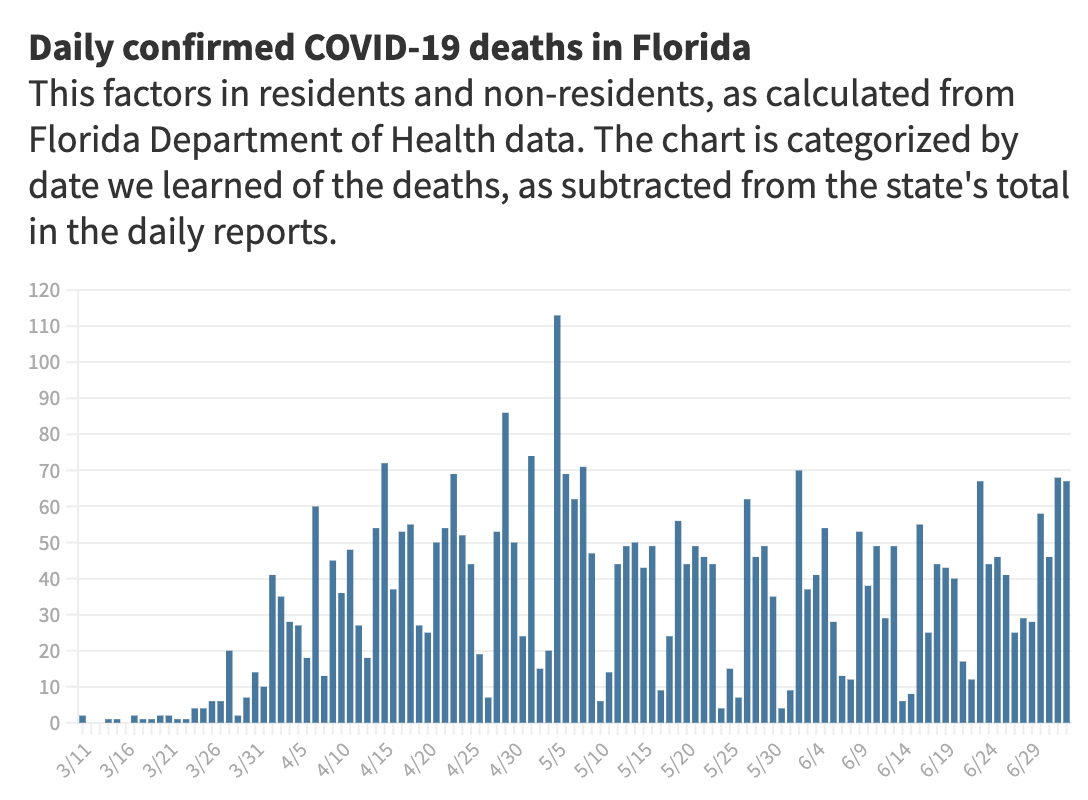 Friday marked the 11th-straight day where the number of newly reported coronavirus cases surpassed 5,000.
Health experts have said that a 5% positivity rate or lower is recommended to begin reopening, according to WTSP, a Tampa-area TV station. The 7-day average positivity rate is roughly 13%.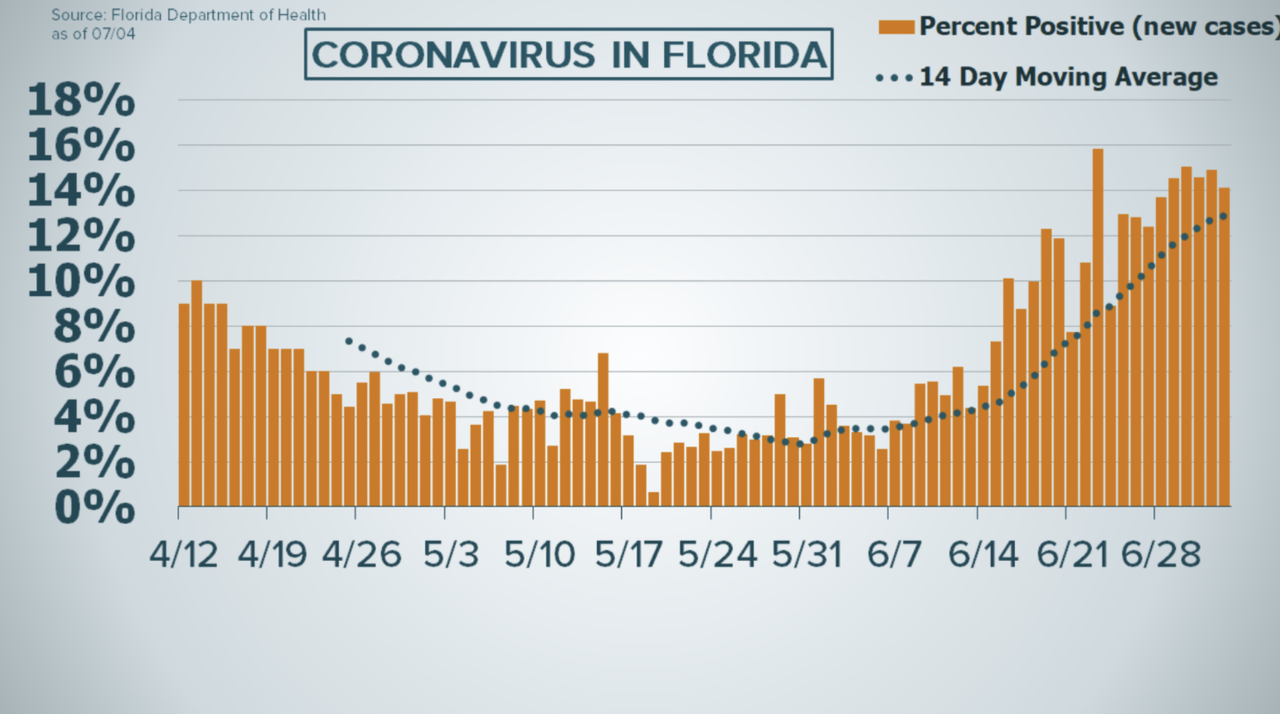 * * *
As President Trump prepares to celebrate the 4th at Mount Rushmore in a move that his critics will inevitably decry (with some justification) as another mistaken play to the base at a time when he should be focused on courting the moderates he needs to win a second term in November.
Some have suggested that Trump secretly doesn't want to win a second term, and would prefer to move back into Trump Tower (with round-the-clock secret service protection for life, with the taxpayer's footing the bill) than spend another 4 years in DC. at any rate, the US reported another record jump in new coronavirus cases, likely a result of a surge in new tests, with the US running more than 700k tests in a single day for the first time since the pandemic began.
Globally, the world is reporting more cases per day than it ever has, with the world reporting about 180k yesterday, with another 200k projected for today (what would be another record high).
While the media will inevitably spin these figures in the worst possible light, it's worth noting that, despite a handful of individual outliers reported over the past 7 days, deaths nationally have continued to trend lower, even as hospital capacity in Arizona and Texas is starting to look dangerously stretched.
On Friday, the US reported more than 53k cases, according to the Atlantic-sponsored COVID Tracking Project. That's the 7th record total in 9 days.
Our daily update is published. States reported over 57K new cases today — another record day for cases, the third this week.

We're at 721K new tests today, a huge jump and our first day over 700K.

There were 635 reported deaths today. pic.twitter.com/pQKDKZgrgr

— The COVID Tracking Project (@COVID19Tracking) July 3, 2020
Once again, the south and the west were the biggest contributors at the regional level, with record numbers seen from South Carolina to Georgia to Texas over the past few days.
The record new cases are coming from many states. Notable jumps in Georgia, Louisiana, North Carolina, and South Carolina. (Ohio looks bad today but this number is for two days.) pic.twitter.com/L6CJXXbuuP

— The COVID Tracking Project (@COVID19Tracking) July 3, 2020
One of the most discouraging trends over the past week is the midwest, where the trajectory of new cases has shifted from plateauing to moving decidedly higher. That means the Northeast is now the only region where daily case totals aren't rising.
In fact, 3 out of the 4 US Census regions — Midwest, South, and West — are now seeing clear case increases. pic.twitter.com/fQdE3WBpVJ

— The COVID Tracking Project (@COVID19Tracking) July 3, 2020
Note: The Pacific region, which includes Hawaii, Alaska, and several non-state island territories, hasn't seen much of an uptick in new cases.
(Earlier in this thread we mentioned "3 of 4" US Census regions. There are 5 regions, counting the Pacific region, which includes Alaska and Hawaii. Apologies to our non-contiguous readers. —@kissane)

— The COVID Tracking Project (@COVID19Tracking) July 3, 2020
In the Midwest, states like Michigan, Ohio (one of the five worst-hit states in the country) and Missouri have been big contributors. Early on, Chicago saw one of the first outbreaks to take shape, and Illinois has also seen cases trend higher over the past couple of weeks. Yesterday, Florida officially passed NJ to become the fourth-worst-hit state in the US, judging by the number of cases.
Fortunately, deaths across the US have continued to trend lower, as the median age of hospitalized has dropped sharply. In Florida's Broward County, the median age has fallen to 33, down from 60+.
Sadly, we had some historical data adjustments come in right after we pulled the numbers for these tweets. They nudged deaths up, pushing the 7-day average back over 500. Here's what the data like now: https://t.co/xUbNxLzYNm pic.twitter.com/tATgQDL6l3

— The COVID Tracking Project (@COVID19Tracking) July 3, 2020
Looking toward Europe, the biggest news overnight is the decision by the Spanish government and local officials to place 200,000 people in Catalonia back on lockdown. Catalonia (situated in northeastern Spain and the home of a powerful separatist movement that tried and failed to secede from Spain a few years back) has placed a travel ban affecting 200,000 people near the town of Lleida. From 4 pm local time on Saturday, no one will be able to enter or leave the region. Regional health ministry data showed there were 3,706 cases in the Lleida region on Friday, up from 3,551 the previous day, a jump that's simply too alarming for the government in Madrid to ignore, even as it struggles to help the country's essential tourism industry salvage what's left of the summer season.
The Catalonians aren't the only ones implementing new travel restrictions: Tokyo Governor Yuriko Koike on Saturday urged residents of the Japanese capital not to travel beyond its borders as the city reported more than 100 new COVID-19 infections for a third day. The capital city reported 131 new cases Saturday.
Cases in Tokyo have risen to a two-month high as young people have returned to nightlife spots, exhibiting a similar dynamic to the US.
As the UK pushes to reopen its battered economy, Chancellor the Exchequer Rishi Sunak and PM Boris Johnson have urged Britons to do their 'patriotic' duty' and eat out.
It was great to meet the Chief Executive of Fuller's @BellandCrownW4 yesterday.

They are bringing more than 700 people off furlough today as a result of the reopening of hospitality. #4thofJuly pic.twitter.com/JOhVIM1FEz

— Rishi Sunak (@RishiSunak) July 4, 2020
The UK's shutdown has been one of Europe's longest and most fraught because of the country's surprisingly high death toll of 44,131, which has left it with one of the highest mortality rates in the world (rivaling only Sweden in Europe).
The WHO continued to urge countries to take the outbreak more seriously, warning that more nations (including, of course, the US) need to "wake up" to the seriousness of this threat and "take control" of the pandemic.
India reported yet another record daily spike of 22,772 cases on Saturday, along with another 442 deaths, according to the Indian Ministry of Health. Total positive cases now stand at 648,315, with 18,655 of those having died from the virus.
As its daily case totals continue to decline, Russia reported 6,632 new cases of the virus on Saturday, raising the nationwide tally to 674,515. 168 Russians died, bringing the official death toll to 10,027, though some argue the total is actually much higher. As it continues to report daily infections at around the same level as the US, Brazil has seen its case total pass 1.5 million.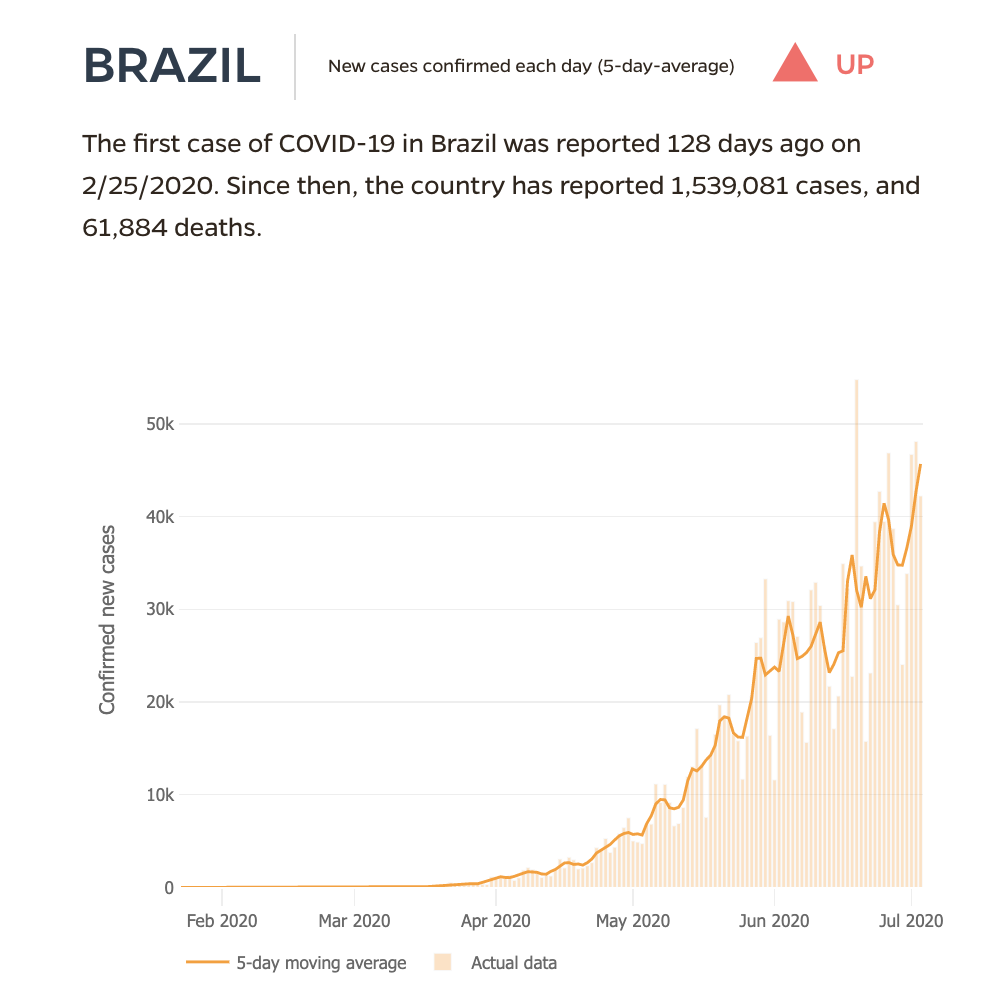 Circling back to the US, another major COVID-19 related headline is that Kimberly Guilfoyle, the girlfriend of Donald Trump Jr., has tested positive for COVID-19, further cementing the media narrative that everyone around the president has, or has already been infected with, the virus.
---
This post has been republished with permission from a publicly-available RSS feed found on Zero Hedge. The views expressed by the original author(s) do not necessarily reflect the opinions or views of The Libertarian Hub, its owners or administrators. Any images included in the original article belong to and are the sole responsibility of the original author/website. The Libertarian Hub makes no claims of ownership of any imported photos/images and shall not be held liable for any unintended copyright infringement. Submit a DCMA takedown request.