NYC Reports No New COVID-19 Deaths For 24 Hours In Major New Milestone: Live Updates
NYC Reports No New COVID-19 Deaths For 24 Hours In Major New Milestone: Live Updates

Tyler Durden

Mon, 07/13/2020 – 11:33
Summary:
Arizona sees 1.1% daily jump in new cases
NYC reports no COVID-19 deaths in 24 hours for first time
Florida reports another 12k+ new cases
Slowing Sun Belt testing speeds hobbles Sun Belt outbreak
White House reportedly cancels Dr. Fauci media appearances
Hong Kong Disneyland to close July 15
Hong Kong closes restaurants, gyms
US approves accelerated trials for 2 vax candidates
Global COVID-19 cases top 13 million
US deaths climb by fewer than 500 cases
South Korea confirmed 62 new cases
China warns on travel to Australia
Hong Kong reported another 52 new cases
* * *
Update (1120ET): There were 1,357 new coronavirus cases (+1.1%) and eight new deaths reported in Arizona on Monday, bringing the statewide total to 123,824 confirmed cases and 2,245 total deaths as of Monday. That's compared with a 7-day average of 3.2%.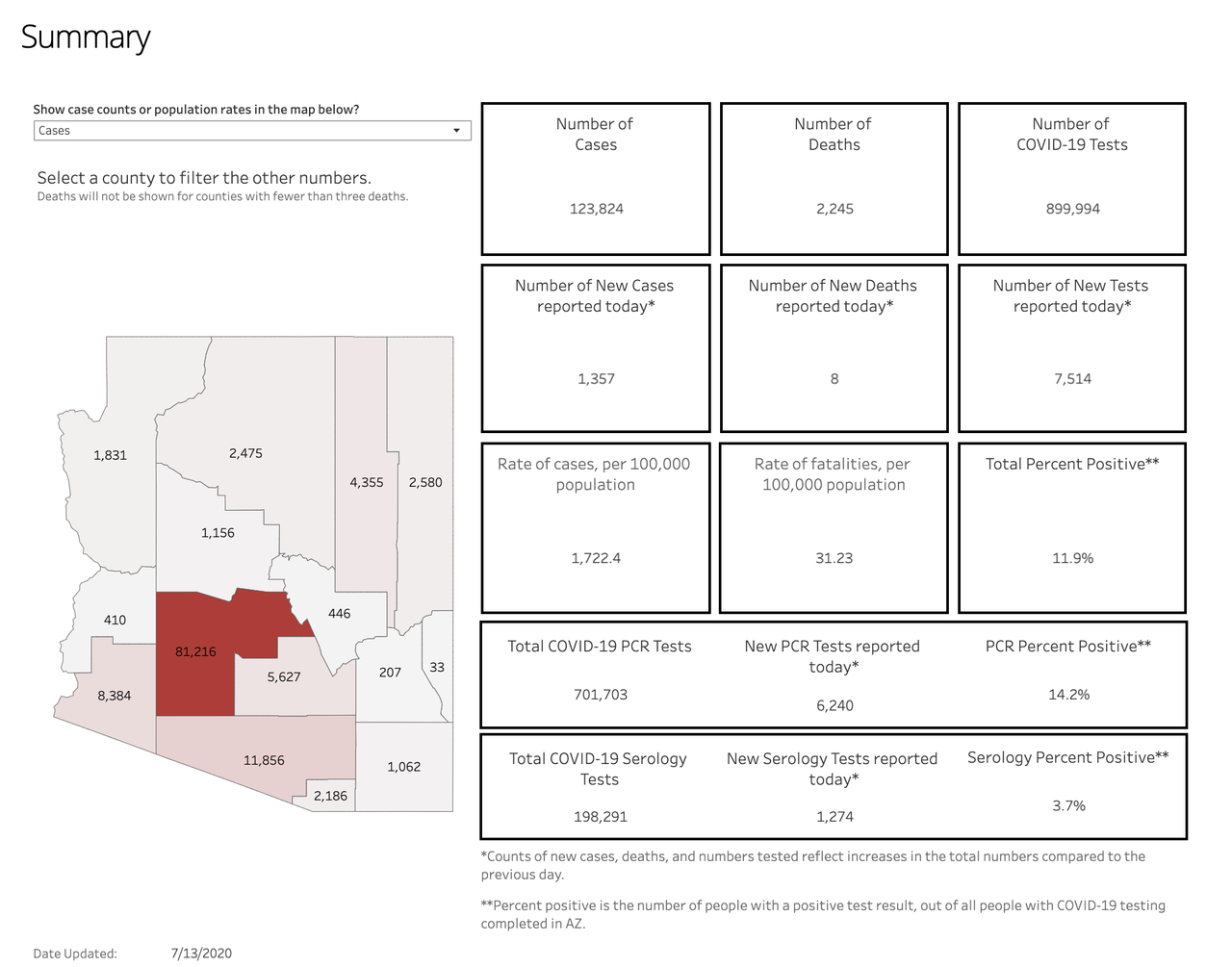 The data are in line with a trend where Monday sees a dip from the prior day due to a weekend backlog, which is typically cleared on Tuesday, which has typically seen much higher case counts. Across the state, the number of confirmed coronavirus cases topped 123,000, a week after reaching the 100,000 mark.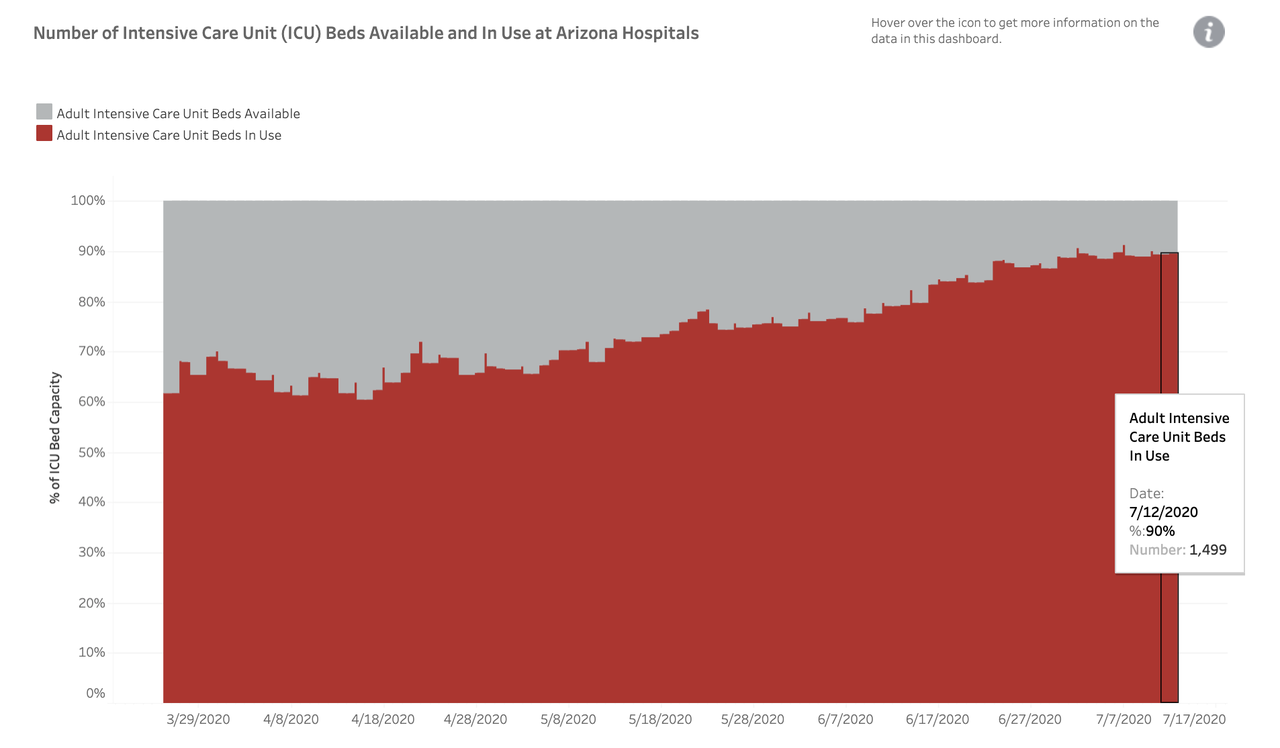 Hospitalizations remain at record highs.
* * *
Update (1110ET): For the first time since the coronavirus outbreak began, New York City Mayor Bill de Blasio said there were no deaths reported within a 24-hour period.
"The fact is for the first time in months we have a 24-hour period where no one in this city died from the Coronavirus, it is so striking and so moving," de Blasio said during the press briefing. "Twenty four hours where no one dies, let's have many more days like that," the mayor added.
Now, de Blasio said the city will be "doubling down" on reaching out to young adults, who are increasingly being infected in greater numbers, by offering more mobile testing vans and outreach programs.
Watch the remarks below:
For the first time in months New York City saw a 24 hour period with no COVID-19 related deaths.

Tune in for @NYCMayor's daily press briefing: https://t.co/6j0Osh0vI6

— NYC Mayor's Office (@NYCMayorsOffice) July 13, 2020
https://platform.twitter.com/widgets.js
Of course, the surging crime across the city probably is making this a bittersweet moment for Hizzoner.
* * *
Update (1045ET): One day after Florida reported the biggest single-day jump of any state across the US, Florida has reported another 12,624 coronavirus cases Monday for a total of 282,435 and 35 new fatalities to bring the death toll to 4,277.
Even as turnaround times remain inconsistent across states and across the Sun Belt, the Sun Sentinel points out that the testing rate in Florida has gone from about 25,000 tests per day to almost 50,000, though the percent positive has risen even more dramatically than the increase in testing can justify.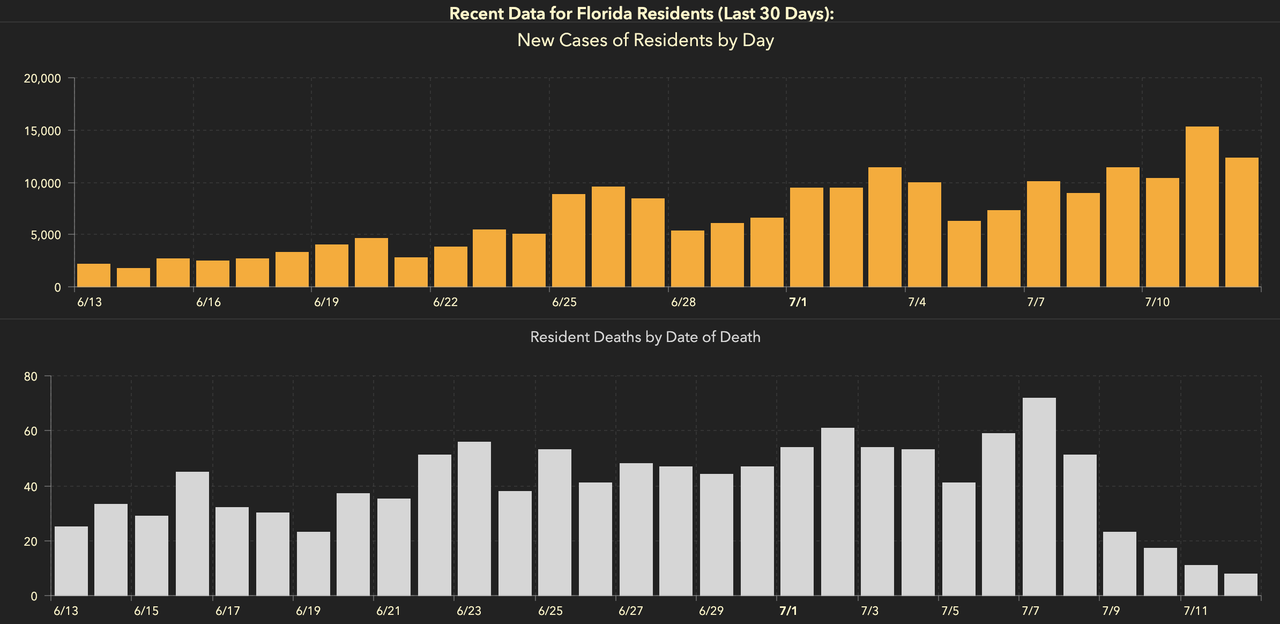 The positivity rate fell to 12.9% from the highs north of 20% as tests doubled from the week before.
 Former FDA Commissioner Scott Gottlieb said he expects the "apex" of cases in the South to hit in two to three weeks.
* * *
Update (1040ET): Just hours after Florida reported a recordbreaking jump in newly confirmed COVID-19 cases that was driven by an even larger surge in new tests, the Washington Post published this story about how states across the Sun Belt are falling so far behind on testing, that it's beginning to "hobble" the US response.
Some testing sites are struggling to provide results in five to seven days. Others are taking even longer. Outbreaks across the Sun Belt have strained labs beyond capacity. That rising demand, in turn, has caused shortages of swabs, chemical reagents and equipment as far away as New York.

The long testing turnaround times are making it impossible for the United States to replicate the central strategy used by other countries to effectively contain the virus – test, trace and isolate. Like catching any killer, speed is of the essence when it comes to the coronavirus.

"Instead of going from one step to the next, it's like you're already stumbling right out of the gate," said Crystal R. Watson, a public health expert at Johns Hopkins University. "It makes contact tracing almost useless. By the time a person is getting results, they already have symptoms, their contacts may already have symptoms and have gone on to infect others."
That wasn't the only critical piece published by WaPo Monday. For the umpteenth time, the MSM is reporting that the Trump Administration is moving to "sideline" Dr. Fauci by cancelling some of his media appearances after Trump made some comments that were critical of the doctor.
Of course, this isn't the first time we've heard that.
* * *
Update (0830ET): As Hong Kong Monday records 52 new cases of the virus on Monday, including 41 that were locally transmitted, city officials are increasing their efforts to quash this latest outbreak. Some of the new measures include closing restaurants for dine-in services in the evening, and also closing gyms and arcades.
The city is also re-implemented new social distancing measures until July 15.
HONG KONG TO CAP ALL PUBLIC GATHERINGS AT FOUR PEOPLE ON VIRUS
HONG KONG'S LAM URGES COMPANIES TO LET STAFF WORK FROM HOME
HONG KONG NEW SOCIAL DISTANCING MEASURES TO TAKE EFFECT JULY 15
HONG KONG TO BAN DINE-IN SERVICES AT EATERIES FROM 6PM TO 5AM
HONG KONG TO SHUT GYMS, GAME ARCADES FOR 7 DAYS
Although it was one of the first foreign destinations to confirm the virus, HK has only reported over 1,500 cases and 7 deaths since late January, despite the discovery of a few small follow-up clusters.
Even Hong Kong Disneyland is expected to close down again more than a month after reopening.
BREAKING: Hong Kong Disneyland to Close Again Due to Slight Rise in COVID-19 Caseshttps://t.co/s6maNDyKCU pic.twitter.com/EjaXHiT3wN

— WDW News Today (@WDWNT) July 13, 2020
https://platform.twitter.com/widgets.js
* * *
Update (0730ET): Yesterday, we groused about how US markets place so much faith in the many vaccine and therapeutic trials that are being carried out around the world. It seems that news of these trials, even when that news is entirely procedural, tends to send markets higher (however briefly).
BREAKING: #BioNTech and #Pfizer announced 2 of their 4 investigational #Covid_19 vaccines received Fast Track designation from the FDA.

Interesting this is driving mkt rally given this was widely expected after July 1st look at early data and recent comments from both CEOs.

— Julianna Tatelbaum (@CNBCJulianna) July 13, 2020
https://platform.twitter.com/widgets.js
And now on Monday morning, it's happening again, as a headline about the FDA granting fast-track approval to 2 vaccine candidates from Pfizer and German biotech BioNTech is sending futures higher in premarket trade.
* * *
It seems most of the popular tallies of coronavirus cases and deaths are in agreement that the US added only 59,017 (per JHU) or
58,147 (per Worldometer) cases on Sunday, the first day that the number of new cases fell short of 60k since early last week. Worldometer reported 3,414,042 cases at the end of day on Sunday, along with 137,784 deaths after 379 new deaths were confirmed.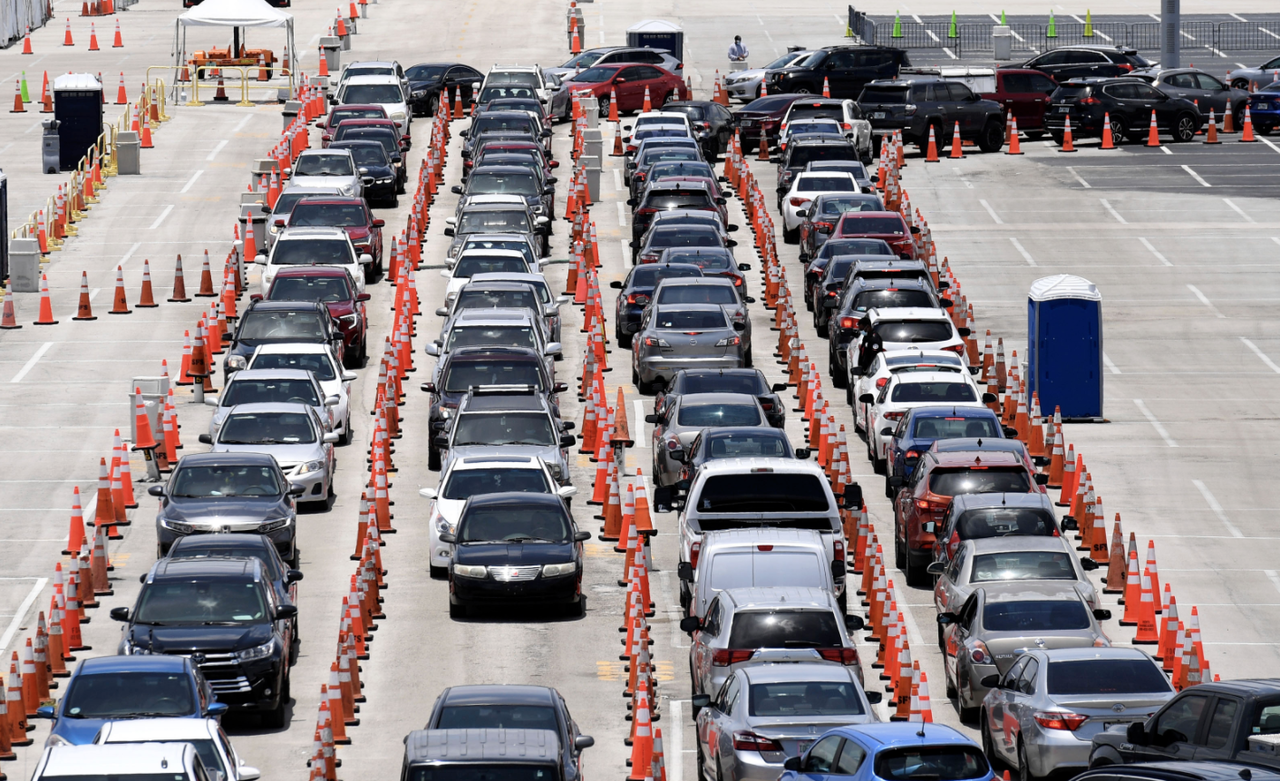 While the number of new cases moved back below 60k, despite Florida's record-smashing new-cases number from Sunday, the number of deaths recorded across the US dipped back below 500. So while the 7-day average for cases climbed to new all-time highs…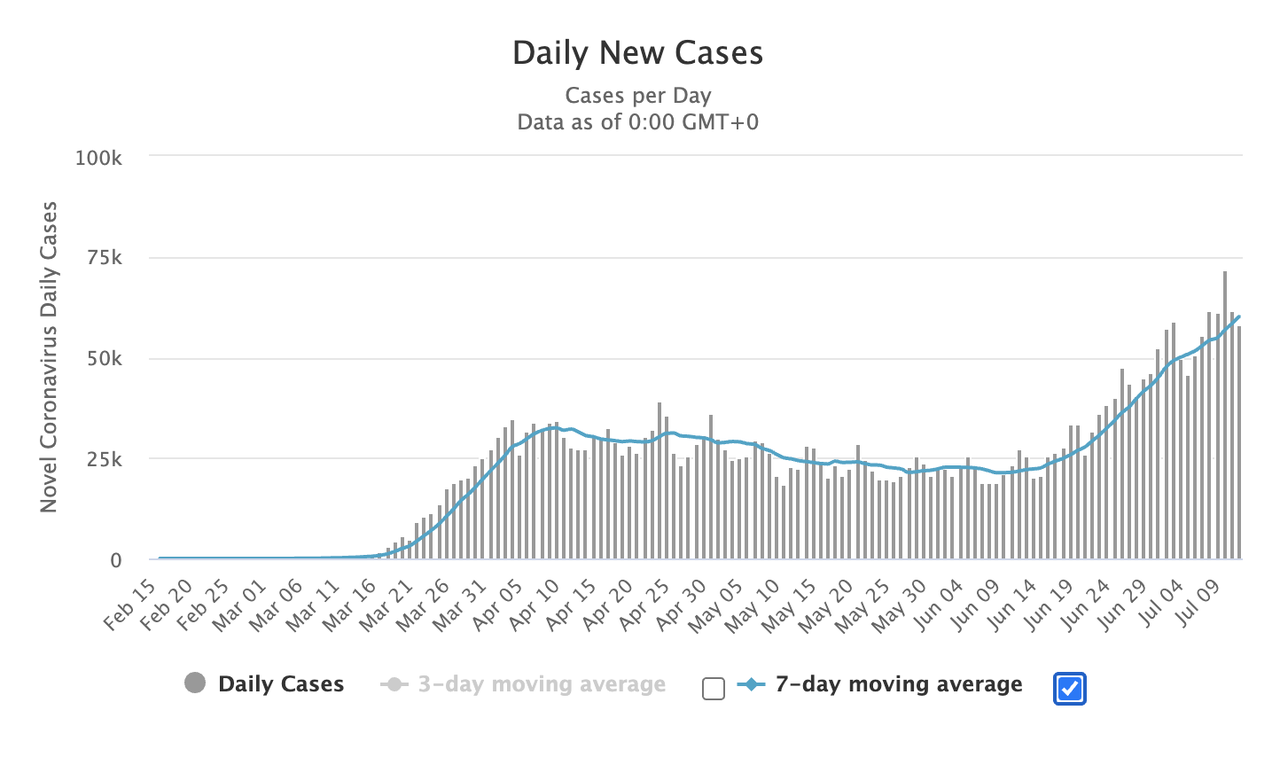 …the 7-day average for deaths ticked lower after hitting its highest level since mid-June.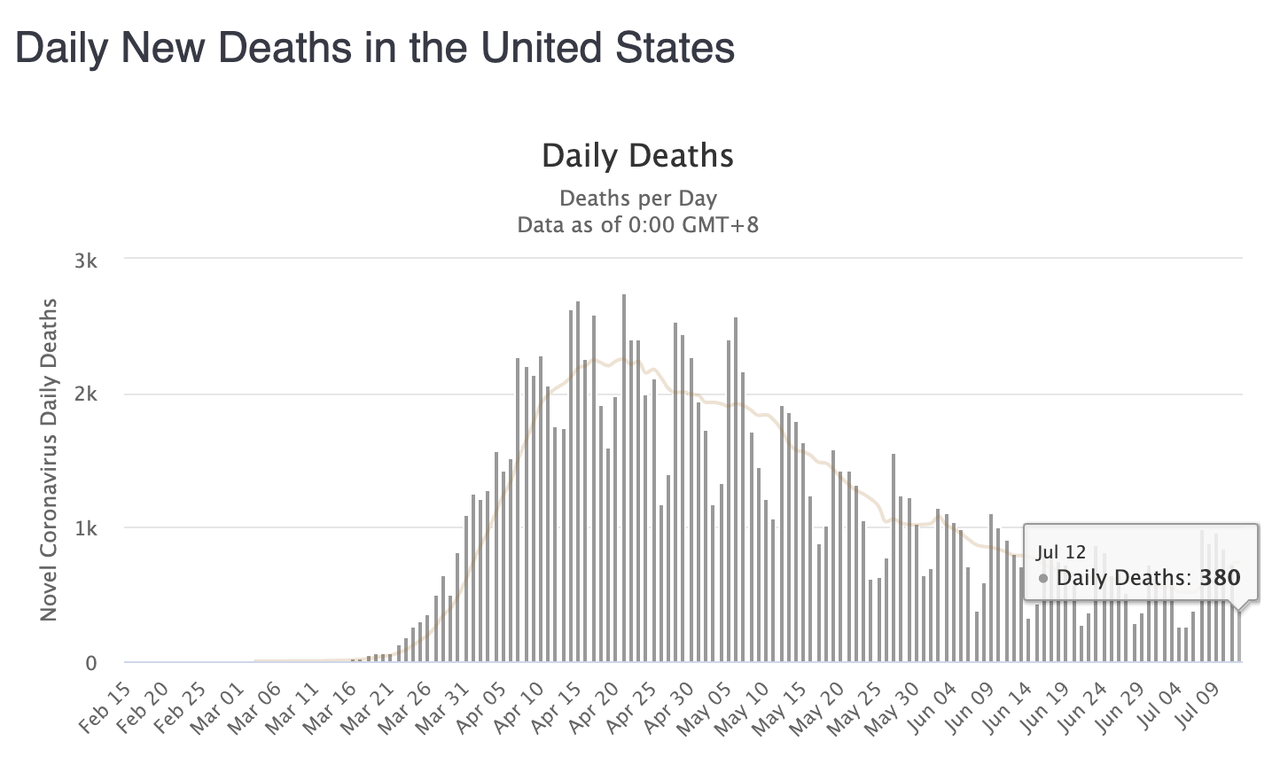 The deceleration in the US helped ease yesterday's global total, which was below the 200k for the first time in days.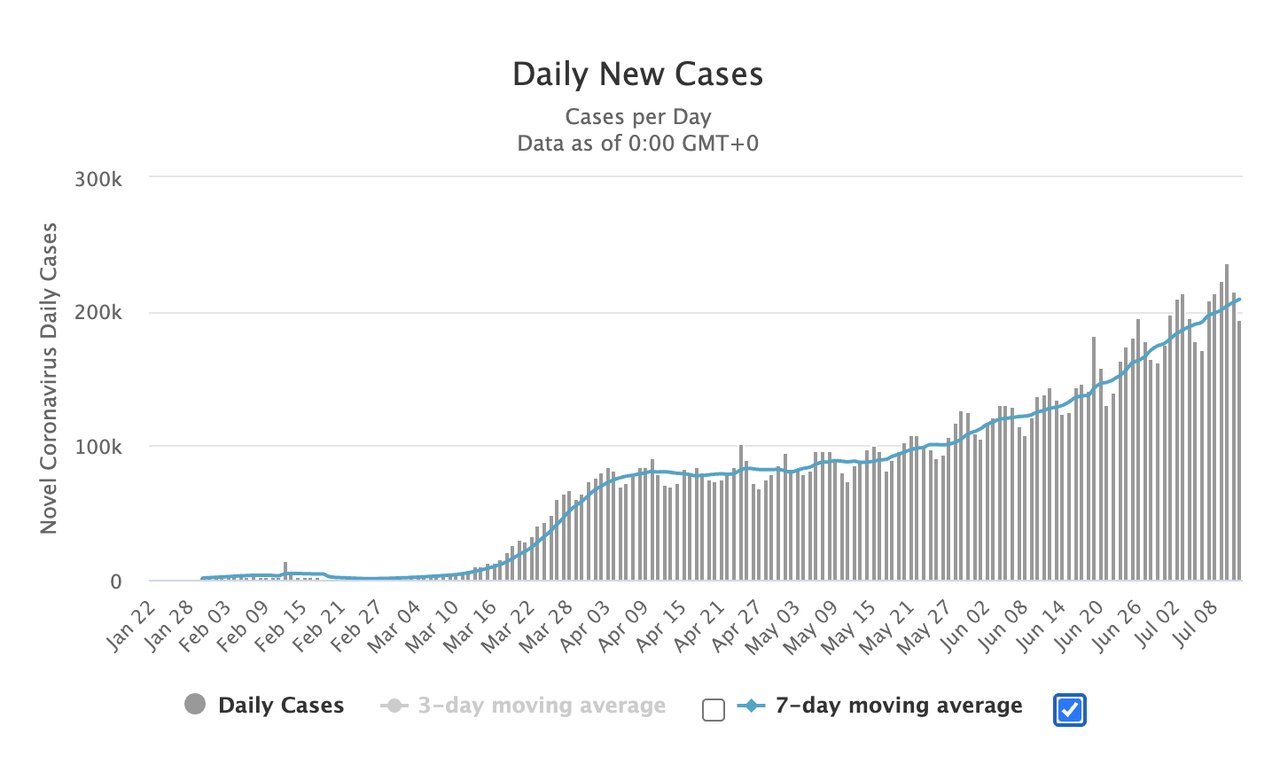 Sunday's numbers helped push the global case total to 13,049,461, moving above 13 million, the latest important psychological threshold.
Meanwhile, the number of new deaths was below 5k…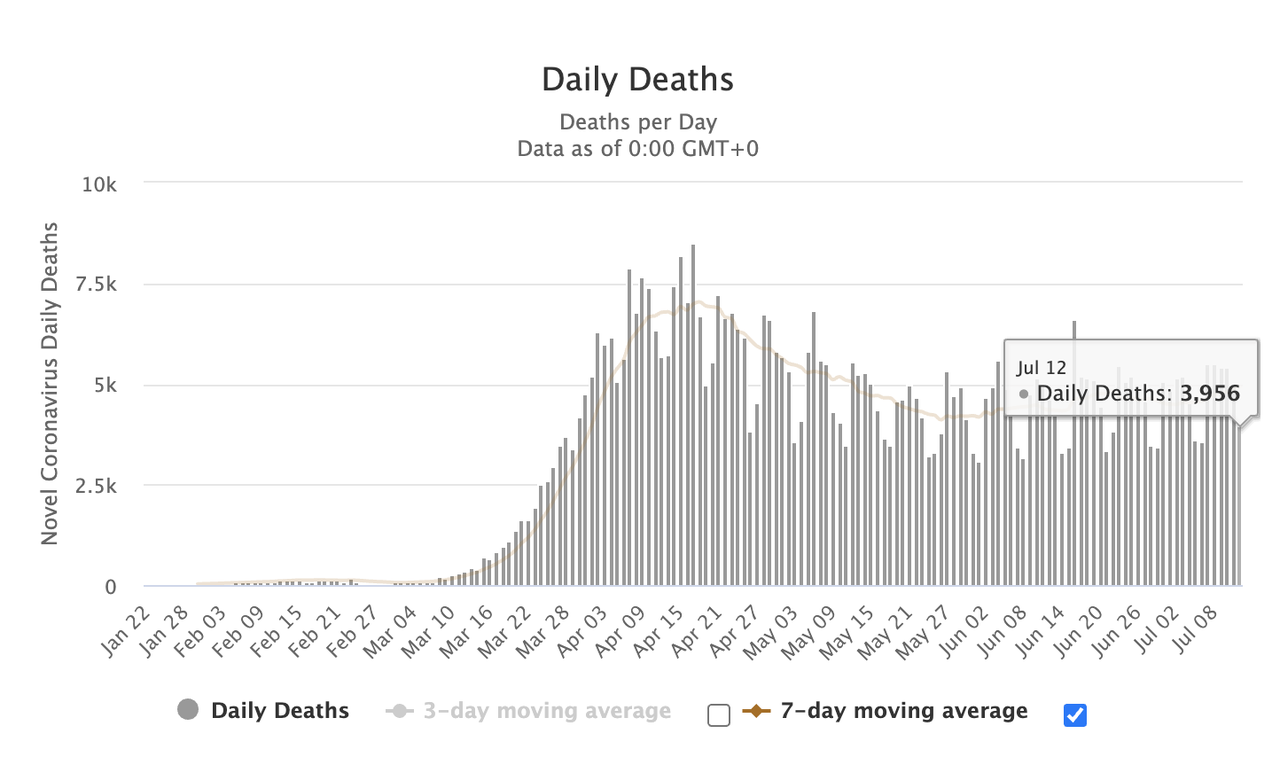 …bringing the global death toll to 571,812, as the global death toll draws inexorably nearer to 600k.
As the outbreak intensifies in Australia, China's Ministry of Foreign Affairs and its embassy in Canberra on Monday have jointly advised Chinese citizens traveling to Australia to exercise caution. However, in addition to the resurgence in COVID-19, they also warned about "racism" and "anti-Chinese sentiment" as Beijing continues to punish Canberra for backing the US in its campaign against Huawei.
Australia, along with the US, is a part of the powerful "Five Eyes" intelligence partnership that China has been desperately seeking to compromise.
With its schools temporarily closed, Hong Kong reported another 52 new cases of coronavirus Monday, including 41 that were locally transmitted, health authorities confirmed. Tokyo just confirmed 119 new infections, sources tell Nikkei, with cases coming in below 120 for the first time in 5 days.
After crossing the 850k case threshold, cementing its status as the third-worst outbreak in the world behind the US and Brazil, India reported yet another record single-day jump in coronavirus cases, with 28,701 new infections reported in the last 24 hours. This brought India's total to 878,254. The death toll, meanwhile, has climbed to 23,174, up 500 since Sunday morning. Meanwhile, South Korea confirmed 62 new cases, up from 44 a day ago, bringing total infections reaching 13,479, with 289 deaths.
---
This post has been republished with permission from a publicly-available RSS feed found on Zero Hedge. The views expressed by the original author(s) do not necessarily reflect the opinions or views of The Libertarian Hub, its owners or administrators. Any images included in the original article belong to and are the sole responsibility of the original author/website. The Libertarian Hub makes no claims of ownership of any imported photos/images and shall not be held liable for any unintended copyright infringement. Submit a DCMA takedown request.