Heat Dome Roasts US With Temps Forecast To Approach 100°F  
Heat Dome Roasts US With Temps Forecast To Approach 100°F  

Tyler Durden

Fri, 07/17/2020 – 19:05
A massive heat dome is set to intensify this weekend, expected to roast hundreds of millions of Americans with temperatures in some regions approaching 95-100°F.
Above normal temperatures will be found across the central U.S. tomorrow and spread to the Northeast/Mid-Atlantic this weekend. Highs in the mid-to-upper 90s will be widespread, with heat indices over 100 degrees. Be sure to stay hydrated and take breaks if working outdoors. pic.twitter.com/fOcHG9LlF4

— NWS WPC (@NWSWPC) July 16, 2020
https://platform.twitter.com/widgets.jshttps://platform.twitter.com/widgets.js
A portion of the same weather system, a large area of high pressure, that has been building and broiling the south-central United States much of this week will poke northeastward in the coming days.

Actual temperatures are forecast to rise well into the 90s F from portions of Ohio, Pennsylvania, New York state, Vermont, Connecticut, Rhode Island, New Hampshire, Massachusetts, West Virginia, New Jersey, Maryland, Delaware, and Virginia.

A few locations over the mid-Atlantic and Ohio Valley can reach or exceed 100 degrees for a couple of hours in the afternoon on Sunday and Monday. – Accuweather 
Meteorologist Ryan Maue tweeted, "the Lower 48 average high temperature will be over 90°F 🌡️ 265 million population 90°+" on Saturday.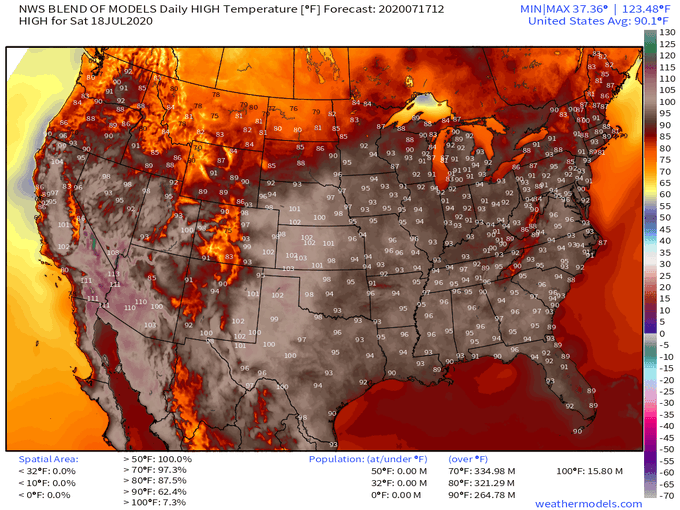 The National Weather Service warns heat indices over 100°F will be found in the Midwest through the weekend. 
How hot will be it be this weekend and the beginning of next week? Heat indices greater than 105 degrees will be found across the Midwest Saturday and Sunday, before a cold front brings much needed relief. Meanwhile, heat is expected to build across the Mid-Atlantic and South. pic.twitter.com/qENdYNE6ce

— NWS WPC (@NWSWPC) July 15, 2020
https://platform.twitter.com/widgets.js
It will be a hot and humid weekend over much of the country. About one third of the CONUS by land area is forecast to see a heat index reach 100°F in the next three days. And approximately 53 million people are under some sort of Heat Warning, Watch, or Advisory at the moment. pic.twitter.com/mtDW5g2Z3C

— NWS WPC (@NWSWPC) July 17, 2020
https://platform.twitter.com/widgets.js
The National Integrated Drought Information System warns "outside of the Southeast, every region of the USA has some drought."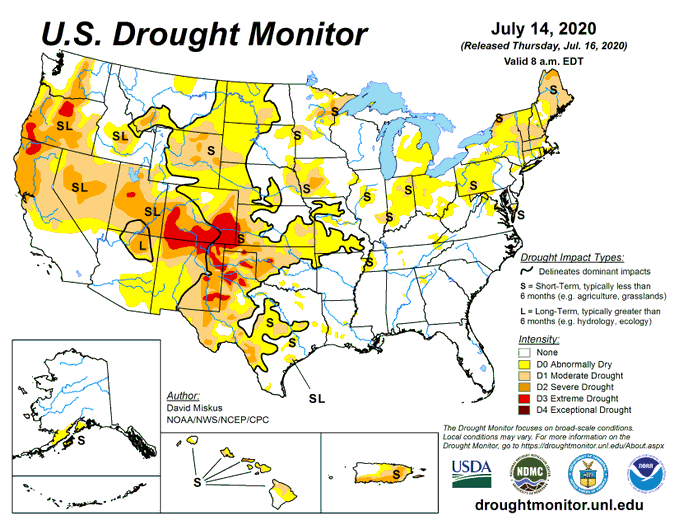 Here's Refinitiv weather analyst Ed Whalen's US weather forecast for the next 1-5 days, 6-10 days, and 11-15 days. The report is specially tailored for natural gas traders. 
While approximately 90% of households have air conditioning, that doesn't necessarily mean they can afford it this year as a virus-induced recession, coupled with a fiscal cliff is badly pressuring household finances. Some people might have to wait until the second round of Trump checks arrive before they lower their thermostats below 68°F. 
---
This post has been republished with permission from a publicly-available RSS feed found on Zero Hedge. The views expressed by the original author(s) do not necessarily reflect the opinions or views of The Libertarian Hub, its owners or administrators. Any images included in the original article belong to and are the sole responsibility of the original author/website. The Libertarian Hub makes no claims of ownership of any imported photos/images and shall not be held liable for any unintended copyright infringement. Submit a DCMA takedown request.