Mexican Cartel Displays Show Of Force In 'Shocking' New Video
Mexican Cartel Displays Show Of Force In 'Shocking' New Video

Tyler Durden

Sat, 07/18/2020 – 19:00
A shocking video surfaced onto social media Friday, showing a convoy of armored vehicles with dozens of combat-uniformed gunmen who expressed their support for Nemesio Oseguera Cervantes ("El Menccho"), the leader of the Jalisco New Generation Cartel (CJNG), reported Mexican newspaper El Universal.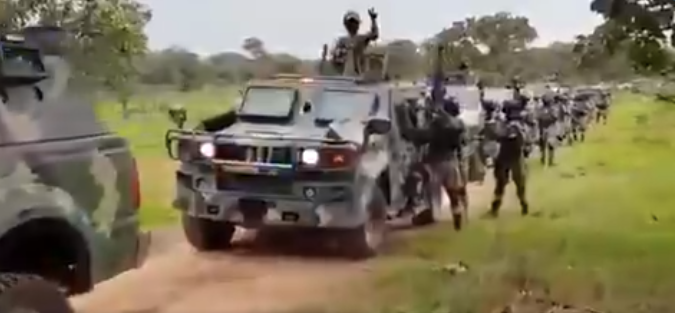 All of the trucks appear American made and many seem to be outfitted with different levels of armor, along with stationary turrets on top. These types of vehicles are common to warzones in the Middle East. 
Abrazos, no balazos.
👇 pic.twitter.com/UgvQwzAcj3

— Héctor de Mauleón (@hdemauleon) July 18, 2020
https://platform.twitter.com/widgets.js
Commenting on the video, Alfonso Durazo, Secretary of Public and Citizen Security, said the government is investigating the video:
"The propaganda video attributed to a criminal gang is being analyzed in order to confirm its eventual authenticity and temporality," Durazo said. 

"Regardless of this, we state that there is no criminal group with the capacity to successfully challenge the federal security forces, much less from that evident assembly," he added.
El Universal journalist Gabriel Guerra tweeted, "This video is truly troubling. Although its authenticity must be established, it speaks of an armed capacity comparable to or greater than that of many guerrilla groups. Each one will read different things, what I see is an enemy of the Mexican State and of all of us."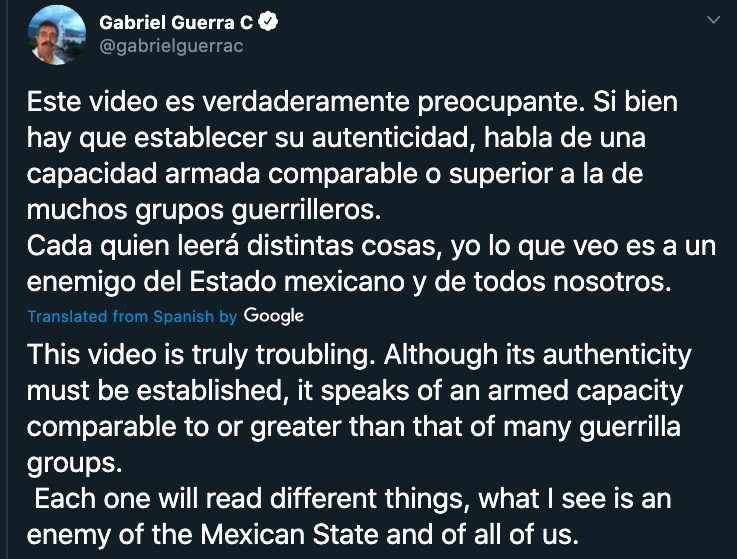 What the video suggests is that CJNG is well-armed and appears to employ combat-uniformed gunmen with high-caliber weapons and militarized vehicles. 
Bloomberg noted, "The cartel [CJNG] based in the central state of Jalisco has spread across Mexico and increasingly has posed direct challenges to the government. Mexico City's police chief blamed it for an elaborately planned attempt on his life last month — an ambush on the capital's most famous boulevard." 
---
This post has been republished with permission from a publicly-available RSS feed found on Zero Hedge. The views expressed by the original author(s) do not necessarily reflect the opinions or views of The Libertarian Hub, its owners or administrators. Any images included in the original article belong to and are the sole responsibility of the original author/website. The Libertarian Hub makes no claims of ownership of any imported photos/images and shall not be held liable for any unintended copyright infringement. Submit a DCMA takedown request.