New Home Sales Smash Expectations In June Despite Surge In Prices
New Home Sales Smash Expectations In June Despite Surge In Prices

Tyler Durden

Fri, 07/24/2020 – 10:08
Following existing home sales (admittedly lagging) rebound in June, new home sales were expected to continue their recovery, but at a much slower pace than May's 16.6% surge. However, it massively outperformed, rising 13.8% MoM (vs 3.6% MoM exp) and an upwardly revised 19.4% MoM surge in May (from +16.6%).
This leaves new home sales up 6.9% YoY…
Source: Bloomberg
On a year-over-year basis, new homes sold by region is shocking…
Northeast: +111.5%

Midwest: +33.3%

South: -1.8%

West: 4.1%
New Home Sales in the Northeast hit 13 year high as exodus from big cities soars on mass protests.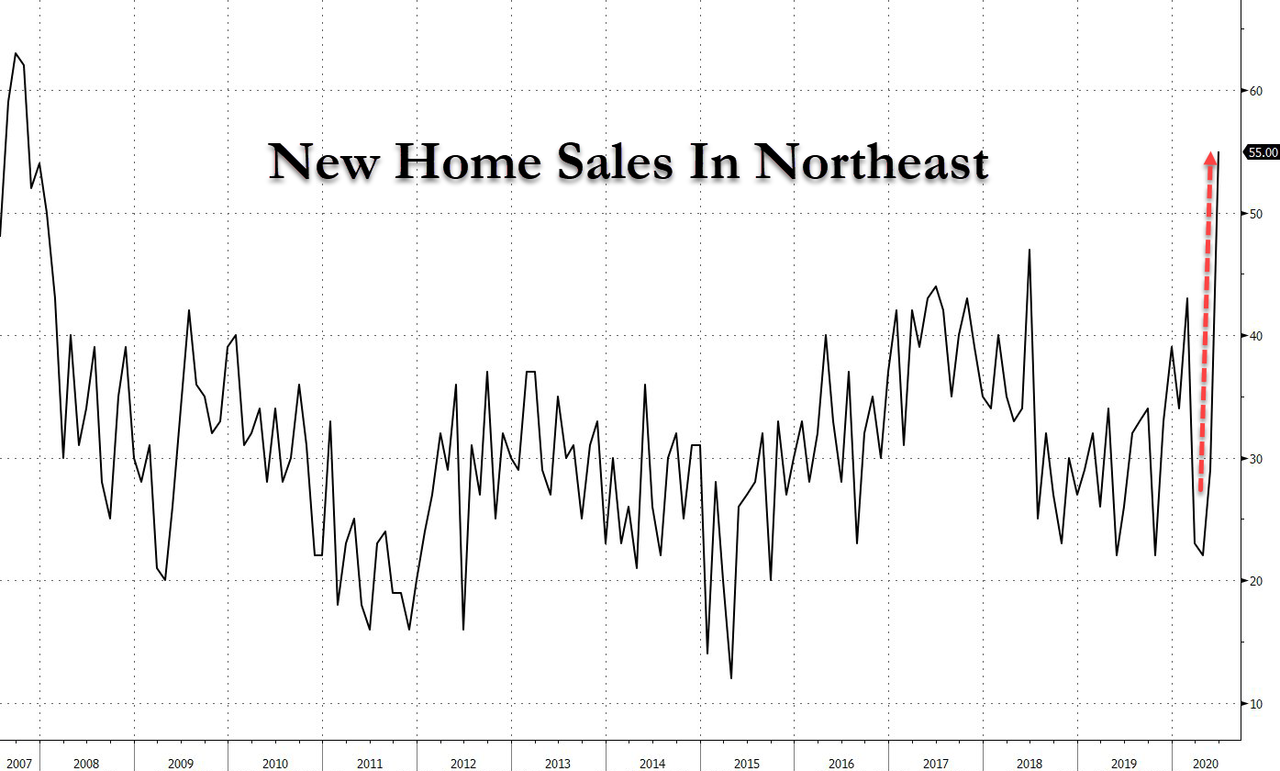 The V-shaped recovery in new home sales is complete…
Source: Bloomberg
The natural question, as we asked previously, is why the housing market was able to bounce so quickly in the face of an historic shock which left 22 million people unemployed? Here BofA offers five explanations:
An uneven recession: the shock disproportionally impacted the lower income population who are less likely to be homeowners. Consider that 55% of households earning less than $35K a year lost employment income vs. only 40% of those earning $75K and above. According to the NAR, the median household income of recent homebuyers is $93k.

Record low interest rates: mortgage rates reached a new historic low last week. Average monthly mortgage payments have declined by $80/month relative to this time last year due to lower mortgage rates.

Running lean pre-crisis: inventory was low, home equity was high and debt levels manageable. The homeowner vacancy rate reached the lows of the mid-1990s.

Supportive fiscal and monetary policy: forbearance programs reduced potential stress from delinquencies – according to the MBA, 7.8% of all mortgages were in forbearance as of July 12, which amounts to 3.9mn homeowners.

Pandemic-related relocations: moving to the 'burbs is a real phenomenon. Take NYC – according to data from USPS, the number of mail forwarding requests from NYC spiked to more than 80,000 in April, 4X the pre-COVID-19 monthly pace.
And to cap it all off, the median home price surged from 307K in April and $310K in May, the lowest in one year, to 329.2K in June, highest since Feb …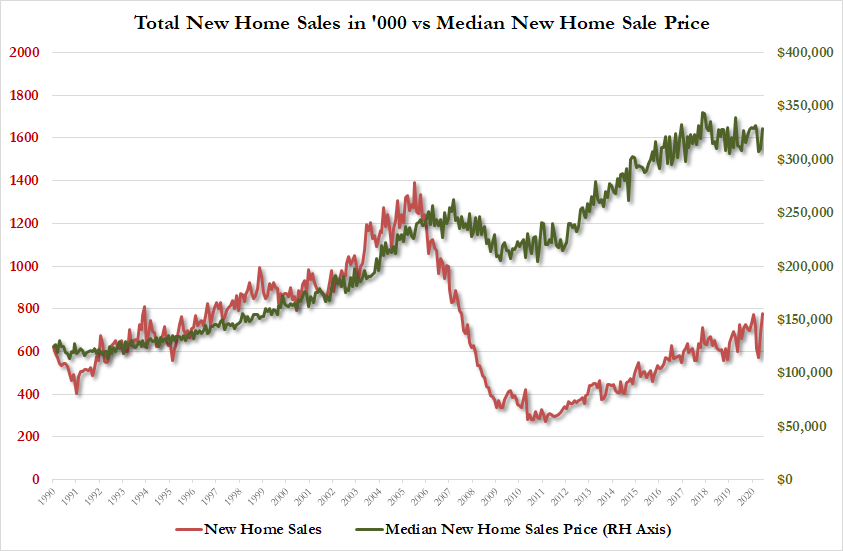 Which of course is offset by the collapse to record lows of mortgage rates.
---
This post has been republished with permission from a publicly-available RSS feed found on Zero Hedge. The views expressed by the original author(s) do not necessarily reflect the opinions or views of The Libertarian Hub, its owners or administrators. Any images included in the original article belong to and are the sole responsibility of the original author/website. The Libertarian Hub makes no claims of ownership of any imported photos/images and shall not be held liable for any unintended copyright infringement. Submit a DCMA takedown request.