Earnings Summary: AMD Jumps, Ebay Dumps, Visa Stumbles, Starbucks Rumbles
Earnings Summary: AMD Jumps, Ebay Dumps, Visa Stumbles, Starbucks Rumbles

Tyler Durden

Tue, 07/28/2020 – 16:38
It's a tale of two worlds after hours, when Starbucks jumped and Visa slumped after reporting calendar Q2 earnings.
Starting with the former, Starbucks reported a 46 cent loss in fiscal Q3, down sharply from the 32 cent profit a year ago if better than the 62 cent consensus loss, due to a deep sales decline in its latest quarter, with consumers buying more per order, but visiting much less frequently. Global same-store sales tumbled by a record 40% in the quarter, which also was just slightly better than the 42% expected. Revenue, meanwhile, was $4.2 billion, better than the $4.06 billion estimate.
Some more Q3 details:
Americas comp -41%, estimate -43%
International comps -37%, estimate -42.5%
China comps -19%, estimate -21.7%
While global comparable store sales fell 40% in the quarter, average tickets grew by double digits across all markets, rising by 25% on average in the US. As Bloomberg notes, "the idea here is families or individuals who are placing to-go orders are placing bigger orders. Importantly for Starbuck's top and bottom lines, that's helped to offset a severe drop in global comparable transactions (which fell 51% in the quarter)."
The company also said that 97% of its company-operated stores are open globally, while 87% of licensed stores are open (such as locations inside airports and colleges.)
Looking ahead, the coffee chain said it sees covid Impact moderating meaningfully in 4Q, and now expects Q4 revenue decline of 10-15%, with comp sales falling 12-17%, although how the company has so much visibility at a time when nobody knows if tomorrow's baseball games will be canceled is anyone's guess.
Below is what Starbucks CEO Kevin Johnson had to say in the earnings release:
"We are pleased to share that the vast majority of Starbucks stores around the world have reopened and our global business is steadily recovering, demonstrating the relevance of the Starbucks brand and the trust we have built with our customers. As we continue to drive the recovery, we are also building resilience for the future by accelerating the transformation of our business in ways that will elevate the customer and partner experience and drive long-term growth. We firmly believe that we are well positioned to regain the positive business momentum we had before the pandemic began and look forward to reigniting our 'Growth at Scale' agenda."
As Bloomberg notes, what is missing here is any clue of how things have gone in the first few weeks of July: "We want to know how the varied pace of different U.S. states reopening has impacted sales and store operations. Finally, with China further ahead in its recovery from Covid-19, what are the longer-term impacts from the virus we are not yet seeing here in the U.S.?"
The result however, was good enough to send the stock higher after hours…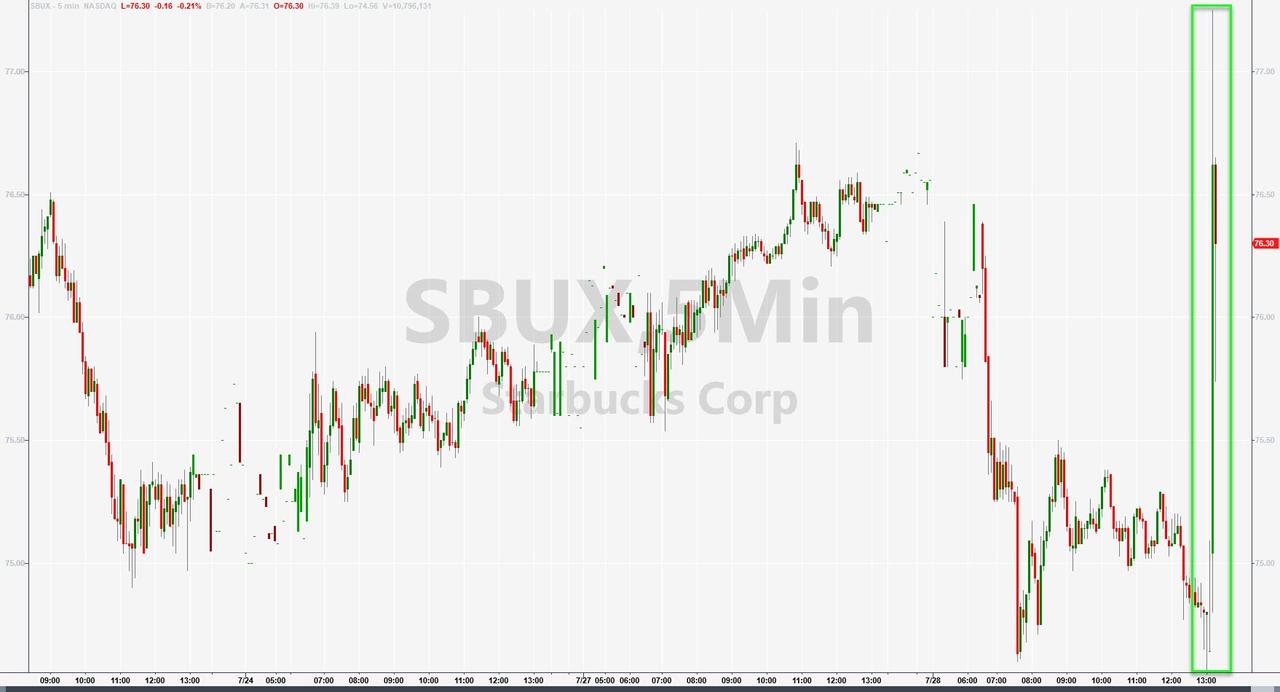 … which is more than we can say for Visa, whose stock is sliding after hours…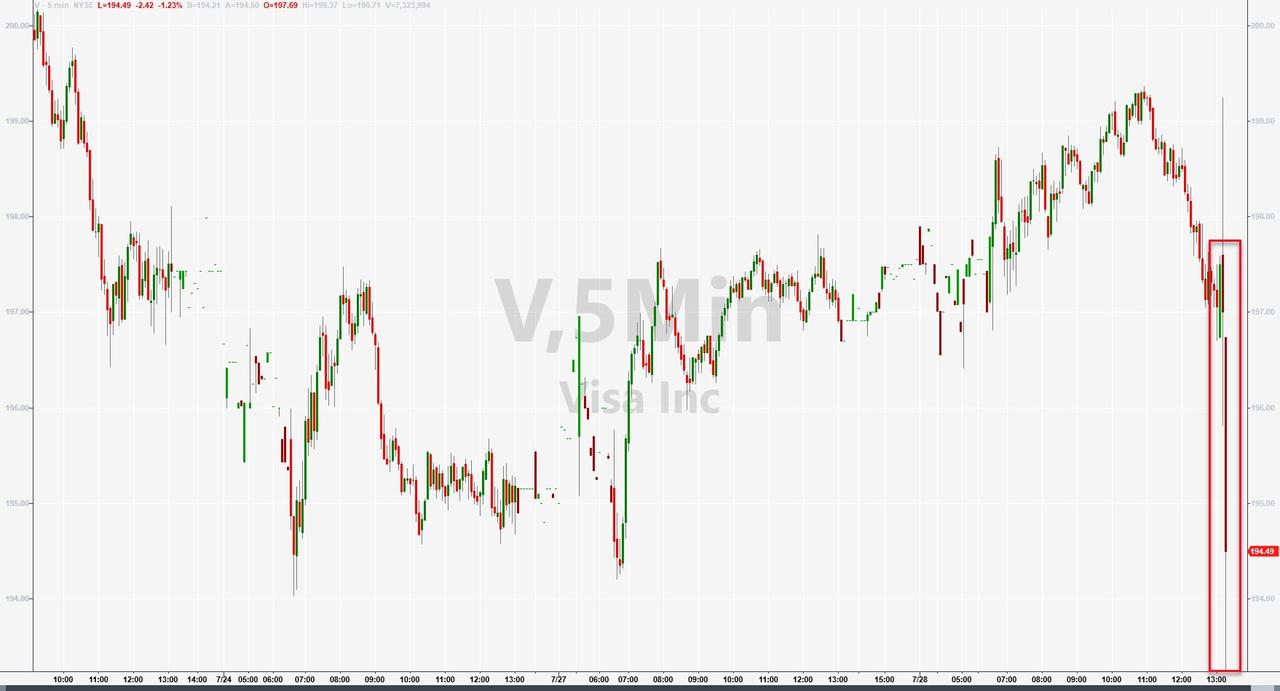 … after missing on the top line while beating on EPS:
Q3 net revenue $4.8 billion, down -18% q/q, estimate $4.84 billion
Q3 adjusted EPS $1.06 vs. $1.39 q/q, estimate $1.03
The company said spending on its cards dropped 10% in the quarter, although that trend is starting to improve in more recent weeks with total spending on its cards actually up nearly 10% in the week ended July 21. That turnaround is driven largely by online spending. So-called card present transactions – or spending that happened in store – are still down about 10% that week it appears.
Debit is also accounting for a lot of the gains: while spending on the firm's credit cards remains down about 10% in the week ended July 21, spending on debit cards is up almost 30%.
Cross-border spending – this a key metric for Visa because its among the most profitable transactions on its network – dropped about 37%. That's worse than the 36% decline analysts were anticipating. But what may have sent the stock sharply lower is that for the second quarter, the company refused to provide a full-year outlook.
* * *
Some other earnings after hours:
AMD surging after boosting full year revenue guidance which in light of Intel's recent troubles was to be expected:
Sees FY Rev. About +32%, Saw About +20% to +30% Y/Y
Q2 adjusted gross margin 44% vs. 41% y/y, estimate 44%
Q2 enterprise, embedded and semi-custom revenue $565 million, +62% q/q, estimate $530.3 million
*  * *
EBay shares are down, even though the company reported 2Q revenue that beat expectations and an upbeat outlook showing that the Covid-19 pandemic is benefiting EBay as more shoppers go online for what they need and small businesses use platforms like EBay to reach shoppers when they can't open physical stores.
2Q Net Rev. $2.87B, Est. $2.80B
2Q Adj EPS Cont Ops $1.08, Est. $1.06
2Q Adj EPS Cont Ops $1.08, Est. $1.06; Boosts Yr Outlook
Co. Sees 3Q Adj EPS Cont Ops 81c to 87c, Est. 81c
Co. Sees 3Q Net Rev. $2.64B to $2.71B, Est. $2.55B
Co. Sees FY Adj EPS Cont Ops $3.47 to $3.59, Saw $3 to $3.10
Co. Sees FY Net Rev. $10.56B to $10.75B, Saw $9.56B to $9.76B
* * *
Denny's shares were down after the company reported adjusted loss per share for the second quarter that was wider than the average analyst estimate.
2Q adjusted loss per share 25c vs. EPS 23c y/y, estimate loss/share 18c
2Q operating revenue $40.2 million, -74% y/y, estimate $43.7 million
2Q domestic system-wide same store sales -56.9%, estimate -61.1% (Consensus Metrix, average of 6 estimates)
Unable to Provide An Updated Outlook at This Time
Denny's Q2 earnings show that people aren't racing to the chain as dining restrictions lift — the company saw a same-store sales decrease of 56.9%.
---
This post has been republished with permission from a publicly-available RSS feed found on Zero Hedge. The views expressed by the original author(s) do not necessarily reflect the opinions or views of The Libertarian Hub, its owners or administrators. Any images included in the original article belong to and are the sole responsibility of the original author/website. The Libertarian Hub makes no claims of ownership of any imported photos/images and shall not be held liable for any unintended copyright infringement. Submit a DCMA takedown request.