Congress' Approval Drops to 18%, Trump's Steady at 41%: Gallup
Congress' Approval Drops to 18%, Trump's Steady at 41%: Gallup

Tyler Durden

Fri, 07/31/2020 – 10:29
By Megan Brenan of Gallup
After hitting 20-year highs in April and May, Americans' approval of Congress continues its downward slide to 18%. The last time congressional approval was below 20% was in September 2019.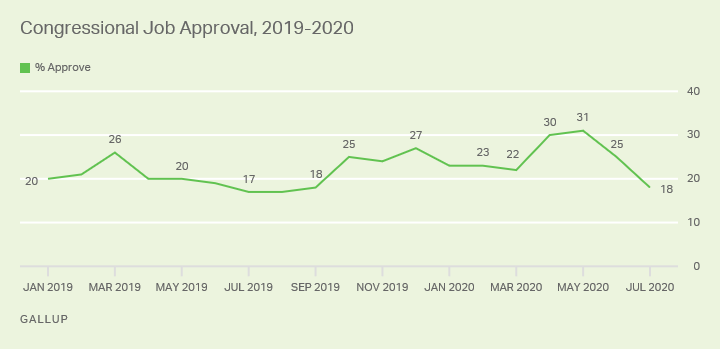 The latest reading is from a Gallup poll conducted July 1-23 as coronavirus cases in the U.S. continued to spike, and Congress worked to negotiate another economic relief package. Congress' heightened approval ratings in the spring came on the heels of the first relief package, which was well-received by majorities of Americans across party lines.
While partisans' approval ratings of the legislative branch have declined by double digits since May, Democrats' approval has fallen the most — from 39% to 20%. At the same time, Republicans' approval has dropped from 24% to 14% and independents' from 32% to 21%.
Presidential Approval Rating Stable
As Americans' approval of Congress drops, President Donald Trump's approval rating has been steady near 40% in June and July. Still, the current 41% remains well below the 49% earlier this year when the economy was in good shape, and Trump was enjoying a post-impeachment bounce.
The 87-percentage-point gap in Trump's approval rating between Republicans (91%) and Democrats (4%) remains among the highest measured by Gallup, exceeded only by the 89-point gap in June.
Implications
As the nation continues to simultaneously battle the coronavirus pandemic and the poor economic conditions that resulted from it, Americans appear to be of the "what have you done for me lately?" mindset in assessing Congress.
With the general election just over three months away, the president's approval rating is in dangerous territory from a historical perspective, and he is running out of time to bounce back to his pre-pandemic highs.
---
This post has been republished with permission from a publicly-available RSS feed found on Zero Hedge. The views expressed by the original author(s) do not necessarily reflect the opinions or views of The Libertarian Hub, its owners or administrators. Any images included in the original article belong to and are the sole responsibility of the original author/website. The Libertarian Hub makes no claims of ownership of any imported photos/images and shall not be held liable for any unintended copyright infringement. Submit a DCMA takedown request.