Kodak Government Deal On Verge Of Collapse: DFC Says "Recent Allegations Of Wrongdoing Raise Serious Concerns"
Kodak Government Deal On Verge Of Collapse: DFC Says "Recent Allegations Of Wrongdoing Raise Serious Concerns"

Tyler Durden

Sat, 08/08/2020 – 16:30
Ever since Reuters reported last week that Kodak had granted its Chairman, Jim Continenza, some 1.75 million options (in what appears to be less than an "arms-length deal" and as the result of what was called an "understanding" with the Board of Directors), just one day before the infamous $765 million loan from the government was announced on July 28, which was meant to transform the one-time photography titan (since bankrupt) into a China supply-chain alternative to produce pharmaceutical products in Rochester and at the company's facility in St. Paul, Minnesota, and which sent its stock price from $2 to $60 in two days….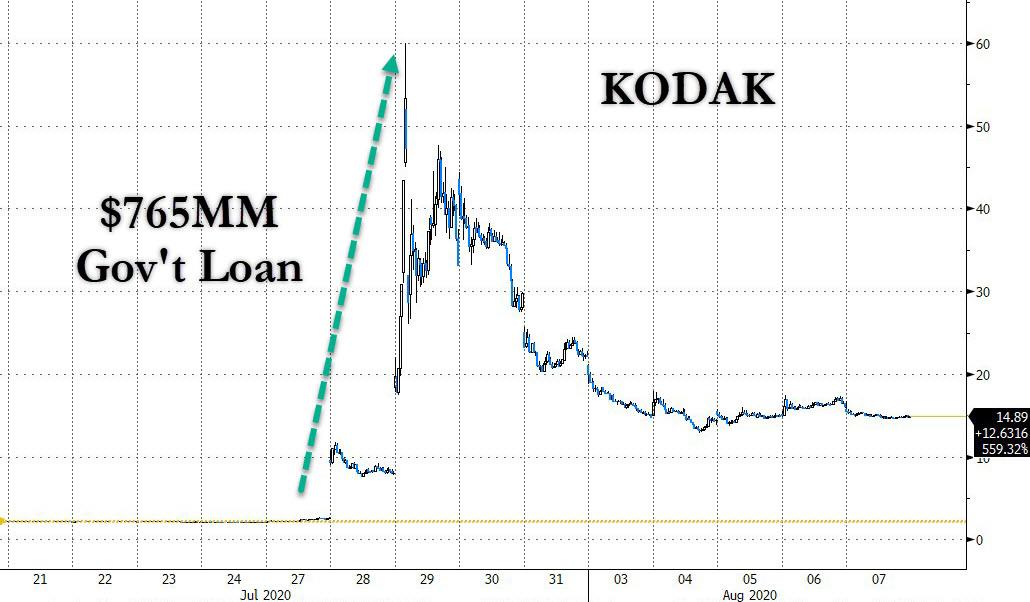 … making the Kodak chairman richer by tens of millions overnight, the stench of impropriety was spreading, sparking demands from Democrats for a probe of potential backroom dealings between the Trump administration and Continenza, and culminating with an alleged SEC probe last week into the legitimacy of the deal.
And now, just ten days later, it appears that the entire deal is on the verge of collapse with the government's International Development Finance Corporation tweeting late on Friday that…
On July 28, we signed a Letter of Interest with Eastman Kodak. Recent allegations of wrongdoing raise serious concerns. We will not proceed any further unless these allegations are cleared.

— DFCgov (@DFCgov) August 7, 2020
https://platform.twitter.com/widgets.js
… the same IDFC which on July 28 released a statement quoting Continenza as saying: "Kodak will play a critical role in the return of a reliable American pharmaceutical supply chain."
Trump, too, had hailed the development. "I want to congratulate the people in Kodak," he said at a press briefing. "They've been working very hard." It was Trump's encouragement that sparked the furious rally in KODK stock and a frenzied scramble by Robinhood traders to buy up every share they could find, even if as the chart below show, the euphoria has clearly peaked.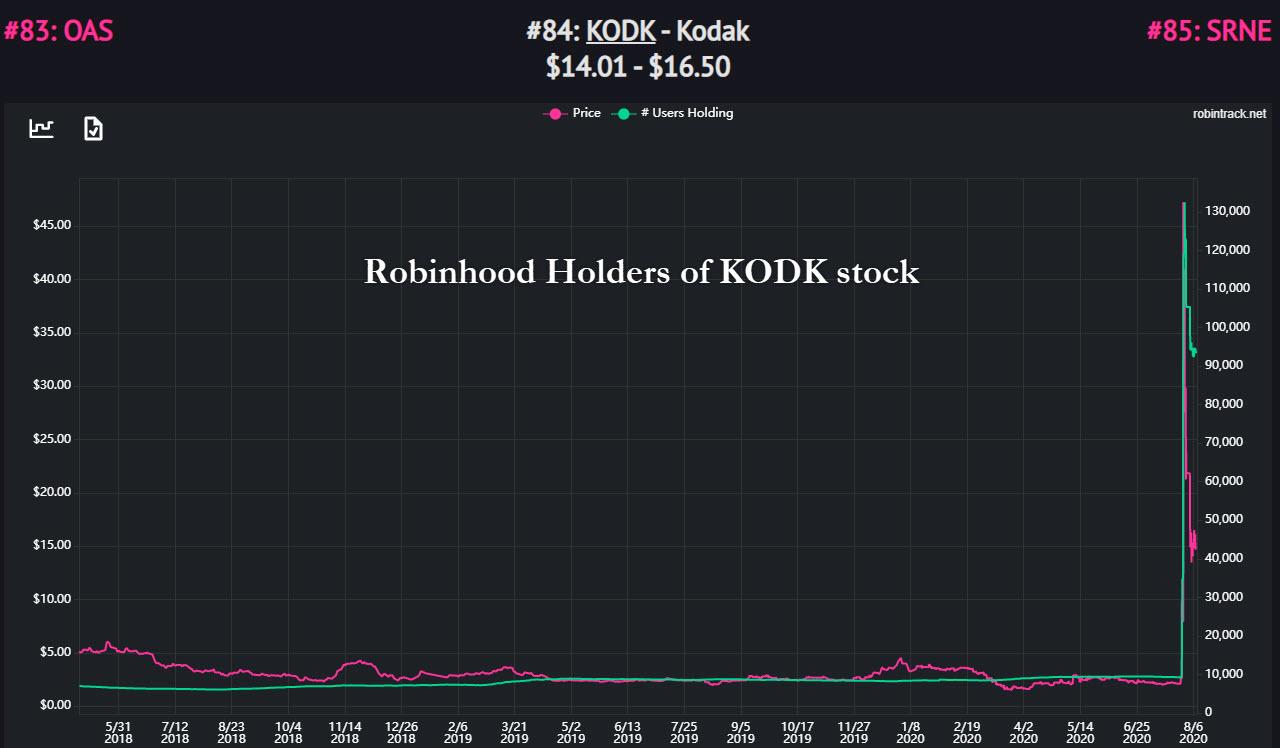 Peter Navarro, director of the Office of Trade and Manufacturing Policy, tweeted that he is very disappointed that last week's deal with Kodak was tarnished by allegations.
VERY disappointed last week's great deal with Kodak tarnished by allegations. Absolutely RIGHT move by DFC!
We must redouble efforts to bring our pharma manufacturing home!! #BuyAmerican https://t.co/2OfAjJFHKH

— Peter Navarro (@PeterNavarro45) August 7, 2020
https://platform.twitter.com/widgets.js
Last Friday, Kodak announced that it will appoint a special committee to conduct an internal review of the process surrounding the company's agreement, although if the IDFC is indeed putting the deal on hold that may well be moot; the only question is whether any insiders and funds that liquidated stock and generated impressive overnight profits will be forced to clawback their gains.
---
This post has been republished with permission from a publicly-available RSS feed found on Zero Hedge. The views expressed by the original author(s) do not necessarily reflect the opinions or views of The Libertarian Hub, its owners or administrators. Any images included in the original article belong to and are the sole responsibility of the original author/website. The Libertarian Hub makes no claims of ownership of any imported photos/images and shall not be held liable for any unintended copyright infringement. Submit a DCMA takedown request.