COVID-19 Cases Climb In Greece, UK As Arizona Sees New Cases Drop To 6-Week Low: Live Updates
COVID-19 Cases Climb In Greece, UK As Arizona Sees New Cases Drop To 6-Week Low: Live Updates

Tyler Durden

Sun, 08/09/2020 – 15:24
Summary:
Greece sees new jump in cases
UK reports 1k+ new cases
Arizona sees lowest cases in 6 weeks
EU makes optimistic sign on vaccines
Italy says schools will start Sept. 14
UK says opening schools a "national priority"
* * *
Update (1515ET): Some more signs of a 'second wave' of infections emerging in Europe were confirmed by Greece and the United Kingdom on Saturday.
Greece reported 203 new coronavirus cases Sunday, the biggest single-day jump since the beginning of the pandemic, bringing its total to 5,623. It also was the biggest jump in daily cases since April 21.
As infections in the US start to turn lower again following a brief bump, Former FDA Commissioner Scott Gottlieb said the US. looks like it's headed for an infection surge in rural regions, now that the wave impacting the Sun Belt has subsided. But some critics have called bs on this.
"We're probably going to have another wave," he said on CBS's "Face the Nation" on Sunday. There's concern about largely untouched rural communities, which are "probably a bit more complacent" about virus risks, he said.
Rural spread is "going to be far more difficult to control if it's more widespread," he said. "We're seeing indications of that right now – the wave spreading in the Midwest and the West."
The UK reported more than 1,000 new cases for the first time since June 26, bringing its total to 310,825. The 1,062 cases reported Sunday are higher than the seven-day average of 877.
Arizona reported 816 cases, its lowest since late June, a six week low. The 0.4% increase was below the 0.7% daily average increase of the previous week. Total cases are now 186,923.
* * *
As we reported last night, the US surpassed 5 million confirmed cases (according to data compiled by Johns Hopkins) on Saturday evening (East Coast Time).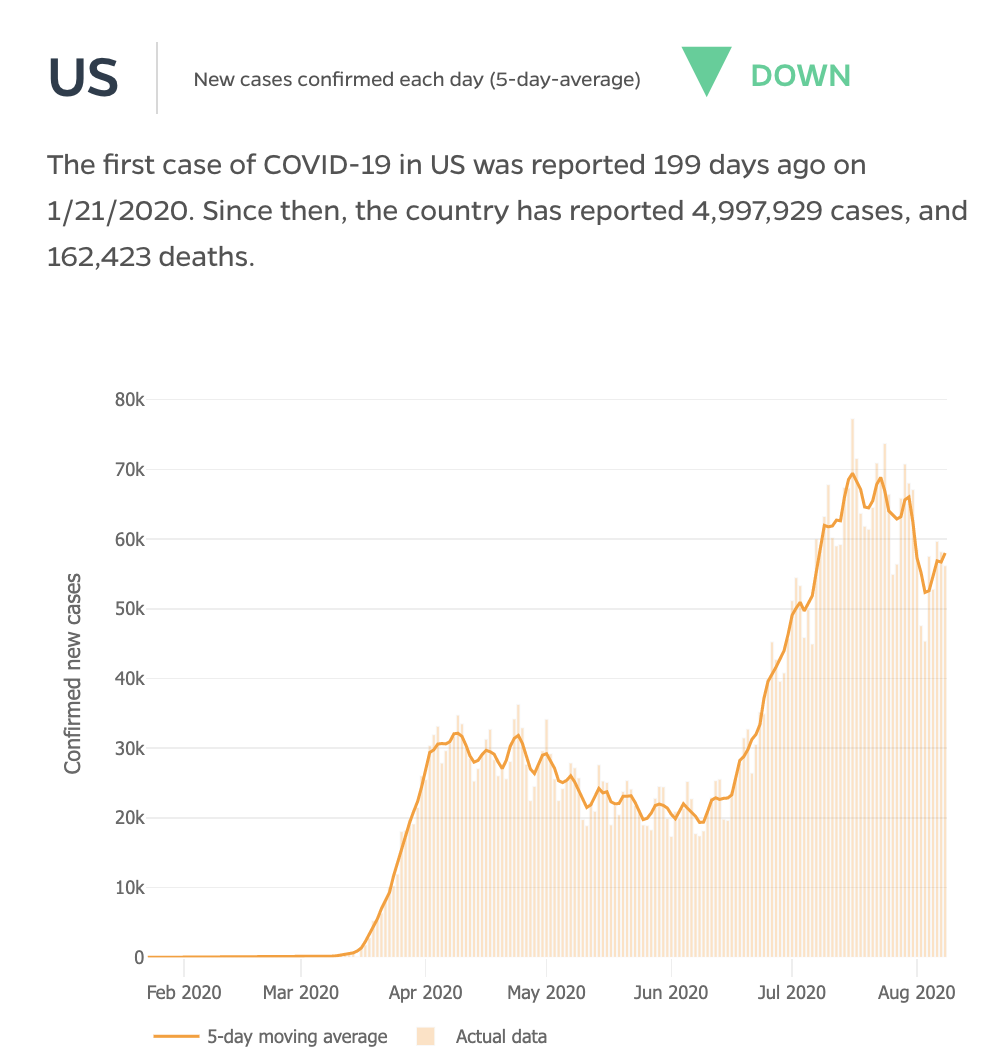 The US reported 56,070 cases Saturday, a 1.1% increase over the prior day. Total deaths have reached 162,441, the data show.
As we reported last night, Brazil also passed two critical milestones: it has now confirmed 2 million cases, and more than 100,000 deaths.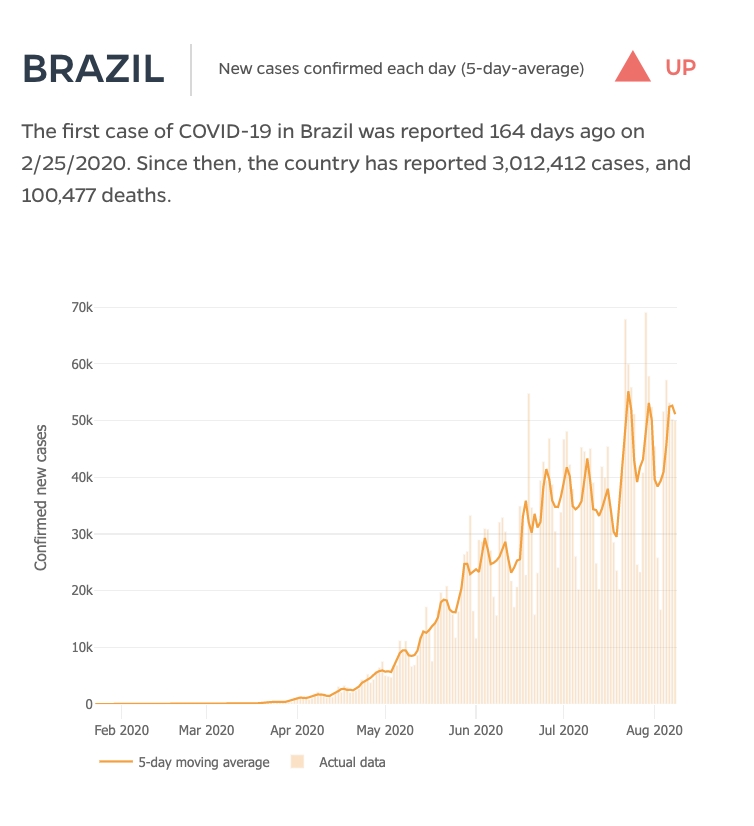 Though the numbers have rebounded a bit over the past week, on average, the daily numbers across the US have declined from a recent peak, as the outbreak in the Sun Belt outpaced the outbreak in New York. As the number of new cases in Fla. and Texas and California and Arizona has declined, some northeastern states, like New Jersey and Rhode Island, have seen a slight uptick in recent weeks (which inspired NJ, NY & Conn to add RI to the mandatory quarantine iist).
Globally, the number of confirmed cases is nearing 19.75 million.
Over in the EU, as governments sign more deals with major pharmaceutical companies to guarantee supplies of a vaccine that hasn't even been proven safe and effective yet, EU Commissioner for Health and Food Safety Stella Kyriakides told Germany's Handelsblatt in an interview that while a vaccine won't immediately solve all the world's problems, it will allow a step-by-step return to normality, the newspaper cited Kyriakides as saying.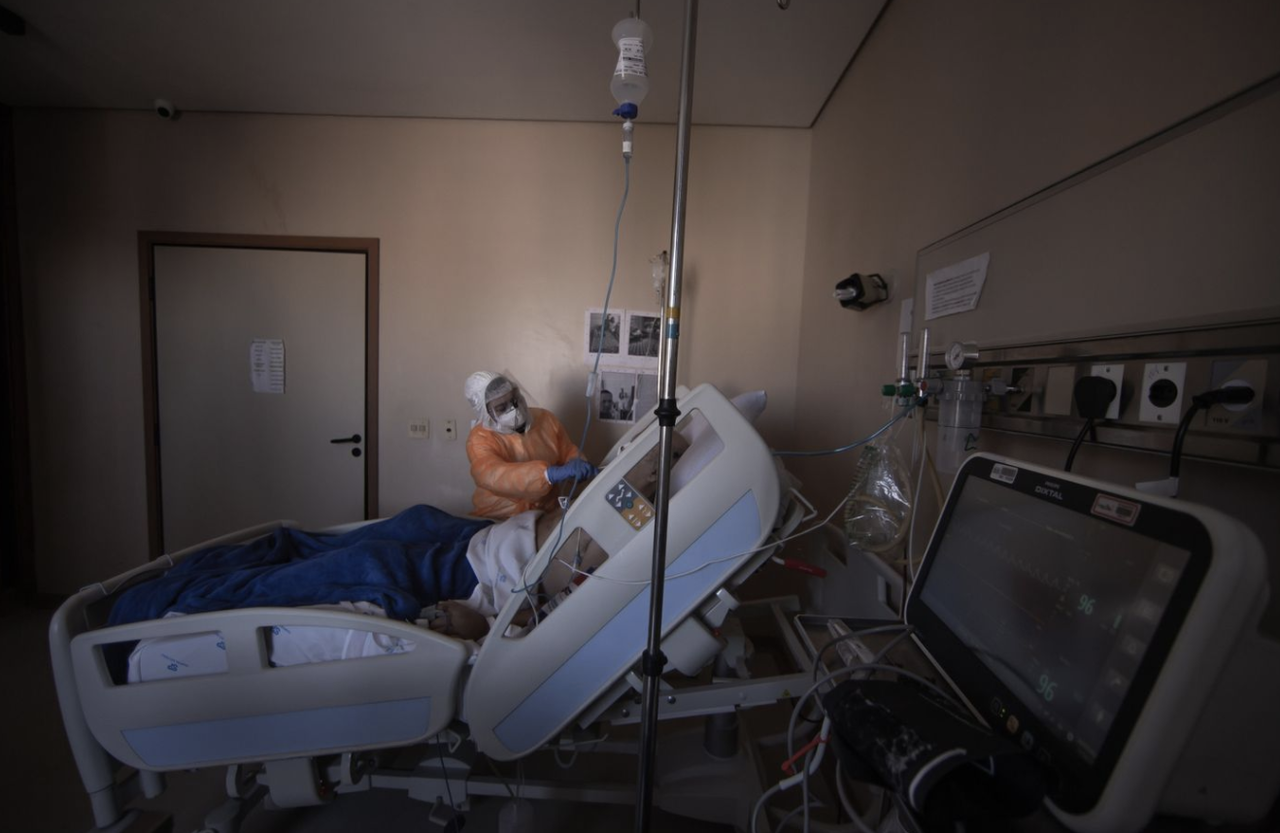 In contrast, in the US, Dr. Fauci, who has repeatedly reassured Congress (and the American pubic) that a vaccine would be available by the end of the year, admitted yesterday that we really don't know how effective the vaccine will be: he says it may be only "50% to 60% effective."
As Australia's second-most-populous state, Victoria (the home of its second-largest city, Melbourne) continues to struggle with the country's largest outbreak yet, neighboring New Zealand has just confirmed its 100th straight day without even a single coronavirus transmission.
New Zealand on Sunday marked 100 days since it was able to effectively eliminate the spread of coronavirus.
Here's JHU's daily chart reflecting the daily growth rates of the 10 fastest-growing outbreaks in the world.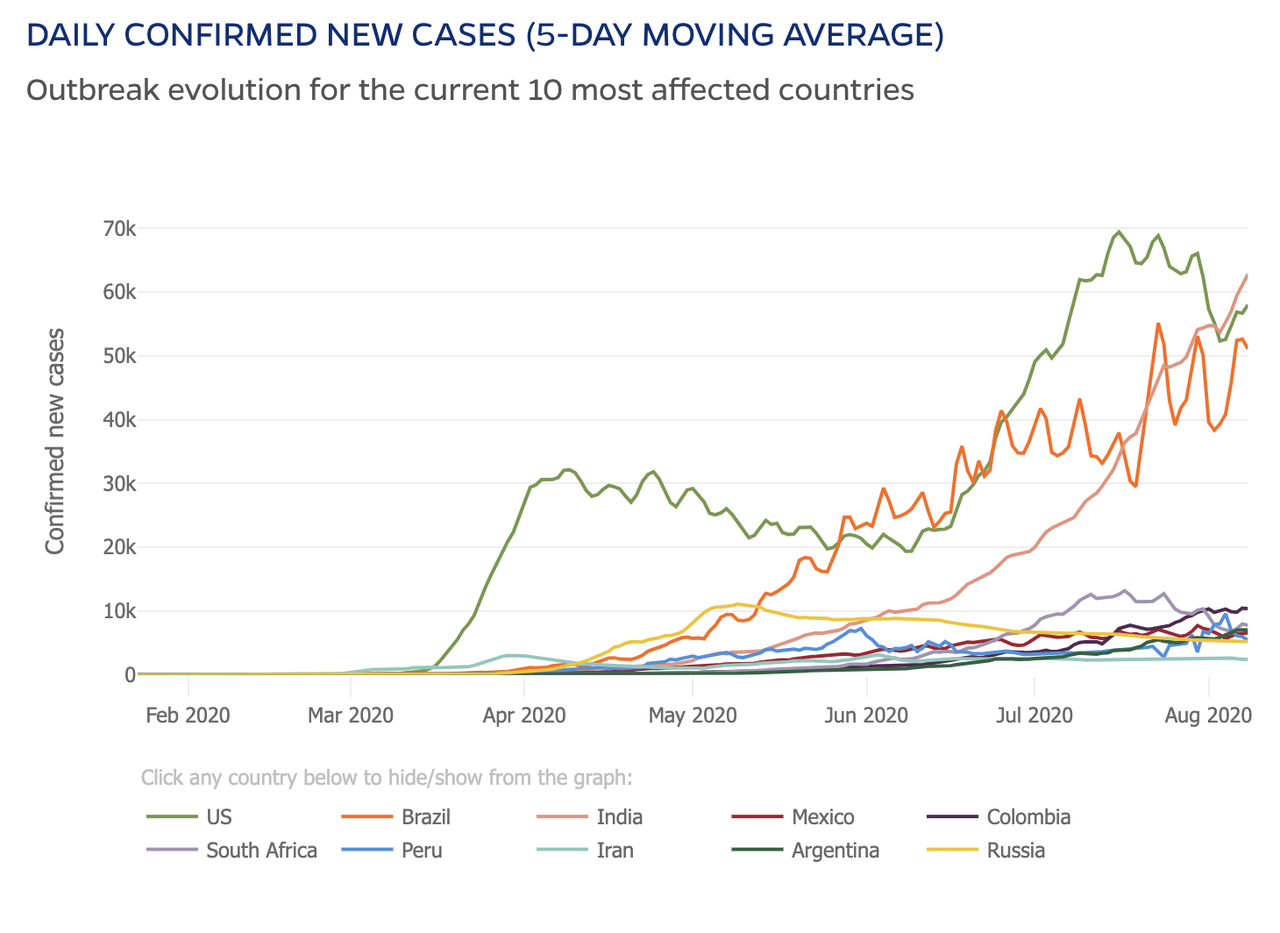 As New York bucks the trend in the US by moving toward a "hybrid" model of in-person learning this fall, more European economies are moving toward fully restarting in-person learning in a few weeks, almost guaranteeing another outbreak, though ideally one that can be swiftly contained with minimal fatalities. 
Schools Minister Nick Gibb said in an interview on Times Radio that opening schools is critical for reviving the country's battered economy, by allowing parents to return to work. Prime Minister Boris Johnson told the Mail on Sunday newspaper the country has a "moral duty" to resume normal teaching and reopening. He called reopening schools a "national priority."
Meanwhile, in Iran, the number of new cases fell to a two-month low of 2,020, bringing total infections to 326,712. The death toll climbed to 18,427 with 163 more deaths overnight. That's compared with 132 the day before.
Italy's Health Minister Roberto Speranza confirmed in an interview with Italian newspaper Corriere della Sera that Italian schools will reopen Sept. 14.
Another lockdown would do an "enormous damage, and we need to avoid it more than anything" Speranza said in the interview, in a reference to Italy's battered economy, which will – to be sure – benefit from the pan-European rescue fund.
---
This post has been republished with permission from a publicly-available RSS feed found on Zero Hedge. The views expressed by the original author(s) do not necessarily reflect the opinions or views of The Libertarian Hub, its owners or administrators. Any images included in the original article belong to and are the sole responsibility of the original author/website. The Libertarian Hub makes no claims of ownership of any imported photos/images and shall not be held liable for any unintended copyright infringement. Submit a DCMA takedown request.