CDC Walks Back Change To Testing Guidance, Caving To Pressure From Democrats: Live Updates
CDC Walks Back Change To Testing Guidance, Caving To Pressure From Democrats: Live Updates

Tyler Durden

Thu, 08/27/2020 – 11:39
Summary:
CDC walks back testing guidance change
Florida hospitalizations decline, cases roughly even with yesterday
Germany extending some restrictions on public events until Dec. 31
France tightens mask rules in Paris as cases spike
Abbott wins FDA approval for rapid COVID test
US, Brazil, Africa see infections slow
South Korea sees most new cases since March
Argentina outbreak passes Iran
SK parliament closes temporarily after outbreak scare
Kushner says US on track to keep promise of 100MN vax doses by year end
* * *
Update (1130ET): Where we left off last night, Dr. Fauci was expressing his dismay that a recent guidance change from the CDC (which he said had been "finalized" without his input while he was under general anesthesia) might send the wrong message – ie that asymptomatic cases aren't a major cause for concern.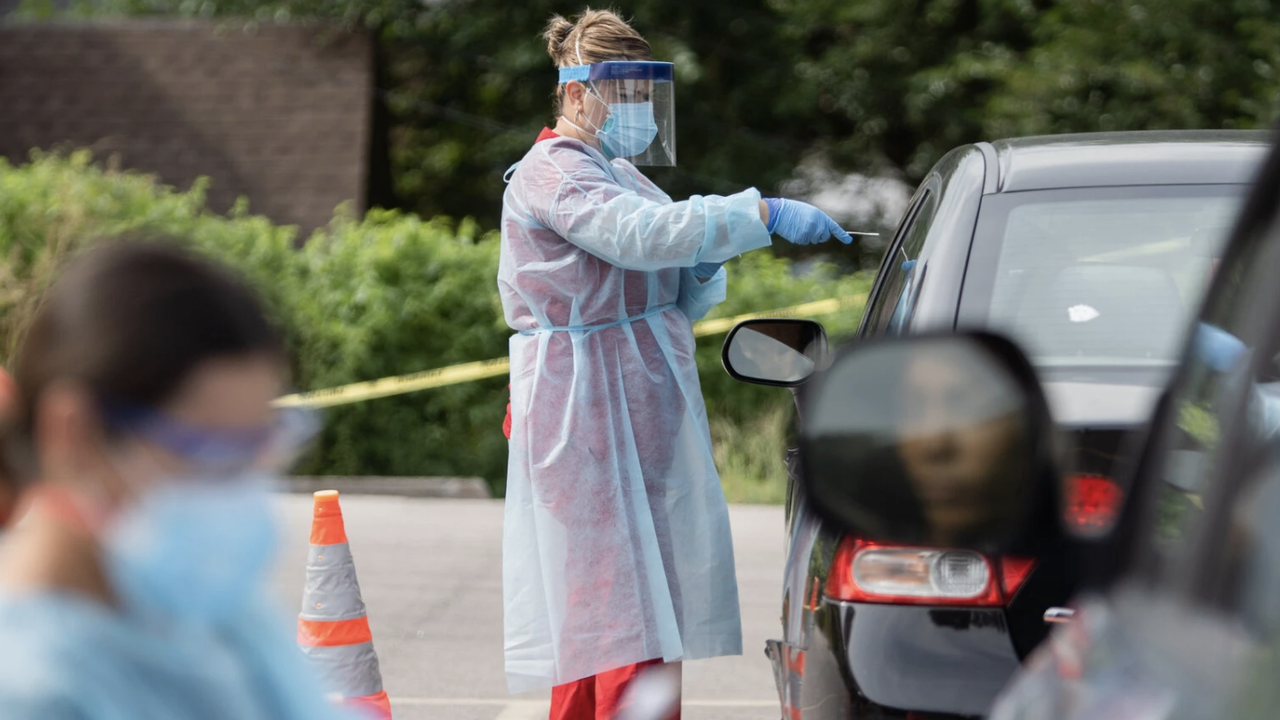 Dr. Fauci's statement followed stronger condemnations from governors around the country (all of them Democrats of course), and now on Thursday, the CDC has already buckled and issued a clarification that mostly walks back the guidance.
The walk-back was leaked to the NYT and some other reporters late last night before being released "more broadly" Thursday morning.
The director of the Centers for Disease Control and Prevention has scaled back the agency's recommendation advising some people not to get tested after exposure to the novel coronavirus, now saying "testing may be considered for all close contacts of confirmed or probable Covid-19 patients."

The statement by Dr. Robert R. Redfield was issued to some news outlets late Wednesday, and more broadly Thursday morning, after a storm of criticism over the new C.D.C. guidelines — involving potentially asymptomatic people — which were the product of the White House Coronavirus Task Force and not C.D.C.'s own scientists. Dr. Redfield made the statement in an effort to clarify the new policy, an official said. However, the guidelines issued earlier this week remained on the C.D.C.'s website as of Thursday morning, and it appears unlikely that the agency will change them.

"Testing is meant to drive actions and achieve specific public health objectives," Dr. Redfield wrote. "Everyone who needs a Covid-19 test, can get a test. Everyone who wants a test does not necessarily need a test; the key is to engage the needed public health community in the decision with the appropriate follow-up action."

In guidelines posted on Monday, the agency said close contacts of Covid-19 patients "do not necessarily need a test" unless they are vulnerable or their doctor or a state or local public heath official recommended it. On a conference call with reporters Wednesday, Admiral Brett M. Giroir, the administration's coronavirus testing czar, said the new policy mirrored the existing recommendation for health care and other front line workers, and the task force had simply decided to extend it to the general population.
Democratic governors will ultimately cry victory, but it's all roughly semantics. With the approval of the new Abbott rapid test, we suspect the number of tests run each day will soon skyrocket, especially as more students return to classrooms.
* * *
Update (1030ET): Florida just released the first major piece of US COVID-19 data for the day by revealing that the number of occupied hospital beds across the state declined by 147 over the last day, compared with 102 the day prior as the dramatic decline in hospitalizations in the Sunshine State continues.
Florida reported 3,269 new cases, slightly more than yesterday's 3,220, bringing the statewide total to nearly 612,000. The state reported 141 deaths, vs 153 yesterday, bringing the death toll to 11,011 statewide.
Meanwhile, the Paris mandatory mask order mentioned below will take effect at 8 am local time on Friday morning in the City of Lights. Meanwhile Angela Merkel once again called on Germans not to travel to high-risk areas.
* * *
Update (1025ET): Germany is barring more public events until Dec. 31.
GERMAN GOVT, STATES BAN SOME MASS PUBLIC EVENTS UNTIL DEC31:DPA
* * *
Update (0930ET): France is planning to extend its mandatory mask-wearing restrictions across all of Paris to try and quell an upsurge in new cases.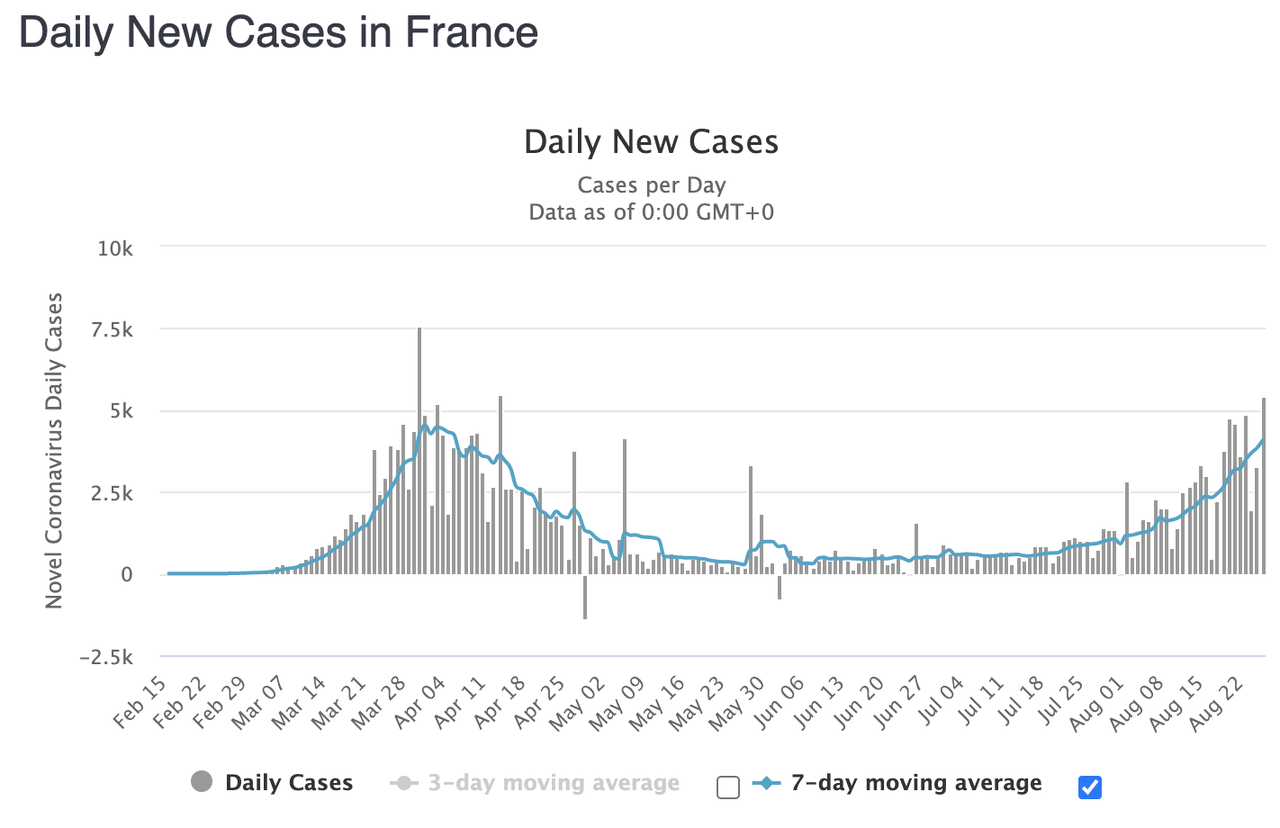 Infections are surging across France at the end of the summer holidays, with 5,429 new infections reported on Wednesday, the highest daily number since the end of the lockdown in mid-May. Each week, 830,000 people are being tested for the virus, a number expected to reach 1m next month.
* * *
Abbott Labs has become the focus of Thursday's rolling coronavirus coverage, as the FDA's approval – coming just days after the whole patient plasma approval controversy – of Abbott's 15-minute rapid COVID-19 test – which will be priced at just $5 a pop – has quelled fears about falling testing numbers along the sun belt. Now, parts of the country where test turnaround times still lag finally have a solid chance of getting up to speed.
What's more, testing that's rapid, plentiful and cheap is the centerpiece of what many experts have embraced as a "sustainable" alternative to lockdowns: Regular testing. Even if the rapid tests aren't as accurate, the logic goes, teachers and students and co-workers will be tested so regularly that nearly all positive cases should be caught before becoming contagious.
Abbott shares are soaring on the triumph, though the FDA has approved other testing innovations like at-home testing kits.
Abbott's product, BinaxNOW, works without laboratory equipment, and involves using a nasal swab and a small reactive card, which will deliver the result within minutes akin to an at-home drug test. The test can be administered by a range of health-care workers, including, crucially, pharmacists, at almost any location.
Moving on, experts rejoiced on Thursday as the latest batch of global data showed outbreaks in the US and Brazil continuing to slow, while new hotspots in Argentina and elsewhere simply aren't spreading fast enough to make up for the falling case numbers in the world's biggest outbreak zones.
Deaths have been declining, too, with some experts proclaiming that the downward trend seen over the past two weeks is likely to hold.
In the US, the average number of new deaths over the past week dipped below 1,000. Perhaps the irony is that the US is now technically worse than Brazil in terms of cases/population.
The US remains no. 1 in practically every other aspect.
US is now worse than Brazil for cases per 1 million people. pic.twitter.com/22lPgGok6A

— Jim Edwards (@Jim_Edwards) August 27, 2020
Jared Kushner spoke to the press Thursday morning following news of a new deal with AstraZeneca for the Oxford/Astrazeneca vaccine that the US is on track to keep its promise of having 100 million doses of a vaccine by the end of the year.
But perhaps the biggest news in the Americas is that Argentina's outbreak has now overtaken Iran's.
Argentina has overtaken Iran in ranking of most cases. pic.twitter.com/Y5H73jeADb

— Jim Edwards (@Jim_Edwards) August 27, 2020
Across the US, the outbreak is solidly in decline.
Africa Centers for Disease Control and Prevention's John Nkengasong reported some optimistic news on Thursday. Fears that Africa's outbreak was on the cusp of a major escalation have abated as 23 of Africa's 54 countries have reported a sustained decrease in new confirmed coronavirus cases over the past two weeks.
Meanwhile, in the latest testament to just how difficult COVID-19 can be to stamp out, South Korea's parliament has closed after a photojournalist covering the governing party tested positive on Wednesday. The closure comes as the country reported 441 additional coronavirus cases (prev. +320). Health officials urged businesses to ask employees to work from home as the new cases were the largest single-day tally since March, the latest in a series of multimonth highs recorded in recent days.
Finally, India recorded another single-day record of new coronavirus cases with 75,760 new infections reported over the past 24 hours. The Indian health ministry also reported 1,023 deaths, pushing the country's death toll from the pandemic to 60,472.
---
This post has been republished with permission from a publicly-available RSS feed found on Zero Hedge. The views expressed by the original author(s) do not necessarily reflect the opinions or views of The Libertarian Hub, its owners or administrators. Any images included in the original article belong to and are the sole responsibility of the original author/website. The Libertarian Hub makes no claims of ownership of any imported photos/images and shall not be held liable for any unintended copyright infringement. Submit a DCMA takedown request.