FOMC Signals Rates Unchanged Through At Least 2023 Despite GDP Forecast Upgrade
FOMC Signals Rates Unchanged Through At Least 2023 Despite GDP Forecast Upgrade

Tyler Durden

Wed, 09/16/2020 – 14:05
Since the last FOMC statement on July 29th, stocks have been in a world of their own (outperforming) while gold, bonds, and the dollar have shown only modest moves…
<!–[if IE 9]>
<![endif]–>
Source: Bloomberg
10Y Yields are up around 10bps since The Fed promised to do more of whatever it takes…
<!–[if IE 9]>
<![endif]–>
Source: Bloomberg
Real yields are notably lower…
<!–[if IE 9]>
<![endif]–>
Source: Bloomberg
On the macro side, surprises have been more to the downside since the last Fed meeting.
<!–[if IE 9]>
<![endif]–>
Source: Bloomberg
Notably, the market's expectations for rates has shifted notably more hawkish in the last few weeks since the FOMC statement…
<!–[if IE 9]>
<![endif]–>
Source: Bloomberg
And so, having spilled the beans prematurely that The Fed will undertake inflation-average targeting (which is really no different at all to the consistently poor performance The Fed has been undertaking to create inflation for a decade), expectations were not high for anything market-moving today with rates not expected to move, Fed purchases not expected to move, and any possible dovish signaling will stem from the Fed's updated projections.
As we detailed earlier, while growth and unemployment forecasts will likely be nudged up and down respectively, the focus will be on the central bank's forecasts for rates in 2023 (released for the first time) and on inflation to see if it still sees inflation running below target over its forecast horizon; if it does, the new policy framework implies it will be longer before the Fed begins thinking about lifting rates.
Highlights:
Fed Says to Continue Treasury, MBS Purchases at Current Pace

Fed Holds IOER at 0.10%, Discount Rate at 0.25%

Fed Vote Was 8-2, Kaplan and Kashkari Dissented

Fed: 13 of 17 Officials Forecast Rates on Hold Through 2023

Fed: Health Crisis Poses Considerable Risks to Economic Outlook
The dotplot indicates rate at ultra-low levels for years…
<!–[if IE 9]>
<![endif]–>
Key changes to the statement:
The Committee seeks to achieve maximum employment and inflation at the rate of 2 percent over the longer run. With inflation running persistently below this longer-run goal, the Committee will aim to achieve inflation moderately above 2 percent for some time so that inflation averages 2 percent over time and longer-term inflation expectations remain well anchored at 2 percent.

The Committee expects to maintain an accommodative stance of monetary policy until these outcomes are achieved. The Committee decided to keep the target range for the federal funds rate at 0 to 1/4 percent and expects it will be appropriate to maintain this target range until labor market conditions have reached levels consistent with the Committee's assessments of maximum employment and inflation has risen to 2 percent and is on track to moderately exceed 2 percent for some time.

In addition, over coming months the Federal Reserve will increase its holdings of Treasury securities and agency mortgage-backed securities at least at the current pace to sustain smooth market functioning and help foster accommodative financial conditions, thereby supporting the flow of credit to households and businesses.

In assessing the appropriate stance of monetary policy, the Committee will continue to monitor the implications of incoming information for the economic outlook. The Committee would be prepared to adjust the stance of monetary policy as appropriate if risks emerge that could impede the attainment of the Committee's goals. The Committee's assessments will take into account a wide range of information, including readings on public health, labor market conditions, inflation pressures and inflation expectations, and financial and international developments.
Voting against the action were:
Robert S. Kaplan, who expects that it will be appropriate to maintain the current target range until the Committee is confident that the economy has weathered recent events and is on track to achieve its maximum employment and price stability goals as articulated in its new policy strategy statement, but prefers that the Committee retain greater policy rate flexibility beyond that point; and

Neel Kashkari, who prefers that the Committee to indicate that it expects to maintain the current target range until core inflation has reached 2 percent on a sustained basis.
Fed does not see inflation rising above 2.0% in 2023
<!–[if IE 9]>
<![endif]–>

Full Redline below:
<!–[if IE 9]>
<![endif]–>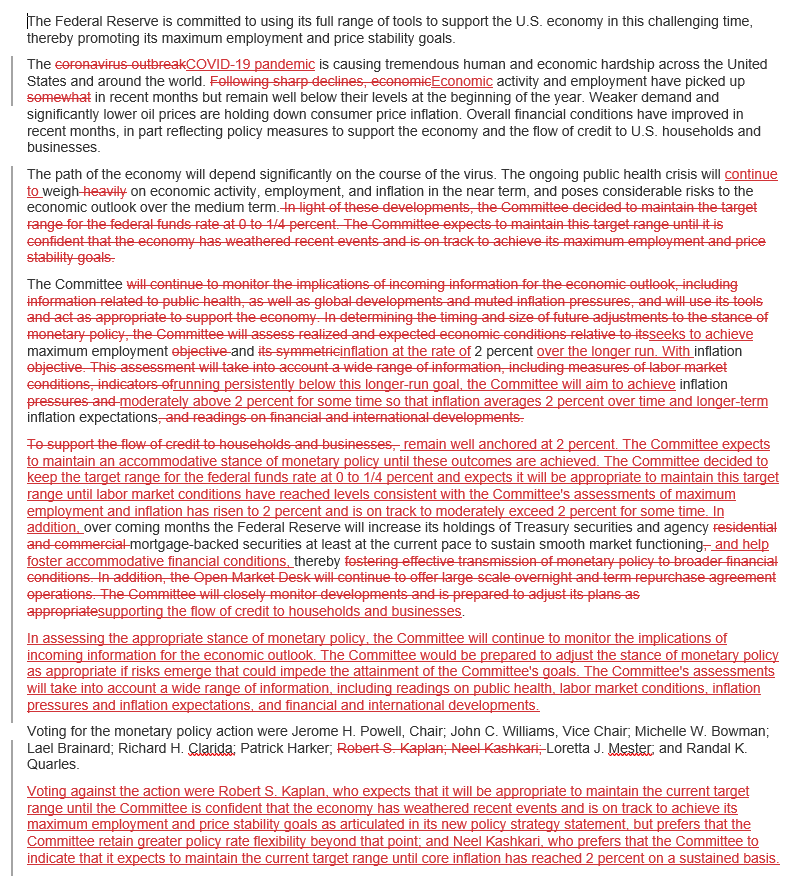 ---
This post has been republished with permission from a publicly-available RSS feed found on Zero Hedge. The views expressed by the original author(s) do not necessarily reflect the opinions or views of The Libertarian Hub, its owners or administrators. Any images included in the original article belong to and are the sole responsibility of the original author/website. The Libertarian Hub makes no claims of ownership of any imported photos/images and shall not be held liable for any unintended copyright infringement. Submit a DCMA takedown request.