More Than 380,000 Applied For A Job At Amazon In One Day
More Than 380,000 Applied For A Job At Amazon In One Day

Tyler Durden

Thu, 09/17/2020 – 18:20
Can Amazon fix the U.S. job market all by itself? In case anyone needed proof that Amazon isn't just taking over the entire retail space (and trying to do the same with cloud), but also dominating the U.S. job market, the company said  this morning that over 300,000 job-seeking people attended its Amazon Career Day 2020 yesterday and over 380,000 people applied for jobs with the e-commerce giant.
Amazon, which on June 30 of this year employed 900,000 workers…
<!–[if IE 9]>
<![endif]–>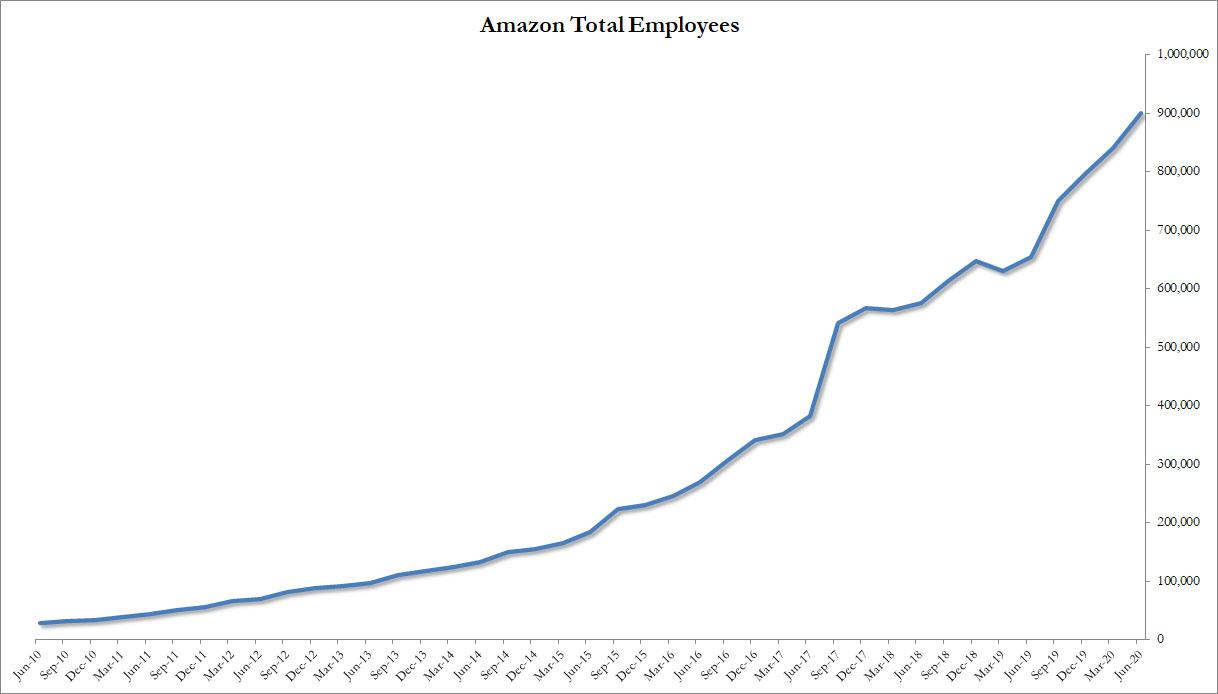 … said that the virtual job fair, conducted completely online, was a resounding success. Amazon noted: "In the span of 24 hours, Amazon recruiters completed over 20,000 1-on-1 career coaching sessions with participants, and another 6,000 people joined group breakout sessions"
<!–[if IE 9]>
<![endif]–>
The fair was attended by Americans in all 50 states, including D.C. and Puerto Rico. 
Beth Galetti, Senior Vice President of HR at Amazon said: "Our vision for Career Day was to help job seekers from all walks of life and career stages fulfill their professional goals, using our scale to support those who need it the most."
"We have tens of thousands of jobs available – from roles in finance, robotics, software development or AI, to entry-level positions with highly competitive pay and benefits across our operations network. We're looking forward to welcoming many Career Day participants to Amazon as full-time employees in the coming months."
The numbers reveal the unprecedented thirst for jobs in the U.S. as a result of massive wave of layoffs and bankruptcies due to the coronavirus-lockdown induced recession that the country has suffered from over the last 6 months.
<!–[if IE 9]>
<![endif]–>
Additional highlights from the event, per Amazon, included:
Over 300,000 job seekers attended the event and discovered new tools to navigate the job market and learn about the 33,000 corporate and tech roles available at Amazon, as well as the 100,000 open positions across the company's operations network.
Participants joined from all 50 U.S. states, the District of Columbia, and Puerto Rico – with over 55,000 attending from California alone.
Since announcing Career Day on September 9, Amazon has received more than 384,000 job applications for roles at the company in the U.S. and Canada – 38 job applications every minute.
Amazon recruiters conducted 20,000 1-on-1 career coaching sessions to help attendees prepare for their next job, providing a total of 6,600 hours of advice. Job seekers filled the 20,000 slots within 12 hours of Amazon making them available.
More than 3,600 attendees participated in interactive coding review workshops hosted by senior Amazon software development engineers, and 2,600 joined breakout sessions dedicated to hourly opportunities at Amazon's fulfillment centers and physical stores.
Attendees asked more than 7,000 questions to the participating HR experts, career coaches, and industry leaders.
Given this staggering turnout, one wonders if Amazon's unprecedented growth will also make it a monopolist in the US jobs market.
---
This post has been republished with permission from a publicly-available RSS feed found on Zero Hedge. The views expressed by the original author(s) do not necessarily reflect the opinions or views of The Libertarian Hub, its owners or administrators. Any images included in the original article belong to and are the sole responsibility of the original author/website. The Libertarian Hub makes no claims of ownership of any imported photos/images and shall not be held liable for any unintended copyright infringement. Submit a DCMA takedown request.