Is Powell Sending An Even Louder Message: Fed Refuses To Resume Bond ETF Purchases Despite Slump
Is Powell Sending An Even Louder Message: Fed Refuses To Resume Bond ETF Purchases Despite Slump

Tyler Durden

Fri, 09/25/2020 – 15:30
Two weeks ago, when the Fed published its latest monthly breakdown of purchases Secondary Market Corporate Credit Facility which shockingly showed that in the entire month of August, the Fed had not purchased a single corporate bond ETF and had barely purchased any corporate bonds in the open market, we asked if Powell was "sending the market as message."
In the subsequent two weeks, which saw a sharp drop in risk assets and the Nasdaq sliding into a 10% correction, coupled with a modest rout across the corporate bond sector, many had expected the Fed to revert to its role as custodian of market stability and ramp up its purchases of corporate bonds, if for no other reason then to assure investors that Uncle Jerome was still watching over everyone.
So in what may come as a big surprise to all those praying for the Fed to bail them out, or to at least telegraph that he is keeping an eye on the current tech-led market mess, Powell did no such thing and in fact the Fed's latest weekly H.4.1 report showed that the corporate credit facilities held $12.911bn of corporate bonds and ETFs as of Tuesday, up a tiny $44 million from $12.867BN the prior week.
<!–[if IE 9]>
<![endif]–>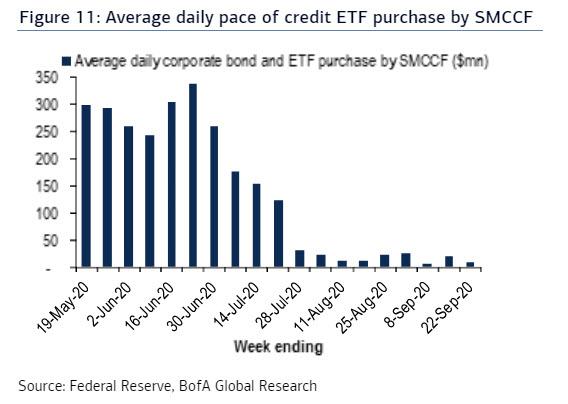 And since that implies the Fed bought a paltry $9 million/day of corporate bonds and ETFs on average this past week, down from $19 million/day the prior week, and far, far below the $300 million in daily corporate bond/ETF purchases for much of the early summer, one wonders if Powell is urgently trying to let the market know that it is on its own?
---
This post has been republished with permission from a publicly-available RSS feed found on Zero Hedge. The views expressed by the original author(s) do not necessarily reflect the opinions or views of The Libertarian Hub, its owners or administrators. Any images included in the original article belong to and are the sole responsibility of the original author/website. The Libertarian Hub makes no claims of ownership of any imported photos/images and shall not be held liable for any unintended copyright infringement. Submit a DCMA takedown request.