Salvation Army Launches Red Kettle Campaign Early To "Rescue Christmas" 
Salvation Army Launches Red Kettle Campaign Early To "Rescue Christmas" 

Tyler Durden

Fri, 09/25/2020 – 20:00
The Federal Reserve's release of its Beige Book in early September revealed permanent economic scarring, suggesting the economic revival is not as robust as previously thought. The stalling recovery, thanks to the lapse in fiscal stimulus, is pressuring households once more, prompting The Salvation Army, for the first time in 130 years, to start its annual holiday fundraising campaign early "in order to rescue Christmas."  
"Our ability to raise vital funds to serve those in need this Christmas and beyond is at risk," said Commissioner Kenneth G. Hodder, National Commander of The Salvation Army.
<!–[if IE 9]>
<![endif]–>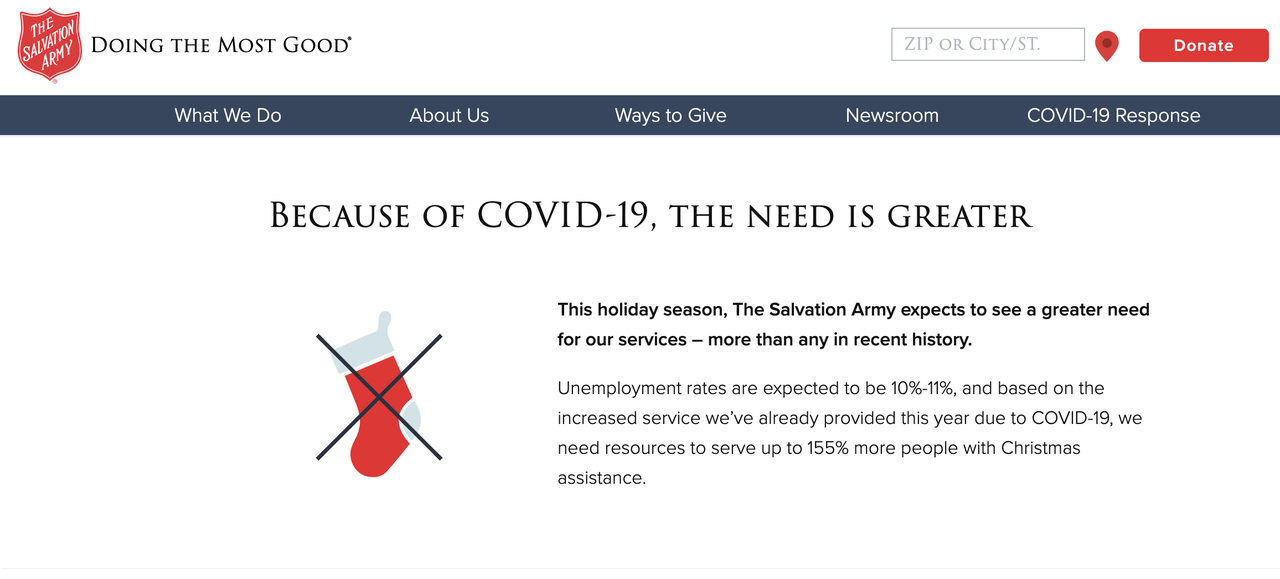 Hodder said, "We need everyone who has the capacity to come alongside us and ensure that the holiday season is bright for millions. We're asking you to help rescue Christmas with us by providing support in any way you can. Our hope is to offset these challenges to meet the increasing demand for services across our nation." 
"Based on the increase in services already provided in response to the pandemic, the organization could serve up to 155 percent more people in 2020 with Christmas assistance, including putting food on the table, paying bills, providing shelter and helping place gifts under the tree – assuming the resources are available. At the same time, due to the closing of retail stores, consumers carrying less cash and coins, and the decline in foot traffic, The Salvation Army could see up to a 50 percent decrease in funds raised through the red kettles, which would limit their capacity to provide services for the most vulnerable. To put this in perspective, last year, $126 million was raised through about 30,000 red kettles," The Salvation Army said. 
Tens of millions of households are in desperate need of support this year, more than ever, – the virus-induced economic downturn has resulted in depressionary unemployment and wiped out emergency savings for millions of people. There's also the risk that "more than 50 million" Americans will be fighting hunger this holiday season. 
The Salvation Army's red kettle fundraising campaign is a familiar sight during the holidays, but this year, with the proliferation of online shopping as consumers stay home to avoid contracting the virus, donations are expected to be well below average. Also, less and less of the organization's iconic red kettles will be seen as shopping malls shutter their doors if that is because of public health orders or because of bankruptcy. 
By starting their annual holiday fundraising campaign early, the goal is to support households with food, financial aid for paying bills, and, in some cases, provide shelter for those who are now homeless.  
Despite the virus pandemic, cash and coins will still be expected, but The Salvation Army may expect a reduction in the number of coins this year, thanks to the national coin shortage. Folks can also use Apple or Google Pay at any red kettle.
The Salvation Army's mission to "rescue Christmas" for millions of broke Americans implies there's no "V" shaped recovery coming this year.
---
This post has been republished with permission from a publicly-available RSS feed found on Zero Hedge. The views expressed by the original author(s) do not necessarily reflect the opinions or views of The Libertarian Hub, its owners or administrators. Any images included in the original article belong to and are the sole responsibility of the original author/website. The Libertarian Hub makes no claims of ownership of any imported photos/images and shall not be held liable for any unintended copyright infringement. Submit a DCMA takedown request.