Cruise Industry Bust Sparks Global 'Ship-Breaking' Boom
Cruise Industry Bust Sparks Global 'Ship-Breaking' Boom

Tyler Durden

Sat, 10/03/2020 – 17:00
As the virus pandemic rages around the world, the cruise ship industry remains in rough waters. The question everyone has, especially Barstool Sports founder Dave Portnoy and Robinhood traders, is when the Great Cruise Shutdown of 2020 will end? 
While some cruise ship operations have resumed in Europe, many operations in North America remain closed. The CDC recently extended a no-sail order for U.S.-based cruise ships through Oct. 31, which could pave the way for a possible November restart. 
However, a November restart seems unlikely as the U.S. has made little progress in lowering its baseline of COVID-19 cases. After President Trump announced Friday that he and his wife tested positive for the virus, the U.S.'s average daily new cases on Friday stood around 46,300. 
Dr. Anthony Fauci, director of the NIAID and member of the White House Coronavirus Task Force, said not too long ago, that "no matter how you slice it, that's not good." He referred to the plus 40,000 caseloads per day, warning that the U.S. is headed "into a more problematic winter."
Reuters notes a sea dock in western Turkey is absolutely booming with cruise ship dismantlings with the cruise ship industry in the Western world unlikely to resume full operations this year. 
On Friday, at the docks in Aliaga, a town on Turkey's west coast, five massive cruise ships are being stripped down for scrap, as cruise ship operators reduce fleet sizes. Three more cruise ships are expected to arrive in Aliaga in the near term. 
<!–[if IE 9]>
<![endif]–>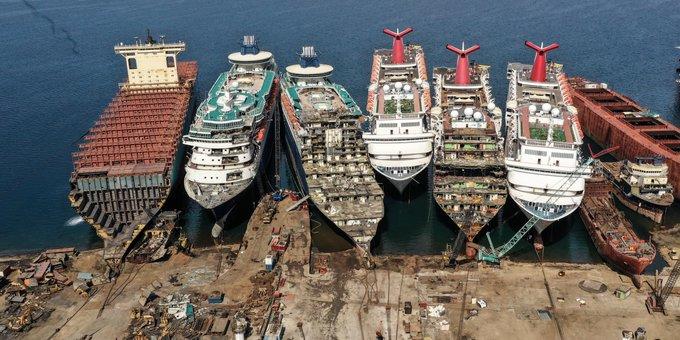 Before the virus pandemic, ship-breaking yards in Turkey mostly concentrated on dry bulk carriers and container ships. Now there's been an increase in cruise ships since the industry has gone bust, Kamil Onal, chairman of a ship recycling industrialists' association, told Reuters.
Final voyage for the Carnival Imagination as she is beached in Aliaga to be scrapped. The 3rd Fantasy-class #cruise ship to meet the same fate. She pulled in along side the CCL Fantasy who is already torn open. 😢

Source: CCL Miami Blog. #cruisenewshttps://t.co/oo5k5OfGNu pic.twitter.com/Ke8pMrTHHQ

— This Cruise Life (@thiscruiselife) September 20, 2020
"But after the pandemic, cruise ships changed course towards Aliaga in a very significant way," Onal said of the town. "There was growth in the sector due to the crisis. When the ships couldn't find work, they turned to dismantle."
<!–[if IE 9]>
<![endif]–>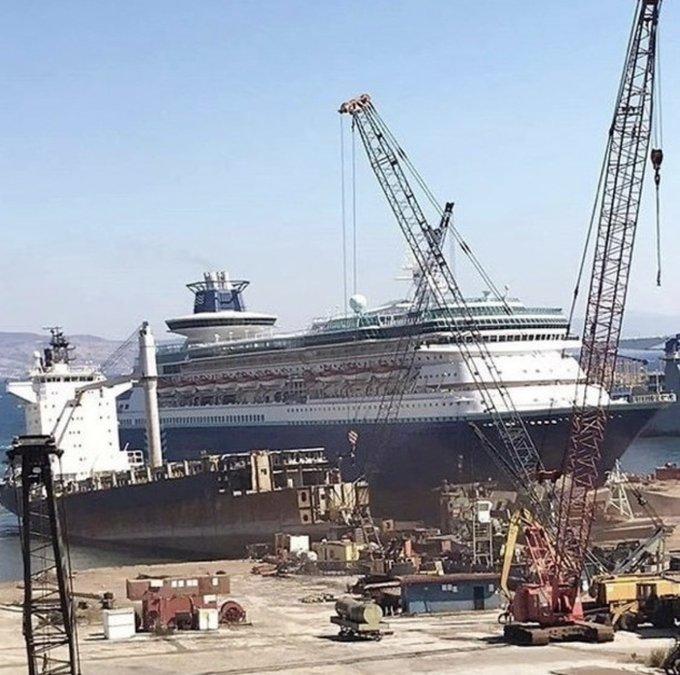 Onal said 2,500 people work at the scrapyard in teams that take around six months to dismantle an entire cruise ship. He said most of the ships arrived from Britain, Italy, and the U.S.
<!–[if IE 9]>
<![endif]–>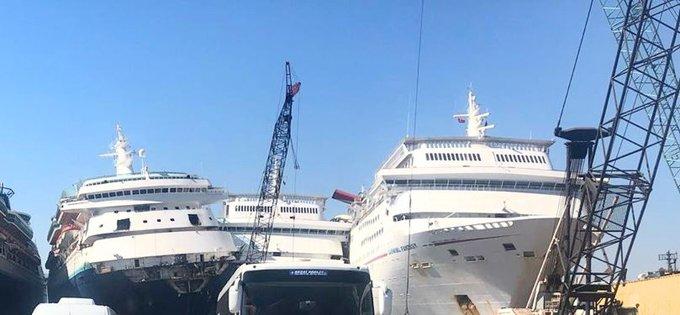 Here's a cruise ship recently arriving at Aliaga. 
With no end in sight in containing the virus, cruise ship passenger volumes will likely remain depressed for the next 12-24 months. Portnoy and Robinhood traders are likely to become bagholders of cruise ship stocks.
Carnival
<!–[if IE 9]>
<![endif]–>
Norwegian Cruise Line
<!–[if IE 9]>
<![endif]–>
Royal Caribbean Cruises 
<!–[if IE 9]>
<![endif]–>
If you want any more confirmation, the cruise ship industry is going bust. A snippet from Carnival's latest SEC filing outlines how the operator is accelerating plans to dispose of at least 18 vessels. 
"In total, the 18 ships represented approximately 12 percent of pre-pause capacity and only three percent of operating income in 2019," Carnival wrote, in an SEC filing.
The cruise ship bust will linger for years as recovery is nowhere in sight. Expect more operators to trim fleet sizes, either selling the vessels or completely writing down the asset and sending it to a ship-breaking yard.  
---
This post has been republished with permission from a publicly-available RSS feed found on Zero Hedge. The views expressed by the original author(s) do not necessarily reflect the opinions or views of The Libertarian Hub, its owners or administrators. Any images included in the original article belong to and are the sole responsibility of the original author/website. The Libertarian Hub makes no claims of ownership of any imported photos/images and shall not be held liable for any unintended copyright infringement. Submit a DCMA takedown request.