Third Point Reveals New Stake In Snowflake
Third Point Reveals New Stake In Snowflake

Tyler Durden

Mon, 10/05/2020 – 12:50
With both old and new Wall Street flooding into the recently IPOed cloud darling Snowflake, which among other investors also sported none other than Berkshire Hathaway (although in light of Warren Buffet's aversion to IPOs, it has been widely speculated that Berkshire's $250MM investment in SNOW was the work of Buffett's two lieutenants Todd Combs and Ted Weschler), it will probably not come as a surprise that even venerable hedge fund managers are rushing into the latest tech superstar.
While we still have about a month to go until Dan Loeb releases his monthly quarterly commentary, today the billionaire activist investor published the latest holdings for his Third Point hedge fund, which had a $13.7 billion firm AUM as of Sept 30. It revealed new positions in both online marketplace Pinterest (Third Point previously briefly held a position in Pinterest last year), as well as Snowflake, whose post-IPO surge prompted many to caution about dot-com era forth. The two names appeared in the list of the fund's top 5 MTD winners, which also included Danaher, PG&E as well as a private company. Monthly losers included Prudential, as well as Amazon.com, Walt Disney Co., Salesforce.com, and Global Blue Group Holding AG, which went public in August through a merger with a blank-check company sponsored by Third Point. The biggest YTD winners are Amazon, Alibaba and Danaher (as well as an unnamed short), offset by YTD losers Raytheon, Prudential and Airbus.
<!–[if IE 9]>
<![endif]–>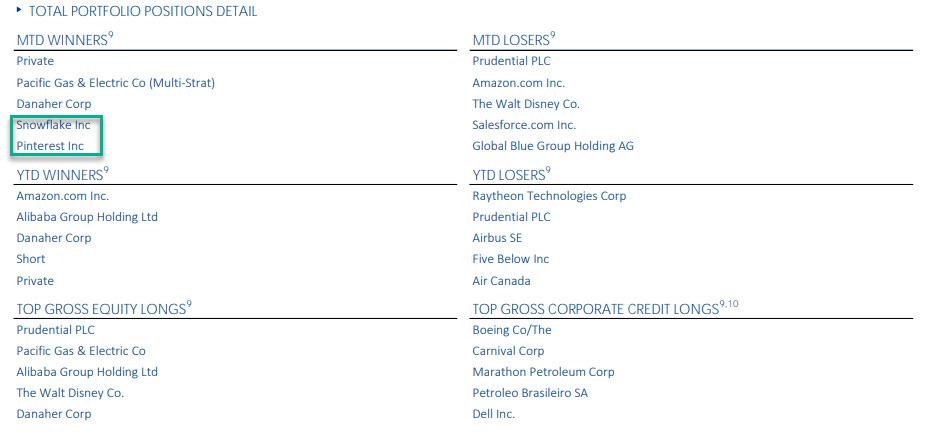 According to Bloomberg, both Pinterest and Snowflake are passive investments.
Despite the outperformance of the two stocks, Third Point reported a 0.7% loss for the month of September, which however was dwarfed by the fund's 11.7% return in Q3. For 2020, Third Point is up a modest 3.6%, modestly lagging the S&P500. The report also revealed a Gross long exposure of 158%, and Net exposure of 123.7% net of 34.3% in short holdings, mostly in various equities.
<!–[if IE 9]>
<![endif]–>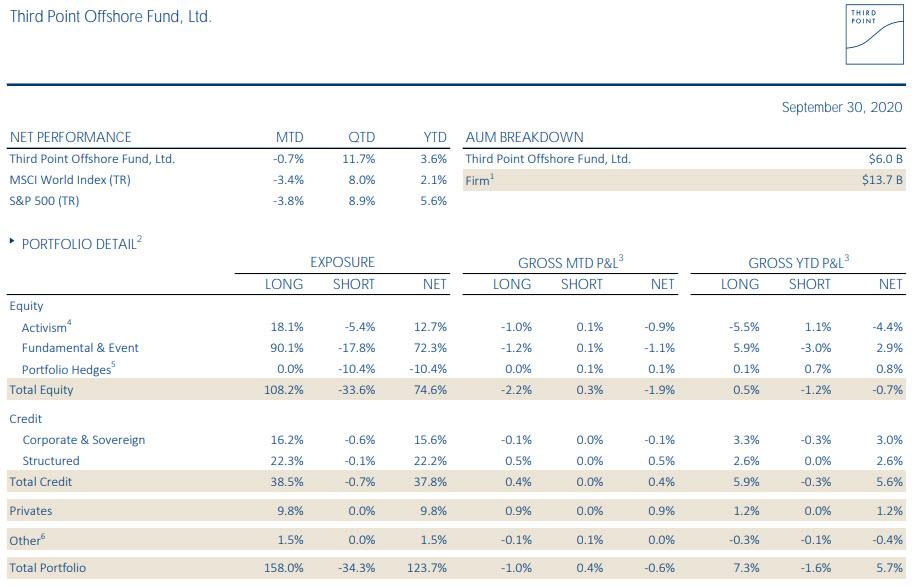 A breakdown by sector exposure showed Third Point is focused on Media/Internet (net 22.5%), Financial (net 19.2%) and the Enterprise Technology (11.0%) sectors. Size-wise, the fund is mostly exposed to mega cap companies with 54.9% in net exposure. Third Point also appears to be hedging single names mostly with index shorts which accounted for more than half, or 19.4%, of the fund total equity short of -33.6%
<!–[if IE 9]>
<![endif]–>

Within equities, gross exposure was 108.2% and 74.6% net of 33.6% in shorts.
<!–[if IE 9]>
<![endif]–>

A full breakdown of Third Point's Offshore fund since inception is shown below. It shows that the fund has suffered just four down years in its entire history: 2002, 2008, 2015 and 2018, and has returned a CAGR of 14.2% since Dec 1996, nearly double the S&P's compounded 8.5% return over the same period.
<!–[if IE 9]>
<![endif]–>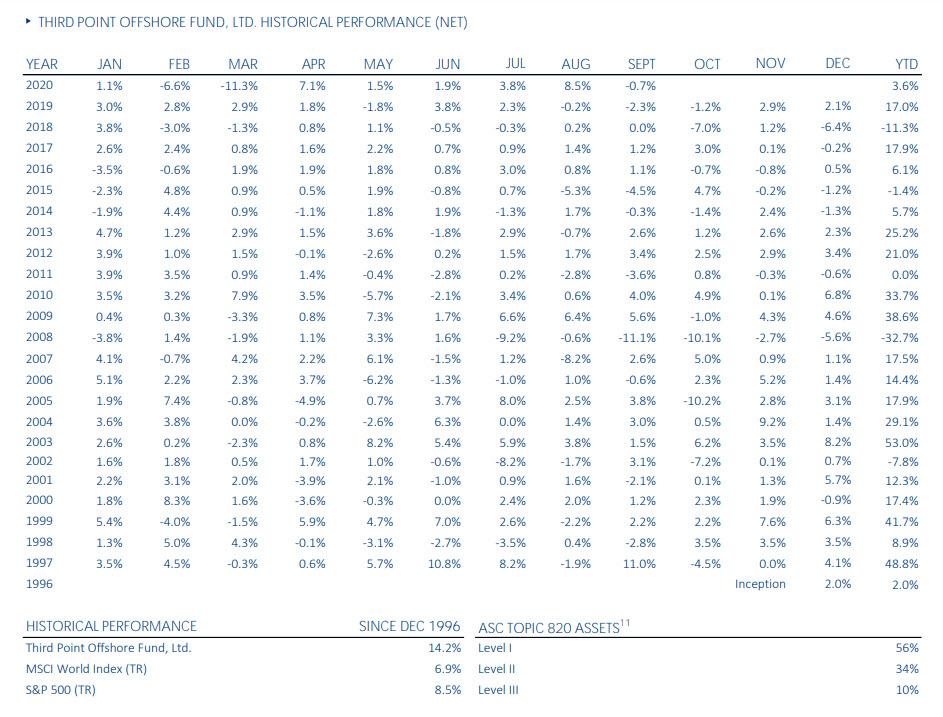 ---
This post has been republished with permission from a publicly-available RSS feed found on Zero Hedge. The views expressed by the original author(s) do not necessarily reflect the opinions or views of The Libertarian Hub, its owners or administrators. Any images included in the original article belong to and are the sole responsibility of the original author/website. The Libertarian Hub makes no claims of ownership of any imported photos/images and shall not be held liable for any unintended copyright infringement. Submit a DCMA takedown request.