Elon Musk Slashes Price On Tesla Model S For Second Time In A Week
Elon Musk Slashes Price On Tesla Model S For Second Time In A Week

Tyler Durden

Thu, 10/15/2020 – 12:45
Elon Musk, who appears to perpetually be in the midst of giggling while stoned at a late night high school Dungeons and Dragons game instead of running a $400 billion company, announced on Wednesday that the company's Model S price would be cut to $69,420 yesterday. 
The gauntlet has been thrown down!

The prophecy will be fulfilled.

Model S price changes to $69,420 tonight!

— Elon Musk (@elonmusk) October 14, 2020
The "genius" Musk has been amusing his "genius" brain by laughing about the numbers "420" and "69" on Twitter for the better part of the last decade, dating back to when he faked an $80 billion buyout for his company by Tweeting that he had "funding secured" for a buyout at $420 per share. 
But behind the lowbrow middle school humor is the reality that Musk is cutting prices once again. It was the second price cut on the Model S in a week. Previously, the Model S had been reduced to $71,990.
The second cut marked another 3.5% from the cut made earlier in the week and came after rival Lucid Motors announced their Lucid Air would start at $69,900 with a $7,500 Federal Tax Credit. Back in May, Musk had reduced the price of the Model S down to $74,990. 
The company saw Model S/X deliveries plunge to 15,200 in Q3 2020. 
<!–[if IE 9]>
<![endif]–>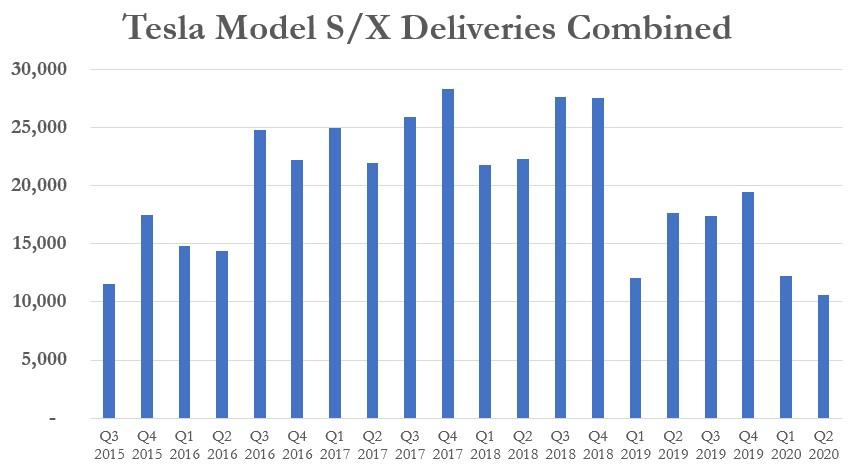 And recall, it was less than 48 hours ago that we pointed out Tesla had cut prices for the seventh time in China alone this year. 
Perhaps the company's newly released September sales numbers in China were the driving force behind the cuts, we speculated. As  analyst Gordon Johnson noted earlier this week, Tesla actually lost market share in China and its unsold inventory doubled.
He noted that the company did stop production the last 10 days of September in China, but still saw its inventory nearly double. Johnson says this could be why the company plans on exporting cars it has made in China to the Asia Pacific and Europe. 
<!–[if IE 9]>
<![endif]–>
---
This post has been republished with permission from a publicly-available RSS feed found on Zero Hedge. The views expressed by the original author(s) do not necessarily reflect the opinions or views of The Libertarian Hub, its owners or administrators. Any images included in the original article belong to and are the sole responsibility of the original author/website. The Libertarian Hub makes no claims of ownership of any imported photos/images and shall not be held liable for any unintended copyright infringement. Submit a DCMA takedown request.