Nasdaq Shorts Crushed By Second Biggest Short-Squeeze In History
Nasdaq Shorts Crushed By Second Biggest Short-Squeeze In History

Tyler Durden

Mon, 10/19/2020 – 10:00
At the end of September, we observed that the sharp if brief selloff in tech stocks last month has resulted in the second-highest ever pileup of shorts in the Nasdaq, and warned that a short squeeze was imminent:
Reminder: Nasdaq (NQ) short is the 2nd highest ever and 6-sigma https://t.co/f3FpQCJ7lK pic.twitter.com/HGIjqO00Nq

— zerohedge (@zerohedge) September 28, 2020
Amusingly, none other than SoftBank tried to give the squeeze some juice, when it reverted to its notorious massive call spread buying strategy in early October that defined the epic meltup of August when it emerged that Masa Son's conglomerate had bought tens of billions in call premia in an attempt to ramp up its recently purchased stocks for its tech portfllio.
This trend to force a painful squeeze culminated last Monday, when the Nasdaq exploded higher amid what we called a massive double-squeeze in both dealer gamma (which was short) as well as futures (see "Nasdaq Explodes Higher Amid Unprecedented Gamma/Futures Double-Squeeze").
And while it is now last week's news, the latest CFTC Commitment of traders data confirmed what as we warned several weeks ago, would become one of the biggest short squeezes in Nasdaq history. As the chart below shows, after five weeks of aggressive shorting, hedge funds and other non-commercial speculators, pulled back sharply and turn bullish on Nasdaq 100 mini futures.
<!–[if IE 9]>
<![endif]–>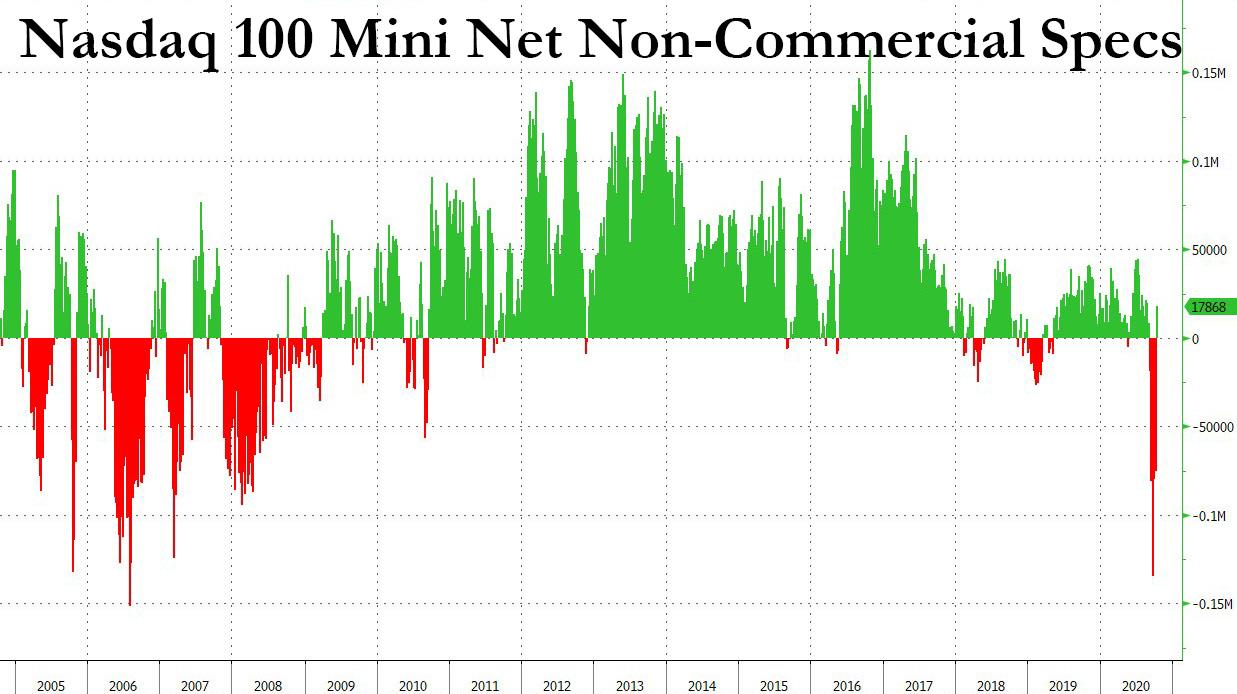 But what was remarkable was the near record surge between the Oct 6 net short of -75K and the subsequent week's net long position of +17.8K. This was the biggest surge in NQ contracts in more than 13 years, and the second highest increase on record.
<!–[if IE 9]>
<![endif]–>
And biggest 3-week squeeze since 2005.
<!–[if IE 9]>
<![endif]–>
While it is unclear if the move in the Nasdaq sparked the squeeze or vice versa, one thing is clear: since our initial warnings of an imminent squeeze, the Nasdaq is up 9% from its Sept. 23 low. It remains about 5% below that record, although we expect that as bullish momentum picks up to the upside, the record high will be taken out on short notice.
<!–[if IE 9]>
<![endif]–>
Meanwhile, as Bloomberg notes, the record collapse in the Nasdaq short coincided with an increase in bet that VIX will tumble in the coming weeks, with bet short non-commercial positions on VIX futures tumbling to the most bearish net position since before the covid pandemic.
<!–[if IE 9]>
<![endif]–>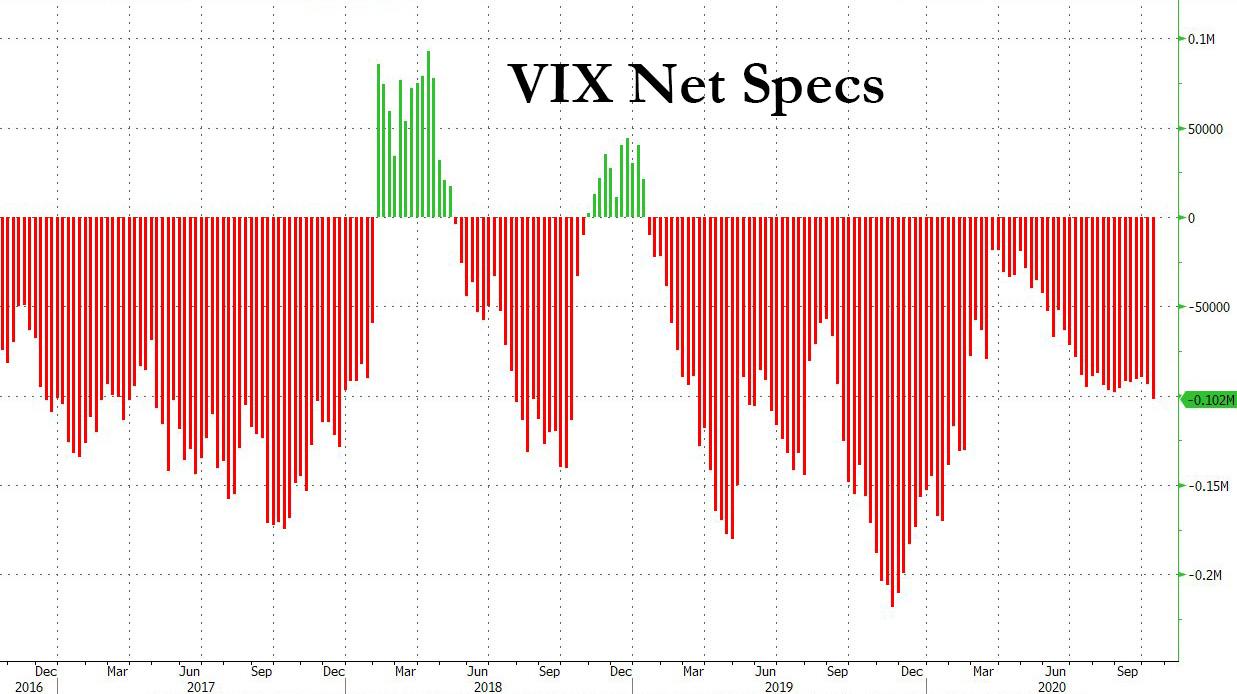 ---
This post has been republished with permission from a publicly-available RSS feed found on Zero Hedge. The views expressed by the original author(s) do not necessarily reflect the opinions or views of The Libertarian Hub, its owners or administrators. Any images included in the original article belong to and are the sole responsibility of the original author/website. The Libertarian Hub makes no claims of ownership of any imported photos/images and shall not be held liable for any unintended copyright infringement. Submit a DCMA takedown request.