WSJ Reporter Documents How The Pandemic Turned Her Once-Frugal Parents Into Daytraders

Tyler Durden

Mon, 10/26/2020 – 14:25
We have already documented at length how the pandemic has been a boon for Robinhood and other discount brokerages. Many people forced to stay home and quarantine went on to become day-traders, to varying degrees of success. The result for brokerages was profound: massive boosts in the numbers of new accounts opened, with Robinhood being the most obvious beneficiary. 
Put simply: the retail euphoria phase of the stock market bubble was supercharged during the virus lockdown where millennials, with no sports to watch, stuck in their parents' basements, unemployed, and receiving stimulus checks, decided to become day traders.
For example, we pointed out last month that retail investors were piling into options and, more specifically, calls. In fact, the retail call-buying frenzy has accelerated to such an extent that as the following stunning chart shows, retail traders are on pace to soon have a majority share in all bullish call option activity (currently at 45% and up from 30% at the beginning the year), concluding a process we first discussed in May called "How Retail Investors Took Over The Stock Market".
<!–[if IE 9]>
<![endif]–>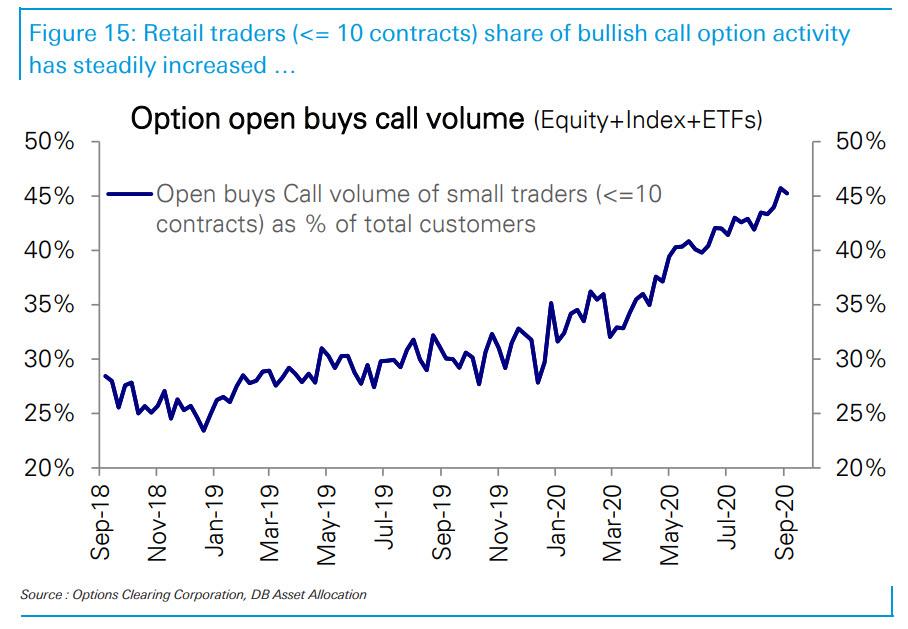 The Wall Street Journal highlighted another group of stories this past week in a piece called "The Pandemic Turned My Parents Into Daytraders". The article highlights how the author's once frugal "coupon clipping" parents have thrown caution to the wind and are now chasing highly overvalued momentum stocks like Zoom and Tesla.
"During my four years writing about financial markets for The Wall Street Journal, my parents and I almost never discussed stock trading—in fact, the newsroom has strict rules about journalists' investing activities and I don't dispense advice about markets. When I returned to Iowa to visit them in August, it was all they wanted to talk about," WSJ's Stephanie Yang wrote. 
She said her father, who had never asked her about the market before, was now asking her about Tesla stock over dinner. 
"Dad, please don't buy Tesla," she told him. "You don't know anything about the company."
He wound up buying Tesla anyway. And Nikola, to boot. 
Yang shared a photograph of a text exchange with her mother, wherein her mom tells her that the "price is getting low" with Apple and Tesla priced at $107 and $379, respectively. The text looks similar to exchanges that many on Fin Twit share with their parents, when they inquire with questions about the market. 
<!–[if IE 9]>
<![endif]–>
Yang goes on to talk about how her parents grew up with modest means and a modest lifestyle – waiting tables and working side jobs – to get to where they were today. They had always urged her to save her money and invest in her 401(k). Their frugal lifestyle was enough to send the author and her brother to college without loans – and for her father to retire before 60. 
Now, they are taking on more risks. Yang says 15% to 20% of her parents net worth has moved from traditional index funds to money they daytrade with. While her mother remains measured to a degree, and is learning about stock valuations, she says her father is more likely to take "calculated risks". For example, he considered buying shares of Luckin Coffee after it plunged following questions about its accounting. 
<!–[if IE 9]>
<![endif]–>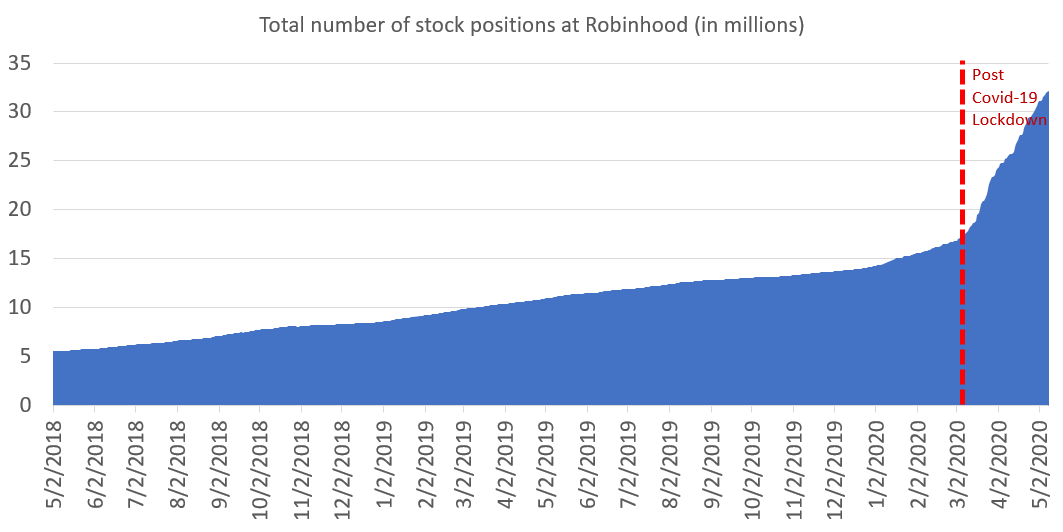 "Since then, they've been following the ups and downs of individual stocks with a single-minded fervor. Whereas they would once chat about errands or family matters, now they list the trading prices of their favorites, such as Zoom Video Communications Inc. and Roku Inc., and debate whether to buy or sell," Yang wrote. You can read her full account here. 
The retail boon hasn't come without its problems, however. We noted months ago that US consumer protection agencies were being flooded with complaints about Robinhood. In fact, four times as many complaints were being filed about Robinhood than other traditional brokerages like Schwab and Fidelity, according to Bloomberg; in 2020 alone more than 400 complaints had been lodged against the "free" daytrading app.
<!–[if IE 9]>
<![endif]–>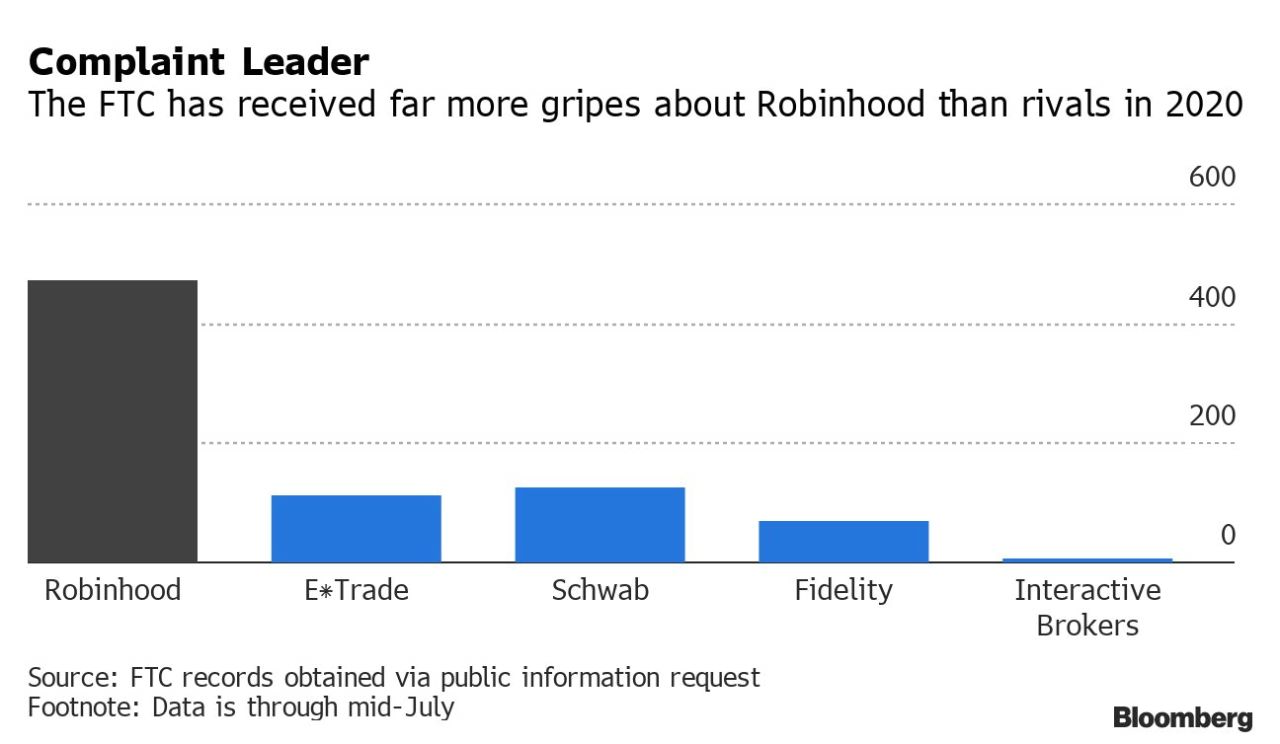 Zero Hedge's mission is to widen the scope of financial, economic and political information available to the professional investing public, to skeptically examine and, where necessary, attack the flaccid institution that financial journalism has become, to liberate oppressed knowledge, to provide analysis uninhibited by political constraint and to facilitate information's unending quest for freedom. Visit https://www.zerohedge.com
---
This post has been republished with permission from a publicly-available RSS feed found on Zero Hedge. The views expressed by the original author(s) do not necessarily reflect the opinions or views of The Libertarian Hub, its owners or administrators. Any images included in the original article belong to and are the sole responsibility of the original author/website. The Libertarian Hub makes no claims of ownership of any imported photos/images and shall not be held liable for any unintended copyright infringement. Submit a DCMA takedown request.