"You Better Apologize For That!": Rudy Giuliani Goes Nuclear On Fox Host After Christopher Steele Comparison
"You Better Apologize For That!": Rudy Giuliani Goes Nuclear On Fox Host After Christopher Steele Comparison

Tyler Durden

Wed, 10/28/2020 – 07:08
Former New York Mayor Rudy Giuliani unloaded on Fox Business host Kennedy after she compared him to Christopher Steele, the former UK spook who Hillary Clinton's campaign paid to fabricate a now-debunked dossier alleging ties between President Trump and the Kremlin.
<!–[if IE 9]>
<![endif]–>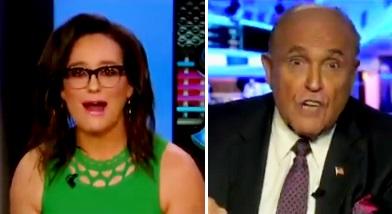 After host Lisa "Kennedy" Montgomery began framing a question about Biden corruption with "it sounds like there may be something here that is fishy that is giving Americans pause, and now there's stuff that – uh, might have been completely adulterated…" adding "Some could say that you were acting like Christopher Steele. That you were extracting information –"
To which Giuliani interjected: "You've gotta be kidding me. I was acting like Christopher Steele?"
"That's what it sounds like," the former MTV VJ responded.
"You better apologize for that," Giuliani fired back. "I mean I've been a United States attorney, associate attorney general, mayor of New York City and a member of the bar for 50 years. I've never been accused of anything, and you're accusing me of being Christopher Steele?"
"That's outrageous that you would do that, based on nothing! Similar to a crook? Similar to obstruction of Justice? What you're saying is an outrageous defamation of me, of my reputation," he added. Every single thing is here. And I want you to look at it, and then you apologize to me!"
"You can come to my office and you can look at it, and tomorrow night you can apologize to me for saying I'm like Christopher Steele," Giuliani continued. "I told you there are underage girls there – there are. I told you there are documents that show that he's getting 10% – there are. There are documents that show that he's getting half of what Hunter gets – there are. And when they're there, I want you to apologize to me, because you just defamed me. That's outrageous, because you have no basis for that. I came on your show in good faith to give you evidence that is being withheld from the American people, and I get defamed. That's outrageous!"
Watch:
Rudy Giuliani blows up a Fox Business interview after Lisa Kennedy says people could say he's acting like Trump dossier author Christopher Steele with the Hunter Biden laptop materials: "You better apologize for that … I think our interview is now over" pic.twitter.com/OsIGZ42y1r

— Daniel Chaitin (@danielchaitin7) October 28, 2020
---
This post has been republished with permission from a publicly-available RSS feed found on Zero Hedge. The views expressed by the original author(s) do not necessarily reflect the opinions or views of The Libertarian Hub, its owners or administrators. Any images included in the original article belong to and are the sole responsibility of the original author/website. The Libertarian Hub makes no claims of ownership of any imported photos/images and shall not be held liable for any unintended copyright infringement. Submit a DCMA takedown request.