Start Of OPEC+ Meeting Delayed As Cartel Debates Output Cut Extension
Start Of OPEC+ Meeting Delayed As Cartel Debates Output Cut Extension

Tyler Durden

Thu, 12/03/2020 – 08:27
A critical OPEC+ summit was set to begin at 8am ET when it was unexpectedly delayed by 1 hour to 3pm Vienna time.
The OPEC+ meeting has been delayed by one hour. It's now scheduled for 3pm Vienna time (it should have started a few minutes ago at 2pm). No further details on why it has been delayed (again) | #OOTT More on @TheTerminal

— Javier Blas (@JavierBlas) December 3, 2020
According to overnight reports from the WSJ, OPEC and its allies were closing in on an agreement to modestly boost their collective oil output by as much as 500,000 barrels a day starting January, although according to more recent reports from Reuters, the increase won't happen until February.
OPEC+ DISCUSSING ROLLOVER OF CURRENT OIL CUTS INTO JAN FOLLOWED BY GRADUAL OIL OUTPUT INCREASE OF ABOUT 500,000 BPD FROM FEB – FOUR OPEC+ AND INDUSTRY SOURCES
Bloomberg reported that there could be a one-month delay before the tapering starts, while according to EnergyIntel one OPEC+ option considered is Jan: 7.7-0.5=7.2 cut; Feb: 6.7 cut; March: 6.2 cut; April: 5.7 cut, bringing the average cut for 3 months to 6.7 instead of 7.7.
Separately, Citi's Ed Morse wrote on Dec 2 that while the market consensus was for OPEC+ producers to extend the current output curbs by 3-6 months, higher oil prices have increased the chance of the group agreeing on a shorter time-frame. With prices in the mid-to-high $40s, the alliance will likely shorten the extension to just 1 to 2 months and continue to assess output quotas on a monthly basis; he adds that any sort of compromise on a restoration of 20-25% of the original 1.9m b/d planned increase for January wouldn't be bullish for a market that was anticipating no supply increases for 3-6 months. Any more bearish outcome out of the OPEC+ meetings could risk a deeper correction amplified by thin market liquidity during the holiday season, but a full collapse of talks looks very unlikely.
JPMorgan also chimed in, writing that global oil demand remains "too fragile" between now and when a vaccine will likely be widely available for the market to absorb the planned output increase from OPEC+.
"Plans to start tapering at the start of the year may trigger a bit of a sell-off as worries over the market tipping into oversupply are currently mostly focused on the winter months," said Vandana Hari, founder of Vanda Insights in Singapore. Prices had built in some premium on expectations that OPEC+ wouldn't start adding more barrels to the market next month, she added.
If the current OPEC+ agreement isn't modified, the group will start returning an additional 1.9 million barrels a day of crude to the market from Jan. 1, which would crash the demand-starved market.
Despite the heightened drama, OPEC+ has no choice but to reach a deal on extending supply cuts as Francisco Blanch, head of global commodities research at Bank of America, said in Bloomberg TV interview.
Blanch said he sees an extension of current supply cuts by "possibly two months, maybe even three months" as the group "doesn't want to see prices "a lot higher." as OPEC+ "fears shale coming back too much to let that happen right now. There's too much market share at stake at the moment." Finally, he noted that tension between UAE and Saudi Arabia is "something that can be ironed out" and they'll find a way to resolve their differences as they have a lot of shared interests regionally.
And so with trader waiting for the OPEC meeting to begin, Brent was trading just barely in the red, down 18 cents to $48.08, following yesterday's sharp gains as the Brent curve remains in backwardataion, which indicates tight supply. The much-watched spread between the nearest two December contracts is also at its strongest since February.
<!–[if IE 9]>
<![endif]–>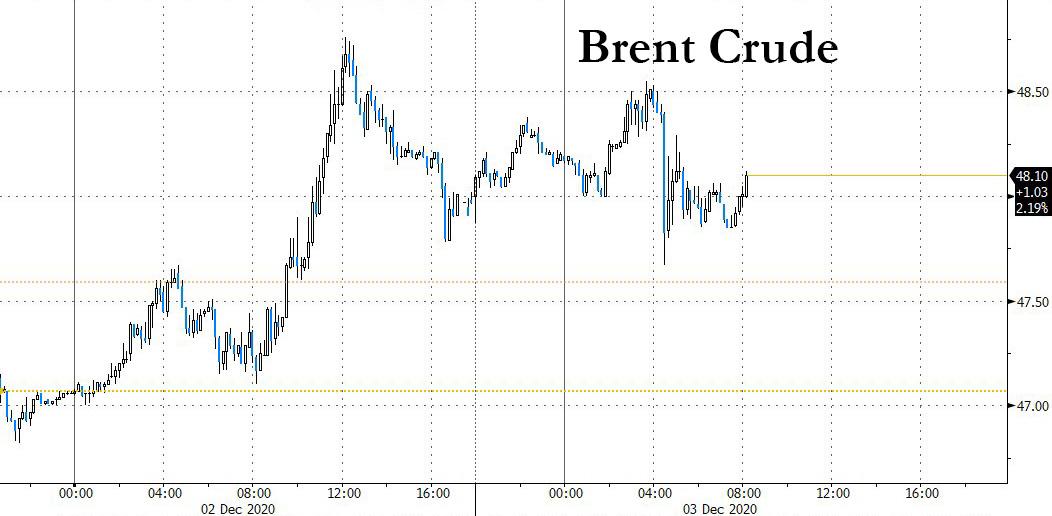 ---
This post has been republished with permission from a publicly-available RSS feed found on Zero Hedge. The views expressed by the original author(s) do not necessarily reflect the opinions or views of The Libertarian Hub, its owners or administrators. Any images included in the original article belong to and are the sole responsibility of the original author/website. The Libertarian Hub makes no claims of ownership of any imported photos/images and shall not be held liable for any unintended copyright infringement. Submit a DCMA takedown request.