Congress Weighs One-Week Stopgap, Extended Session To Reach Deal
Congress Weighs One-Week Stopgap, Extended Session To Reach Deal

Tyler Durden

Sat, 12/05/2020 – 14:25
Congress is mulling a one-week stopgap measure to avoid a government shutdown ahead of yet another funding lapse which set to kick in on Friday – while pandemic relief provisions in the CARES act, such as enhanced unemployment benefits, will expire on Dec. 26 if no deal is reached.
<!–[if IE 9]>
<![endif]–>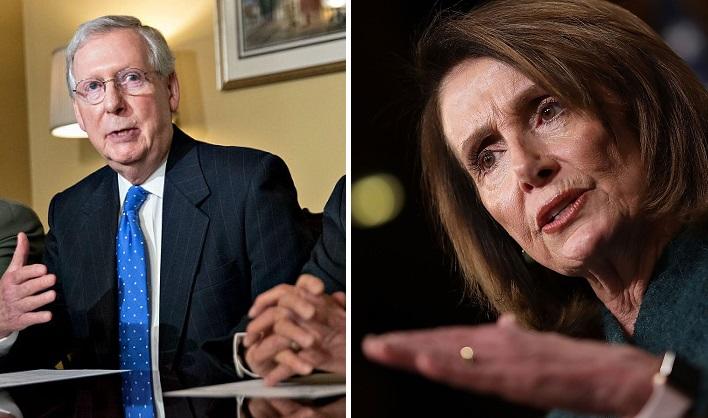 According to a House Democratic leadership aide, a one-week stopgap measure is likely as legislators hammer out a full-year spending bill which would include long-stalled coronavirus economic relief, however another Democratic aide told The Hill that it's 'possible but not set in stone yet.'
The acknowledgement that lawmakers may need to turn to a short-term funding patch comes despite House Democrats originally aiming to wrap up their 2020 work by the end of next week.

Senate Appropriations Committee Chairman Richard Shelby (R-Ala.) predicted earlier this week that Congress would need a short-term funding bill to give the negotiators more time to complete a mammoth spending package.

House Majority Leader Steny Hoyer (D-Md.) said that he had hoped to let members go home by the end of next week to give them enough time to quarantine if necessary before spending Christmas with their families. But a stopgap funding bill lasting through Dec. 18 would delay that timeline. -The Hill
Lawmakers have achieved some traction on a $908 billion bipartisan bill which includes some enhanced unemployment benefits, along with small business support and extended student loan deferrals.
Senate Majority Leader Mitch McConnell has rejected it, however, and has instead pushing a $500 billion bill which would include another round of Paycheck Protection Program (PPP) funding and liability insurance for employers. It doesn't include enhanced federal unemployment benefits. Neither bill includes another round of stimulus checks.
If a deal isn't reached, some 66% of Americans collecting unemployment benefits will lose them by Dec. 26, according to Morning Consult (via CNBC). Nearly 83 million adults reported in November that they had difficulties covering the basics – including food, housing, medical expenses, transportation or other bills according to the US Census Bureau's most recent Household Pulse survey.
More via CNBC:
Gig workers and freelancers will lose jobless benefits

Long-term unemployed will lose jobless benefits

Eviction protections expire

Federal student loan payments will resume
---
This post has been republished with permission from a publicly-available RSS feed found on Zero Hedge. The views expressed by the original author(s) do not necessarily reflect the opinions or views of The Libertarian Hub, its owners or administrators. Any images included in the original article belong to and are the sole responsibility of the original author/website. The Libertarian Hub makes no claims of ownership of any imported photos/images and shall not be held liable for any unintended copyright infringement. Submit a DCMA takedown request.