"Hillary Hates Him & Biden Calls Him A Terrorist" – Aussie MP Urges Trump To Pardon Assange
"Hillary Hates Him & Biden Calls Him A Terrorist" – Aussie MP Urges Trump To Pardon Assange
Tyler Durden
Sat, 12/12/2020 – 22:00
Nationals MP George Christensen has joined the growing chorus of activists calling for President Trump to pardon WikiLeaks founder Julian Assange before he leaves the White House.
Assange is currently being held in London's Belmarsh prison, awaiting a decision on his extradition case to the US.
On Saturday, in an interview with Sky News Australia, Christensen told Sky News host Brent O'Halloran that Assange "has been a target of the Democrats, adding that "Hillary Clinton hates his guts, obviously, for exposing who the real Hillary was, and you've had a war on Assange by the Democrats and the deep state." 
He told O'Halloran that president-elect Joe Biden has called Assange a criminal and a "hi-tech terrorist."
Christensen argues that a pardon for the WikiLeaks founder "is one way which he can stand up for free speech." He said it would irritate the Democratic establishment and would "poke the deep state in the eye."
Christensen concluded by calling the US "one of the greatest nations in the democratic world" and that "great document of democracy that is the United States Constitution is free speech and freedom of the press." 
"So I'm hoping that he will pardon Julian Assange. It's the right thing to do."
Watch the three-minute interview here: 
In addition to Christensen, filmmaker Oliver Stone recently called for the president to pardon Assange and Edward Snowden without whom we wouldn't know about intrusive government surveillance programs, the US' aggressive drone strike program, or that Hillary Clinton's 2016 campaign manager.
Even longtime Assange friend and previously rumored ex-girlfriend Pamela Anderson has become creative in her direct appeals to Trump, tagging the president in a Twitter post featuring a stripped-down bikini photoshoot of herself holding a sign that reads "Bring Julian Assange home."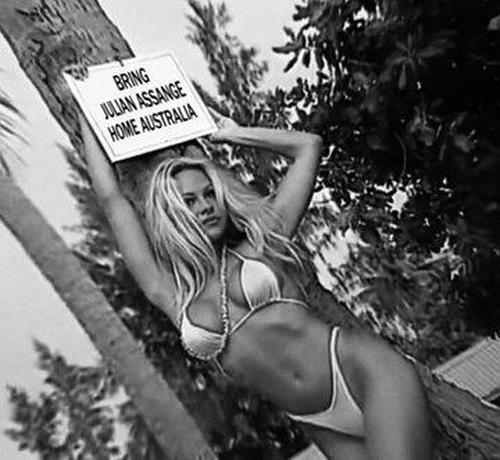 "The deep state Trump is serving by persecuting Assange is the same deep state that continues to plot Trump's own ouster. Free Assange!" Ron Paul said earlier this year. 
---
This post has been republished with permission from a publicly-available RSS feed found on Zero Hedge. The views expressed by the original author(s) do not necessarily reflect the opinions or views of The Libertarian Hub, its owners or administrators. Any images included in the original article belong to and are the sole responsibility of the original author/website. The Libertarian Hub makes no claims of ownership of any imported photos/images and shall not be held liable for any unintended copyright infringement. Submit a DCMA takedown request.