PPP Loans Can Now Be Used To Fix Riot Damage, Pay For Defense Against Looters
We previously discussed the billions of dollars worth of pork in the combined $2.3 trillion government spending/covid-19 relief package. As it turns out, there is another way this stimulus is a Krugman's Keynesian's wet dream: according to the NYT the grants loans can be used to fix damage from riots which now are such a daily fixture of American life, Congress had to insert a provision. Here is the NYT explaining what changed, only instead of "public disturbances" please use the proper word: riots.
According to outlines of the bill circulating among congressional officials on Monday, hotels and food-service businesses would be eligible for bigger loans this time, up to 3.5 times their average monthly payroll. Other borrowers would again be limited to 2.5 times their payroll.

Publicly traded companies would be ineligible for the new loans, eliminating a provision that provoked a public outcry as deep-pocketed restaurant chains, software companies and drug makers, among others, collected taxpayer-funded loans.

The new bill would also expand the list of expenses that a loan could be used to pay, which previously were limited mostly to payroll, rent and utilities. Businesses could now use the money to buy supplies from their vendors, buy protective equipment for their staff or fix property damage "due to public disturbances," according to a House Small Business Committee summary…
Which, contrary to what the NYT would like its gullible readers to believe, is of course is a reference to the wanton rioting, destruction and looting that spread across the US during the summer and fall, and then mysteriously disappeared just before the elections, as Jeff Gundlach pointed out recently.
And with that, it's time to add another caption to the Keynesian "idiot of shame" summary: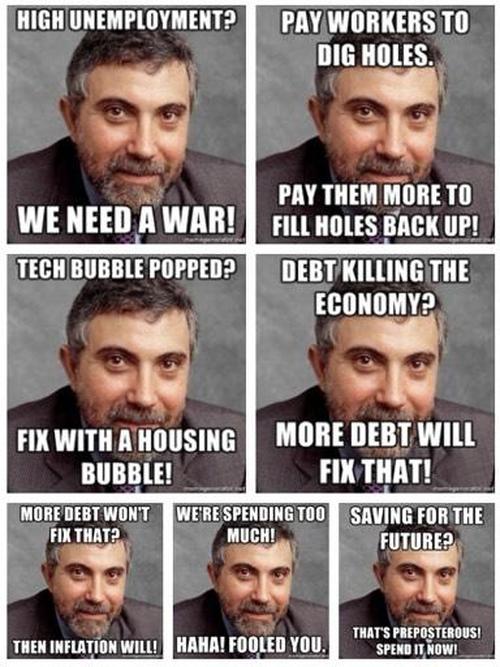 Tyler Durden
Tue, 12/22/2020 – 13:35
Zero Hedge's mission is to widen the scope of financial, economic and political information available to the professional investing public, to skeptically examine and, where necessary, attack the flaccid institution that financial journalism has become, to liberate oppressed knowledge, to provide analysis uninhibited by political constraint and to facilitate information's unending quest for freedom. Visit https://www.zerohedge.com
---
This post has been republished with permission from a publicly-available RSS feed found on Zero Hedge. The views expressed by the original author(s) do not necessarily reflect the opinions or views of The Libertarian Hub, its owners or administrators. Any images included in the original article belong to and are the sole responsibility of the original author/website. The Libertarian Hub makes no claims of ownership of any imported photos/images and shall not be held liable for any unintended copyright infringement. Submit a DCMA takedown request.