Pressured By Negative Rates, European Banks Are Bludgeoning Customers With New Fees
Pressured By Negative Rates, European Banks Are Bludgeoning Customers With New Fees
Just because the financial system is being flooded with free money by various Central Banks, led by the Federal Reserve, doesn't mean that banks and lenders have to stop squeezing extra cash from their depositors and borrowers. 
And that's exactly what they're doing, according to Bloomberg.
New charges and increased fees are going to be a reality during sub-zero rates, Bloomberg noted while profiling banks like Banco Santander and ING Groep. 
"If you only have a current account with me, I lose money. Banks need to be a clearer about the costs that they assume," Angel Corcostegui, former Santander CEO and founder of private equity firm Magnum Capital Industrial Partners, said. 
And of course, the move to more fees will disproportionately harm those with less income or savings. "They're separating more profitable clients from the less profitable ones," one financial watchdog said. 
Santander is going to start implementing a monthly charge of as much as 20 euros for customers who don't meet certain criteria, which includes "paying in salary and buying at least one other financial product."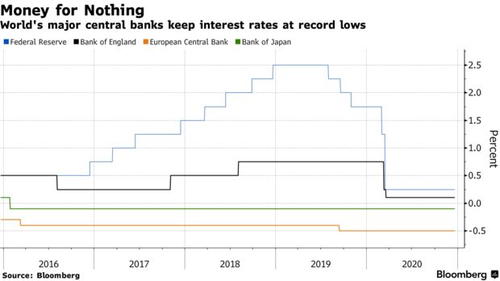 Banco Bilbao Vizcaya Argentaria is charging customers over 29 who don't pay in their salaries and who use their account to pay bills. It's also starting to charge 0.4% on transfers.
ING told customers in Spain it would be charging 10 euros per month on holdings over 30,000 euros if the customer "doesn't use ING for their salary deposits or receive at least 700 euros a month in income." And the banks are coming right out with it and blaming the manipulation of interest rates. For example, ING said: "The unusual economic moment in which interest rates (which set the price of money) have been going down endlessly." 
Euro-area banks are also lopping on new costs. Deutsche Bank and Commerzbank lowered their threshold for fees last year. The Eurozone's move to negative rates has "put pressure on lending revenue" and "burdened banks with billions in penalties for parking cash", Bloomberg notes. 
British expat business owner Michael Soffe said that in Spain: "Bank charges have risen quite substantially. And they all want you to have insurance with the banks."
The cost increases have began to shift business to banks who work digitally. Their lower cost structures allow them thinner margins, which means less fees for customers.
Joe Fielding at Bain & Co. in New York said: "Whenever there is a negative customer experience in a traditional bank, it opens the door for someone to come along and do it better. Better in today's terms is inevitably digital."
Just another wonderful byproduct of the distortions created by manipulating interest rates… 
Tyler Durden
Sat, 12/26/2020 – 07:35
---
This post has been republished with permission from a publicly-available RSS feed found on Zero Hedge. The views expressed by the original author(s) do not necessarily reflect the opinions or views of The Libertarian Hub, its owners or administrators. Any images included in the original article belong to and are the sole responsibility of the original author/website. The Libertarian Hub makes no claims of ownership of any imported photos/images and shall not be held liable for any unintended copyright infringement. Submit a DCMA takedown request.