"It's A Ghost Town": Debt-Laden NYC Taxi Drivers In Dire Straits
"It's A Ghost Town": Debt-Laden NYC Taxi Drivers In Dire Straits
New York City taxi drivers – who were committing suicide left and right before the pandemic – are in bad shape. 
After years competing with Uber and Lyft drivers for razor-thin margins, while maintaining an average debt of $450,000 on taxi medallions now worth $75,000 – $100,000, ridership is down 80-90% since March due to the pandemic, according to CNN.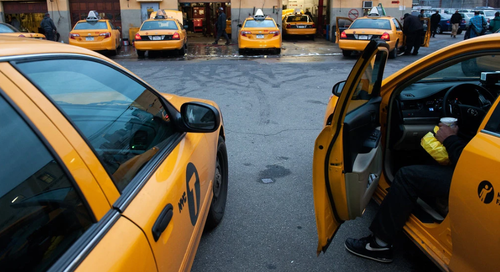 "It's a ghost town," said Augustine Tang, a second-generation NY cab driver.
With ridership down 80 – 90% since March 2020, drivers count themselves lucky if they are able to snag three passengers a shift. The vast majority of Manhattan office workers haven't returned to the workplace, public school students have been in and out of classrooms, and tourism has slumped. On top of that, ride-sharing platforms such as Uber and Lyft have saturated the streets, capturing the lion's share of riders even before Covid-19 reached the city. –CNN
"I can't hold on, not like this," said 27-year veteran cab driver Vinod Malhotra in November comments to the NYT. "I can make it maybe one more month, maybe two."
Drivers have also been reluctant to return to work, as fleet owners found themselves begging cabbies to take shifts – in some cases letting drivers rent out cabs for half the normal rate or less.
"My job isn't safe. I don't know who has had the Covid, and there are no customers anyway," said 53-year-old Burmese immigrant, Andrew Chen. "So I just stay home."
Medallion lenders, meanwhile, are have started to demand payments after suspending collections for several months during the worst of the pandemic. Recalling that the collapse in medallion prices began before the outbreak – in January, NYC launched a city task force which proposed a $500 million bailout for drivers' loans. This was followed by a February threat by NY State Attorney General Letitia A. James, to sue the city for $810 million to compensate drivers.
After the pandemic hit, efforts to help NYC cab drivers – over 90% of whom are immigrants, evaporated.
In 2013, yellow cabs made nearly half a million trips a day. In 2020, that number dropped to 50 – 60 thousand. But the yellow cab industry was already hemorrhaging trips pre-pandemic.

 

As unregulated vehicles for hire flooded the streets, investment-backed platforms such as Uber and Lyft undercut fares, able to absorb the loss. As riders flocked to these cheaper and more accessible taxis, yellow cabdrivers were left in the dust.

–CNN
In response to the situation, the New York Taxi Workers Alliance (NYTWA) is asking New York City taxpayers to backstop their medallion loans to the tune of up to $125,000 over the course of 20 years with a $75 million proposal. Drivers would otherwise remain responsible for their loan payments, and the medallion could be repossessed and auctioned off.
Of course, even with vaccinations on the way and inevitably mandated 'vaccine passports,' NY cabbies are still going to be competing with the likes of Uber and Lyft drivers – who aren't drowning in medallion debt.
Tyler Durden
Sun, 01/10/2021 – 10:35
---
This post has been republished with permission from a publicly-available RSS feed found on Zero Hedge. The views expressed by the original author(s) do not necessarily reflect the opinions or views of The Libertarian Hub, its owners or administrators. Any images included in the original article belong to and are the sole responsibility of the original author/website. The Libertarian Hub makes no claims of ownership of any imported photos/images and shall not be held liable for any unintended copyright infringement. Submit a DCMA takedown request.