GME Surges 85% 'Off The Lows' After Robinhood Lifts Trading Restrictions
GME Surges 85% 'Off The Lows' After Robinhood Lifts Trading Restrictions
Update (1120ET): After collapsing earlier, various heavily-shorted stocks are soaring off the lows after Robinhood lifted trading restrictions, now allowing clients to buy up to 100 shares of GameStop. The brokerage also raised the limits on AMC Entertainment, Express and a few of the other five restricted stocks. Koss, BlackBerry and Genius Brands are no longer being restricted.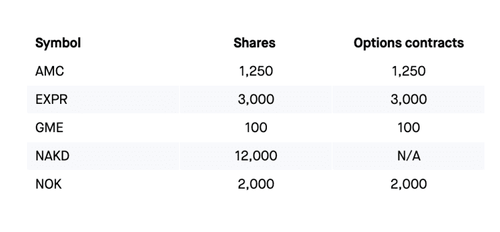 And that has sent names like GME soaring (halted up 85% from the lows)…
Maybe not https://t.co/TkPLOxvs4O

— zerohedge (@zerohedge) February 2, 2021
Lots of chatter that Mark Cuban may have suggested people pile back in…
…but he has just been on CNBC to confirm he did not: "I'm not telling people to buy more at all"
*  *  *
Update (0955ET): The pre-market carnage in the heavily-shorted WSB squeeze-trades has worsened as the cash market opens with GME crashing back below $100 for the first time in a week…
The most-shorted basket is rapidly erasing all its gains…
Led by KOSS, GME, and AMC…
As one veteran trader noted "it's a bloodbath" and another mocked "in all my 6 days of trading, I have never seen anything like this…"
The "longs" are recovering their losses…
*  *  *
Yesterday, when GME was still trading at $300, we warned traders that the squeeze was almost over because as calculated by S3 Partners, the short interest had collapsed from over 110% to 53%…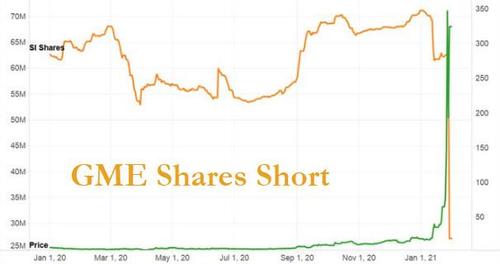 … and warned subs in our private twitter feed to take cover.
For some reason, we got a lot of grief from the "diamond hands" crew for simply reporting the facts (and as we explained for those wondering, the most desperate shorts went so far as raiding the XRT ETF to obtain GME shares to cover), which are manifesting themselves vividly this morning, with GME crashing by more than half from when we warned yesterday, and was last trading at just $142…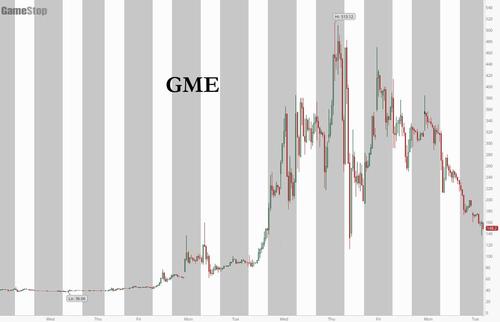 … while the other top meme stock, AMC was down to $9 after rising as high as $18 on Monday.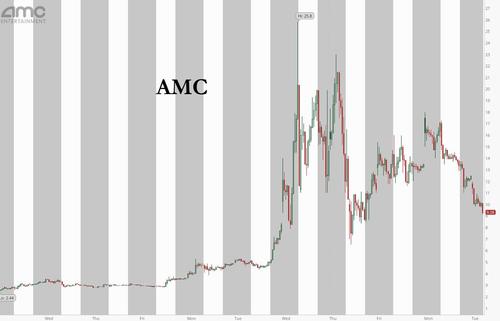 There was no respite across the most-shorted sector, with virtually all of last week's most popular names tumbling including silver..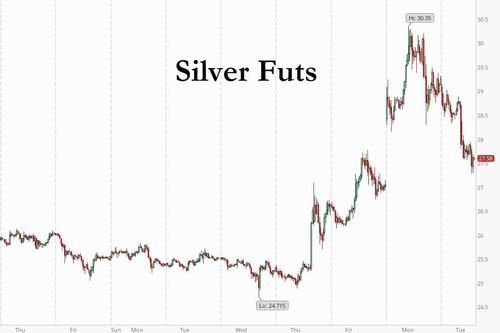 … as attention now seems to be shifting to biotechs where names like VXRT, DVAX and BCRX sharply higher today.
Tyler Durden
Tue, 02/02/2021 – 13:20
---
This post has been republished with permission from a publicly-available RSS feed found on Zero Hedge. The views expressed by the original author(s) do not necessarily reflect the opinions or views of The Libertarian Hub, its owners or administrators. Any images included in the original article belong to and are the sole responsibility of the original author/website. The Libertarian Hub makes no claims of ownership of any imported photos/images and shall not be held liable for any unintended copyright infringement. Submit a DCMA takedown request.