Convicted Felon Arrested For Brutal Attack On Elderly Asian Woman
A parolee who was convicted of stabbing his mother to death in 2002 was arrested on a felony hate crime charge for a Monday attack on an elderly Asian woman outside a midtown Manhattan luxury apartment, while shouting "you don't belong here," according to an early Wednesday statement by New York police.
Police said Brandon Elliot, 38, is the man seen on video kicking and stomping the woman on Monday. They said Elliot was living at a hotel that serves as a homeless shelter a few blocks from the scene of the attack.

Elliot, who is Black, was convicted of stabbing his mother to death in the Bronx in 2002, when he was 19. He was released from prison in 2019 and is on lifetime parole. -AP
Surveillance video showed a lone assailant kicking the 65-year-old woman in the stomach – knocking her to the ground before he stomps on her face. The attack occurred just two blocks from Times Square in a section of Manhattan known as the "Crossroads of the World."
Two security guards inside the luxury apartment building were seen on film witnessing the attack but failing to come to the woman's aid, though their union says they called for help immediately. The attacker simply walked away after the assault, the video shows.
Elliott faces charges of assault as a hate crime, attempted assault as a hate crime, assault and attempted assault, according to police.
The victim, Vilma Kari, immigrated from the Philippines according to her daughter, while Philippine Ambassador to the United States Manuel Romualdez confirmed that Kari is Filipino American.
Philippines foreign secretary, Teodoro Locsin Jr. condemned the attack, tweeting "This is gravely noted and will influence Philippine foreign policy."
This is gravely noted and will influence Philippine foreign policy. I might as well say it, so no one on the other side can say, "We didn't know you took racial brutality against Filipinos at all seriously." We do. https://t.co/CCDAo6h4rY

— Teddy Locsin Jr. (@teddyboylocsin) March 31, 2021
New York City Mayor Bill de Blasio called the attack "absolutely disgusting and outrageous," adding that it was "absolutely unacceptable" that witnesses did nothing. 
"I don't care who you are, I don't care what you do, you've got to help your fellow New Yorker," he said at a Tuesday press briefing.
"If you see someone being attacked, do whatever you can," de Blasio continued. "Make noise. Call out what's happening. Go and try and help. Immediately call for help. Call 911. This is something where we all have to be part of the solution. We can't just stand back and watch a heinous act happening."
On Wednesday, Attorney General Merrick Garland instructed DOJ officials to give priority to investigating and prosecuting hate crimes and hate incidents, particularly against Asians. Garland cited "the disturbing trend in reports of violence against members of the Asian American and Pacific Islander community," which the left is now blaming on former President Trump's anti-China rhetoric.
The New York police department has recorded a 1,300 percent increase in hate crimes against Asian Americans during the pandemic.
If one reads past the headline – which most people do not – the actual numbers are a little less shocking:
"The number of hate crimes with Asian-American victims reported to the New York Police Department jumped to 28 in 2020, from just three the previous year."
A report by the Center for the Study of Hate and Extremism drew national media attention for identifying a 149% increase in anti-Asian hate crimes in 2020 compared to 2019 in 16 of our largest cities. A startling number — until you learn the actual number of hate crimes in those cities rose from 49 to 122 – in a country of 330 million people.
So, to cut through the gaslighting, here are the facts according to the most recent FBI crime data (2019):
White Americans make up 70% of the population and are cited for 52% of all hate crimes (nearly 20% below the percentage of the white population).

Black Americans are 13% of the population but are cited for 24% of all hate crimes (nearly double the percentage of the black population).

Black Americans are also cited for over 50% of all violent crime in the nation.
…and as we previously noted, NYPD held a press conference last week to highlight the assailants…
At the NYPD press conference on anti-Asian hate crimes today, they show booking photos of suspects apprehended & those they're continuing to search for. The hate crime suspects appear to all be people of color. #StopAsianHate pic.twitter.com/rZSwlkagAA

— Andy Ngô (@MrAndyNgo) March 25, 2021
And if convicted, we can add Brandon Elliot to the list: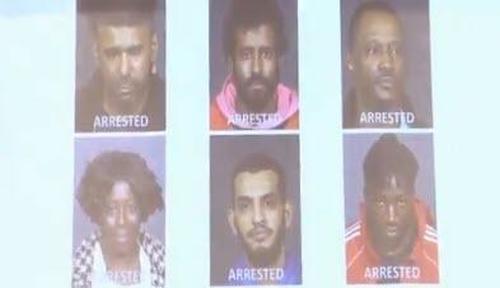 Tyler Durden
Wed, 03/31/2021 – 12:25
Zero Hedge's mission is to widen the scope of financial, economic and political information available to the professional investing public, to skeptically examine and, where necessary, attack the flaccid institution that financial journalism has become, to liberate oppressed knowledge, to provide analysis uninhibited by political constraint and to facilitate information's unending quest for freedom. Visit https://www.zerohedge.com
---
This post has been republished with permission from a publicly-available RSS feed found on Zero Hedge. The views expressed by the original author(s) do not necessarily reflect the opinions or views of The Libertarian Hub, its owners or administrators. Any images included in the original article belong to and are the sole responsibility of the original author/website. The Libertarian Hub makes no claims of ownership of any imported photos/images and shall not be held liable for any unintended copyright infringement. Submit a DCMA takedown request.