Watch: Marine Vet Single-Handedly Disarms Gun-Wielding Robber In Seconds 
"Don't mess with Marines"…
A U.S. Marine Corps veteran was standing in a gas station on Wednesday when he single-handedly disarmed a robber. 
The Yuma County Sheriff's Office said the incident happened around 0430 local time at a Chevron gas station in Yuma County, Arizona.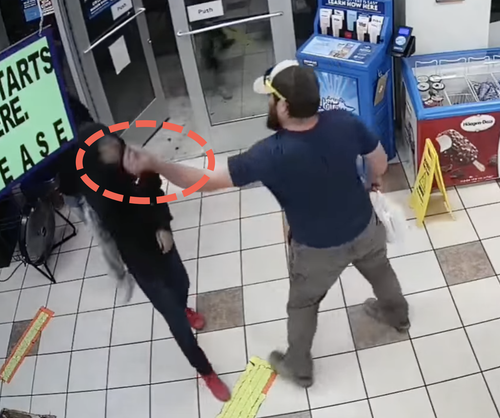 Sheriffs posted a video on Facebook of the stunning firearm disarmament by the combat veteran who was able to take control of the situation in a matter of seconds. The video shows the veteran was well aware of his surroundings when the gun-wielding juvenile attempted to rob the store. 
Deputies asked the veteran how he was able to disarm the suspect so quickly. He stated, "The Marine Corps taught me not to [mess] around." 
No injuries were reported, and sheriffs didn't release the name of the former Marine.
Marines and other service members are taught firearm disarming techniques. Here are a few steps via an old US Army training manual of how to take down an armed attacker. 
The most crucial part is that the former Marine was well aware of his surroundings and had proper training. If this was anyone else, the situation could've turned very ugly. 
Tyler Durden
Fri, 10/22/2021 – 15:23
Zero Hedge's mission is to widen the scope of financial, economic and political information available to the professional investing public, to skeptically examine and, where necessary, attack the flaccid institution that financial journalism has become, to liberate oppressed knowledge, to provide analysis uninhibited by political constraint and to facilitate information's unending quest for freedom. Visit https://www.zerohedge.com
---
This post has been republished with permission from a publicly-available RSS feed found on Zero Hedge. The views expressed by the original author(s) do not necessarily reflect the opinions or views of The Libertarian Hub, its owners or administrators. Any images included in the original article belong to and are the sole responsibility of the original author/website. The Libertarian Hub makes no claims of ownership of any imported photos/images and shall not be held liable for any unintended copyright infringement. Submit a DCMA takedown request.