Impeachment Moves Into Q&A Phase; Here's What To Expect
Impeachment Moves Into Q&A Phase; Here's What To Expect
With President Trump's defense team set to wrap up their third and final day of opening arguments in his Senate impeachment trial, and a debate over witnesses raging outside the chamber, Senators are preparing to move into the next phase of the proceeding where they will spend 16 hours asking questions of both the Democratic House impeachment managers and President Trump's defense team.
And as noted by The Hill, the Q&A round will "lead to plenty of tea-leaf reading as observers scrutinize what the questions reveal about the senators considering the merits of the case."
There won't be many limits on what can be asked, as a resolution passed last week on guidelines merely states "Upon the conclusion of the president's presentation, senators may question the parties for a period of time not to exceed 16 hours." That said, the questions will be filtered through party leadership, which will then send the questions to Chief Justice John Roberts, will read them. Senate Majority Leader Chuck Schumer (D-NY) says that he'll take a hands-off approach to narrowing down questions, though be may combine similar submissions.
"The only thing we might try to do is make sure that the questions — if 10 people want the same question, that we ask it once, OK, in the name of the 10," said Schumer, adding that there would be "all kinds of different questions" and a "whole lot" of them.
Republicans will have their questions processed by Majority Leader Mitch McConnell (R-KY).
Close attention will be paid to Democrats who might vote against impeachment, such as Sen. Joe Manchin (D-WV), who has not revealed which direction he's leaning in.
"I'm working with my staff right now [based on] things we have heard," said Manchin.
Similarly, Sen. Doug Jones (D-AK) – another potential "no" vote, says he has a ton of questions for both sides, and would "try to pair them down."
"You know, there's 100 of us [and] everybody's got questions, so we'll see how it goes," he said.
Senators filed more than 150 questions during the 1999 Clinton impeachment trial, using two days to work through the pile. Only one question in that trial came from a bipartisan pair of senators: Sens. Susan Collins (R-Maine) and Russ Feingold (D-Wis.).

It's unclear if there will be a bipartisan question submitted during Trump's trial.

Manchin opened the door to submitting a bipartisan question this week, noting that "if there was going to be a bipartisan question, I'm more than open to that."

"I'm happy to work with my Republican colleagues," he added.

Jones, however, appeared to shoot down working on questions with his colleagues.

"No," he said, asked about the possibility. "These are my questions … and I consider myself pretty bipartisan." –The Hill
"I've taken a lot of notes — it takes me back to law school," said Sen. Lisa Murkowski (R-AK), adding "Along the way I made little asterisks and notations about what I want to see, what questions I still have."
Or, maybe she'll just ask whatever Dianne Feinstein wants her to ask.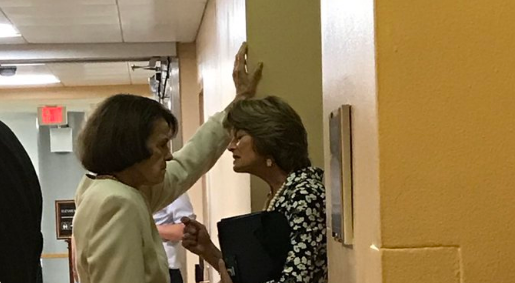 Tyler Durden

Tue, 01/28/2020 – 12:40
Follow The Libertarian Hub
This post has been republished with permission from a publicly-available RSS feed found on Zero Hedge. The views expressed by the original author(s) do not necessarily reflect the opinions or views of The Libertarian Hub, its owners or administrators. Any images included in the original article belong to and are the sole responsibility of the original author/website. The Libertarian Hub makes no claims of ownership of any imported photos/images and shall not be held liable for any unintended copyright infringement. Submit a DCMA takedown request.