"Smart Money"? – Hollywood Celebs And Sports Icons Got Crushed In Mattress-Maker Casper
"Smart Money"? – Hollywood Celebs And Sports Icons Got Crushed In Mattress-Maker Casper
"Smart money" investors, such as some Hollywood actors and sports icons, are linked up with top VC firms and investment banks, have been stung by the VC bubble of overinflated unicorns that see a valuation collapse right before IPO. 
Think WeWork, and what happened to the office-sharing space company last fall, it's valuation plunged as it attempted to IPO. The company then ran out of money and was bailed out by its largest shareholder, SoftBank. 
Leonardo DiCaprio and rapper 50 Cent have been the latest "smart money" investors to feel the pain of plunging valuations, after their investments in Casper Sleep Inc., an online mattress retailer, saw valuations fall as it attempts to IPO. 
Reuters notes that the unicorn mattress company will issue 9.6 million shares between the $17 to $19 level, which is at the top part of the range, giving the company $182.4 million in IPO proceeds. Such a level would also give the company a $768 million valuation, or about a -23% drop in book value from its latest funding round. 
In 1Q19, the money-losing company was valued at $1.1 billion, which is a -30% decline in today's valuation versus what was seen early last year. 
We noted since WeWork imploded last fall, investors' risk appetite for money-losing companies has collapsed. This has also marked the top of not just the VC bubble, but also the IPO bubble.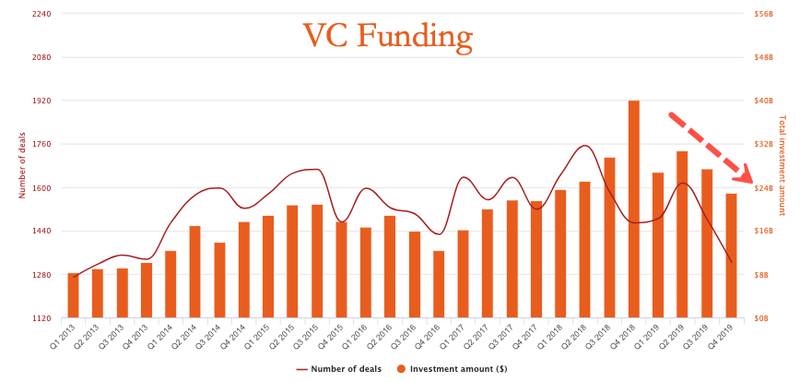 "Valuations in the private market are currently under the microscope, especially with unicorns, as they attempt to tap the public markets," said Jeff Zell, a senior research analyst at IPO Boutique.
"The biggest hurdle that Casper Sleep is going to have during the roadshow process is proving to investors a viable path to profitability while competing in a highly competitive industry," Zell said. 
Even "smart money" in Hollywood is feeling the pressure as the bubble of everything deflates. 

Tyler Durden

Tue, 01/28/2020 – 15:35
Follow The Libertarian Hub
This post has been republished with permission from a publicly-available RSS feed found on Zero Hedge. The views expressed by the original author(s) do not necessarily reflect the opinions or views of The Libertarian Hub, its owners or administrators. Any images included in the original article belong to and are the sole responsibility of the original author/website. The Libertarian Hub makes no claims of ownership of any imported photos/images and shall not be held liable for any unintended copyright infringement. Submit a DCMA takedown request.