Over 80% Of Black Americans Don't Want To 'Abolish Police'

Tyler Durden

Thu, 08/06/2020 – 09:25
While BLM would have one believe that cops are inherently evil and must be abolished, a new Gallup poll finds that's most minorities in America don't feel that way. Of those surveyed, 61% of Black Americans are just fine with current levels of police presence in their area, while 20% say they want more patrols.
Overall, 67% of all US adults prefer the status quo while 19% say they want police to spend more time in their area.
Which group wants the most reductions to policing in their area? Asians, at 28%, followed by Black Americans at 19%, Hispanics at 17% and White Americans at 12%. On average, 86% of American adults want the same or more level of policing in their area.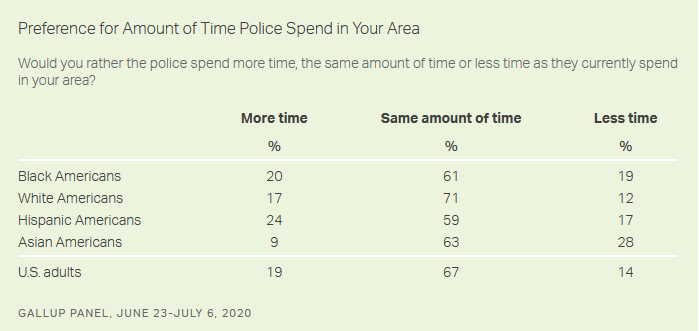 When it comes to how often police are seen in a neighborhood, Asians report the most at 47%, followed by Whites at 42%, Blacks at 41% and Hispanics at 37%.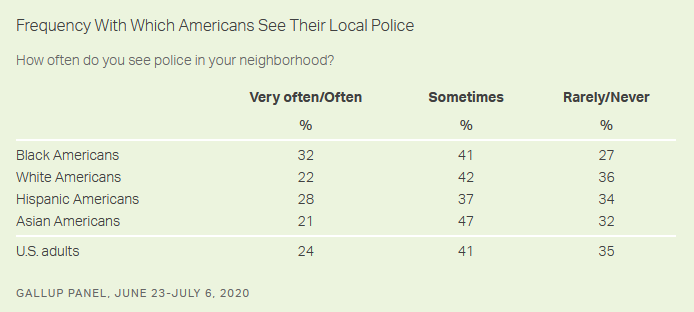 According to the poll, "the slightly elevated frequency with which Black Americans see police in their neighborhood has limited impact on their preferences for changing the local police presence. About a third of Black Americans who say they often see the police in their neighborhood think the police should spend less time there (34%); however, the majority of adults in this group think they should spend the same amount of time (56%) or more time (10%)."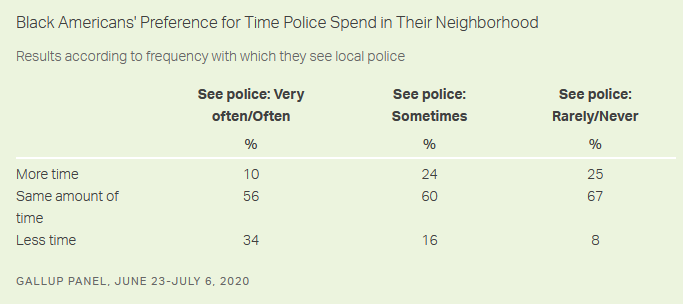 That said, while Black Americans are about as comfortable as the overall population with the amount of police presence in their area, less than 20% of Blacks feel 'very confident' that they would be treated with courtesy and respect by the police. 24% of Asians say the same, while 40% of Hispanic Americans and 56% of Whites are confident they would be treated well in an interaction with cops.
When factoring in those who are at least somewhat confident that the police would treat them well, a majority of Black Americans (61%) are generally confident, but this is still below the 85% seen nationally, including 91% of White Americans. -Gallup
Overall, of the small proportion of Black Americans who are "not at all confident" that the police wouldn't treat them well, 59% of them want police to spend less time in their area – while the majority of Blacks in America, including those "not too confident" about receiving positive treatment, want cops to spend the same amount of time or more where they live.

Gallup also found:
Notably, simply having an interaction with the police in the past year has no bearing on Black Americans' preference for local police presence in their area:
Seventy-nine percent of those who have had an interaction with the police in the past 12 months say they want the police to spend more or the same amount of time in their neighborhood; 21% favor less time.
Eighty-two percent of those who have not had an interaction want the same or greater police presence; 18% want less.
What does matter is the quality of the interaction:
Forty-five percent of Black Americans who report not being treated with courtesy or respect by the police within the past 12 months want less of a police presence in their neighborhood. Meanwhile, 55% want the same or more police presence.
By contrast, just 13% of those who did feel they were treated respectfully want the police to spend less time in their neighborhood; 87% want them there as much or more often.
In short, most Black Americans don't want changes in police presence, though nearly 40% feel they're less likely to have a positive encounter with cops than other races. 
Zero Hedge's mission is to widen the scope of financial, economic and political information available to the professional investing public, to skeptically examine and, where necessary, attack the flaccid institution that financial journalism has become, to liberate oppressed knowledge, to provide analysis uninhibited by political constraint and to facilitate information's unending quest for freedom. Visit https://www.zerohedge.com
---
This post has been republished with permission from a publicly-available RSS feed found on Zero Hedge. The views expressed by the original author(s) do not necessarily reflect the opinions or views of The Libertarian Hub, its owners or administrators. Any images included in the original article belong to and are the sole responsibility of the original author/website. The Libertarian Hub makes no claims of ownership of any imported photos/images and shall not be held liable for any unintended copyright infringement. Submit a DCMA takedown request.