Amherst's Largest Hotel Is For Sale: Top Bid Comes At Only 18% Of Securitized Value
Amherst's Largest Hotel Is For Sale: Top Bid Comes At Only 18% Of Securitized Value

Tyler Durden

Fri, 10/09/2020 – 18:40
Over the past seven months we have repeatedly discussed the plight of commercial real estate which unlike most other financial assets, failed to benefit from a Fed bailout or backstop (but that may soon change). It culminated in June when we wrote that the "Unprecedented Surge In New CMBS Delinquencies Heralds Commercial Real Estate Disaster." The ongoing crisis in structured debt backed by commercial real estate in general and hotel properties in particular, prompted Wall Street to launch the "Big Short 3.0" trade: betting against hotel-backed loans, which had the broadest representation in the CMBX 9 index, whose fulcrum BBB- series has continued to slide even as the broader market rebounded.
<!–[if IE 9]>
<![endif]–>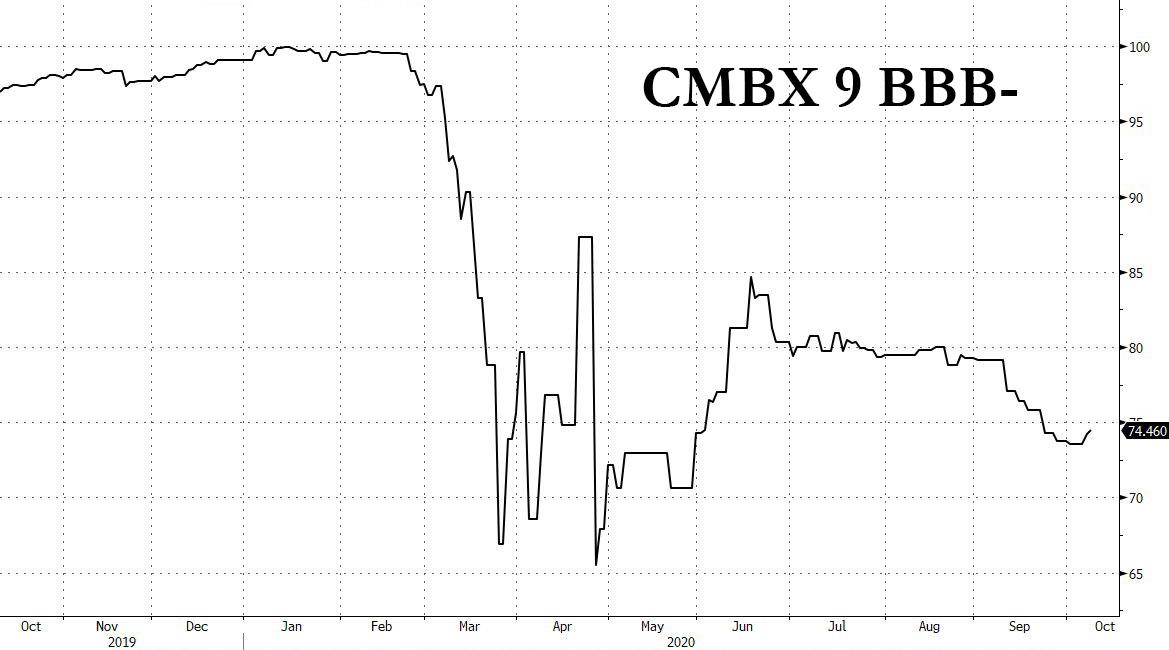 Underscoring the plight of the hotel industry are two recent developments, which suggest that shorting CMBX 9 may well be the trade that keeps on giving.
First, Reuters reported that Manhattan's iconic Roosevelt Hotel, which strangely enough is owned by Pakistan International Airlines (PIA), will shut down for good by the end of this month. With more than $4 billion in accumulated losses, PIA was already struggling financially when flights were grounded in March because of the pandemic. Just as it resumed operations in May, a domestic PIA flight crash in Karachi killed 97 of 99 people on board.
"Due to the current economic impacts, after almost 100 years of welcoming guests to The Grand Dame of New York, The Roosevelt Hotel, is regretfully closing its doors permanently as of Oct. 31, 2020," the hotel said on its website.
The Roosevelt Hotel will close just shy of a century after its opening in Sept. 23, 1924, when it was built by Niagara Falls businessman Frank A. Dudley and operated by the United Hotels Company.
However, away from iconic Manhattan hotels whose downfall is more a reflection of the owner's bad management practices, in a more ominous development commercial real estate experts Trepp points us to the Marriott Buffalo Niagara hotel – which Amherst's tallest and largest hotel – which received a top bid of only $10.5 million during an auction held by Ten-X. That price – which was not accepted – was 82% lower than the value of the hotel in 2011.
And while we wish the hotel well with subsequent sale attempts, we fail to see how, or who, emerges as the greater fool outside of the auction which began Oct. 5 at $6.5 million and closed on Oct 7 just $4 million higher, and far below what the owner had hoped to secured. Instead, owner Procaccianti Cos. of Cranston, R.I., will privately market the 356-room, 10-story hotel.
Hospitality and commercial real estate insiders blame the soft hotel market — a direct byproduct of the Covid-19 pandemic that has gutted the tourism marketplace.
"Look at that hotel and where it is located," said A.J. Baynes, Amherst Chamber of Commerce president and CEO. "The clientele it is serving still is not traveling. We're seeing it with airlines and airports. We're seeing it with hotels."
Procaccianti bought the hotel 13 years ago, paying $31 million for the property which according to Trepp was appraised at $58 million in 2011. TPG Hotels & Resorts — a Procaccianti Cos. affiliate — still owes $21.9 million on a $25 million loan it took on the property nine years ago. The loan is due next year, according to Trepp LLC, and since the hotel is itself cash flow negative, we fail to see a happy ending here.
Pre-Covid, the hotel was operating at a 66.5% occupancy rate and had a net operating income of $2.5 million, and so it hopes that travel and tourism returns back to normal very soon. Unfortunately, with every passing day the hotel continues to burn money and soon – absent a miraculous cure that is made cheaply available to all – it will hit a point where the only optimal outcome is to follow the Roosevelt into the void.
But whether or not hotel defaults today or 6 months from now, its current "market-test" valuation is nothing short of devastating for the securitization market: if hotel values are indeed 80% below securitized valuations, if the current economic malaise and covid shutdowns continue for the next year, the hit to the CMBS market will be nothing short of biblical once cash reserve buffers are depleted in a few months and the scramble to offload properties begins in earnest.
---
This post has been republished with permission from a publicly-available RSS feed found on Zero Hedge. The views expressed by the original author(s) do not necessarily reflect the opinions or views of The Libertarian Hub, its owners or administrators. Any images included in the original article belong to and are the sole responsibility of the original author/website. The Libertarian Hub makes no claims of ownership of any imported photos/images and shall not be held liable for any unintended copyright infringement. Submit a DCMA takedown request.