Pelosi, Schumer Tout "No Hate Act" To Combat Hate Crimes Against Asians
Pelosi, Schumer Tout "No Hate Act" To Combat Hate Crimes Against Asians
House Speaker Nancy Pelosi held a Tuesday press conference with Sens. Chuck Schumer (D-NY), Mazie Hirono (D-HI) and Rep. Grace Meng (D-NY) to announce a new hate crime bill aimed at somehow stopping a spate of attacks on Asians throughout the country.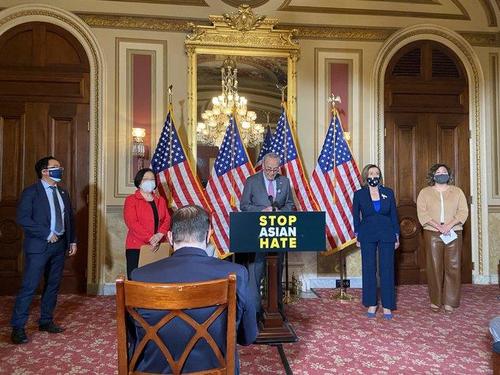 "It breaks your heart to see how communities are affected by these hate crimes," said Pelosi, adding: "we have to do our part in terms of legislation.:
Speaker Pelosi on AAPI hate: "Its breaks your heart to see how communities are affected by these hate crimes… we have to do our part in terms of legislation." https://t.co/IxFb27o2EG pic.twitter.com/qugBejdQyq

— ABC News Politics (@ABCPolitics) April 13, 2021
Sen. Hirono on COVID-19 Hate Crimes Act: "My hope is that we will have Republicans who will support this bill. My hope is that we will have Republican members of the House and the Senate speaking out, condemning these kinds of targeted crimes." https://t.co/spowD5UVIe pic.twitter.com/pc7qPeYBhk

— This Week (@ThisWeekABC) April 13, 2021
According to Schumer, there's no reason this shouldn't be a bipartisan bill.
The bill calls for the "expedited review of COVID-19 hate crimes," and requires that they be reported to "Federal, State or local law enforcement agencies."
What's a COVID-19 hate crime?
'A crime of violence that is motivated by the actual or perceived race, color, religion, natural origin, sexual orientation, gender, gender identity, or disability of any person; and the actual or perceived relationship to the spread of COVID-19 of any person because of the characteristic' described in the preceding sentence.
The presser comes one day after Pelosi put out a Monday statement in honor of the beginning of Ramadan – the Muslim holy month that is marked by fasting from sunrise to sunset – for another anti-hate bill.
"During the Holy Month of Ramadan, Muslim families around the world celebrate their faith by engaging in the sacred process of self-reflection and spiritual renewal," said Pelosi. "After the darkness and difficulty of the past year, this special season offers the promise of hope that better times are within reach."
"Our vibrant, diverse Muslim communities are essential to the American fabric," the statement continues.
"Over the last year, Muslim doctors, researchers, first responders and frontline workers have put their lives on the line to help us stay safe from the virus," she said. "Their courage and generosity of spirit makes our country stronger every single day–yet, tragically, as Muslim Americans make these heroic contributions to our nation, many face discrimination on a daily basis.
"That is why, this month, House Democrats will pass the NO BAN Act, which would reverse immigration bans based on religion, and the Access to Counsel Act, which would provide visa holders and permanent residents access to counsel at ports of entry," said Pelosi.
"As Congress and the country work to combat xenophobia and restore America's role as a beacon of freedom around the world, we join with our Muslim friends and neighbors in giving thanks for our blessings and praying for health and happiness in the year ahead," she said. "Ramadan Mubarak."
Tyler Durden
Tue, 04/13/2021 – 14:40
---
This post has been republished with permission from a publicly-available RSS feed found on Zero Hedge. The views expressed by the original author(s) do not necessarily reflect the opinions or views of The Libertarian Hub, its owners or administrators. Any images included in the original article belong to and are the sole responsibility of the original author/website. The Libertarian Hub makes no claims of ownership of any imported photos/images and shall not be held liable for any unintended copyright infringement. Submit a DCMA takedown request.